Posted by Ana Cuenca on Jan 15, 2013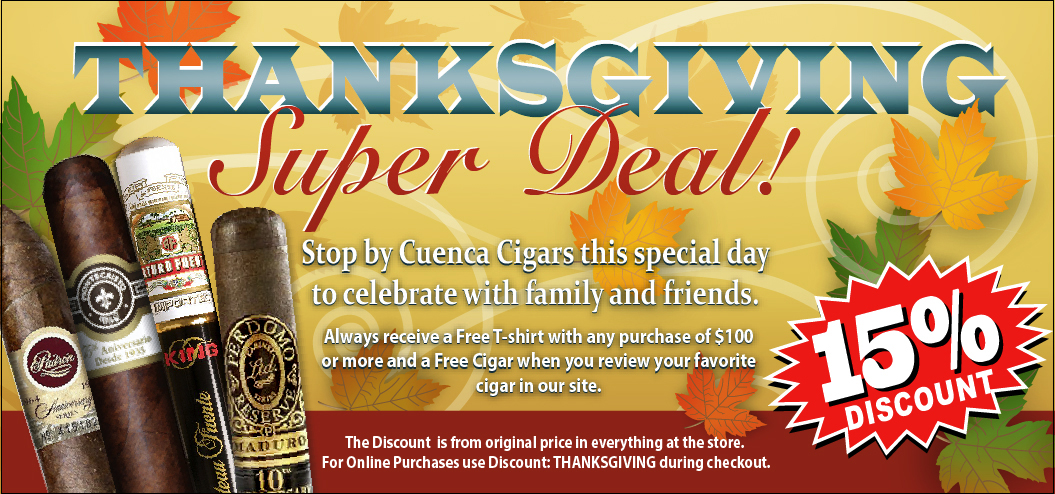 Come to Cuenca Cigars and celebrate Thanksgiving with us. It's been a tradition for almost 5 years and everyone is already asking for this day celebration. And we are celebrating!
Thanksgiving day we are offering a Dinner for everyone who wants to attend. Dinner is free with a minimum purchase of 3 Cigars that night. You will receive a ticket that you can redeem for dinner at the store. Dinner is scheduled for 8:00 pm. Store Hours will start for that day only at 9 am and special discount will 15% with a minimum purchase require of $49.99.
Let's make of this Holiday Season a great one. Count on us for everything. Questions?, call or email us. Want to buy something that is not online, call us.....
we are here for you!
15% Discount is good for everything at the store. Online only qualified brands will enjoy the discount. Use discount code: THANKSGIVING during checkout!
Best Cigar Brands:
601 Cigars, Alec Bradley, Arturo Fuente Cigars, Perdomo Cigars, Romeo y Julieta, Montecristo, Oliva Cigars, Ashton Cigars, My Father Cigar Company, H Upmann, Illusione Cigars, La Aroma de Cuba Cigars, My Father Cigar Company, Ortega Cigars, Padron Cigars, San Cristobal Cigars, San Lotano Cigars, Tatuaje Cigars
Ana Cuenca
Your Friend!