Drew Estate Cigars
SCROLL TO PRODUCTS

Explore the World of Drew Estate Cigars
Get ready to embark on a thrilling journey through the world of Drew Estate Cigars! Founded by two frat brothers and fueled by passion, innovation, and artistry, this company has taken the cigar industry by storm. Are you ready to unravel the secrets behind their unique blends and captivating flavors? Let's dive right in!
Drew Estate, The Rebirth of Cigars, has masterfully crafted an array of highly acclaimed cigar blends, including Acid line and Herrera Cigars. Amongst these exceptional blends, one truly stands out: Liga Privada. This elusive and sought-after brand, available in two series, No 9 and T52, showcases meticulously aged tobaccos of unparalleled quality, resulting in a truly exquisite smoking experience.
Crafted exclusively for private humidors, these cigars embody exquisite craftsmanship. Each cigar is meticulously handcrafted with meticulous attention and precision, guaranteeing smokers an unparalleled experience. While Liga Privada No 9 excels in blending, Liga Privada T52 emphasizes its flawless binding leaf.
Indulge in the exquisite pleasure of our premium Liga Privada cigars. Experience a wide range of flavors, from medium to full-bodied, with options like Liga Undercrown, Serie Unico, T52, and No 9. Choose from a variety of sizes including Robusto, Toro Belicoso Corona Double, and Flying Pig. Don't miss out on this unique opportunity! Visit our shop now to get your hands on these exceptional smokes at unbelievable prices.
Discover the ultimate gift from Drew Estate! This is your go-to resource where you'll find a captivating list of ideas to make your selection truly extraordinary.
Immerse yourself in the exquisite flavors of our premium Liga Privada cigars, offering a luxurious range of strengths from medium to full-bodied.
Short Summary
Discover the iconic Drew Estate Cigars, created by two frat brothers united by their passion for cigars.

Experience unforgettable products ranging from daring Drew Estate Deadwood Tobacco to luxurious Liga Privada and magical Maduro Wrapper!

Uncover perfect pairings to maximize your smoking experience with Drew Estate's revolutionary blends!
The Origins of Drew Estate Cigars
In 1998, the world of cigars was forever changed by the founding of the Drew Estate by Jonathan Drew and Marvin Samel. These two fraternity brothers shared a passion for cigars and a vision to create something truly unique. Their adventurous spirit and determination led to the creation of innovative blends like Kentucky Fire, which defied traditional cigar blending guidelines.
Drew Estate has since become a leader in the cigar industry, producing some of the most famous cigars.
Two Frat Brothers United by Passion
It all started with a friendship and a shared love for cigars. Jonathan Drew and Marvin Samel's bond eventually led to the creation of Drew Estate Cigars, including the unique Dirty Rat cigar. Their enthusiasm and commitment to excellence have propelled the company to new heights, earning them a loyal following of cigar aficionados worldwide.
Drew Estate Cigars has become a leader in the industry, offering a wide range of premium cigars.
The Influence of Scott "ACID" Chester
Scott "ACID" Chester, an incredibly talented industrial designer, artist, and photographer, played a pivotal role in shaping Drew Estate's brand identity. His captivating artwork became a defining aspect of the company's marketing and culture, helping the brand gain recognition in EU member countries and beyond.
Scott's artistic prowess and vision have breathed life into the Drew Estate brand, contributing to the creation of unique cigars like the Feral Flying Pig and the Sweet Jane.
Unforgettable Drew Estate Products
Drew Estate is renowned for its innovative and memorable products that cater to a wide range of preferences. Among their most popular lines are the ACID cigars, known for their exciting flavor and aroma. Liga Privada cigars offer a luxurious smoking experience, while Deadwood tobacco is a Wild West adventure in flavor.
ACID Cigars: A Revolution in Flavor
ACID cigars have truly revolutionized the industry with their unique flavors and limited editions. Each blend offers new explorations in tobacco curing and blending, making the ACID smoking experience unlike any other. With a wide range of flavors and a loyal fan base, ACID cigars have become a staple in the world of flavored cigars.
From the popular Kuba Kuba to the rare and sought-after Flying Pig, ACID cigars cater to a diverse array of palates, ensuring that there's an ACID cigar for everyone. So, whether you're craving a sweet and aromatic smoke or a robust and complex flavor, ACID cigars have got you covered.
Liga Privada Cigars: A Taste of Luxury
For those who seek a more premium smoking experience, Liga Privada cigars are the answer. These cigars are made with a tantalizing blend of Nicaraguan, Dominican, and Honduran long fillers, bound by a zesty Brazilian leaf and a U.S.-grown stalk cut Habano-seed Oscuro wrapper. Inspired by the rich tradition of La Vieja Habana, Liga Privada offers a luxurious and unforgettable experience.
With their full-flavored, earthy Nicaraguan profile, Liga Privada cigars provide a luxurious and satisfying smoking experience. The initial flavors of earthiness, woodiness, and sweet spice, combined with a well-packed construction and smooth draw, make Liga Privada cigars truly special.
Deadwood Tobacco: A Wild West Adventure
Embrace the spirit of the Wild West with Deadwood Tobacco, a line of cigars that offers a unique and bold flavor profile. Blended with aromatic and exotic tobaccos, these cigars deliver notes of coffee, espresso, earth, spice, and mocha, creating a truly unforgettable smoking experience.
The dark Maduro wrapper of Drew Estate Deadwood Tobacco cigars adds a sweet and aromatic profile to the blend, further enhancing the already delicious Drew Estate flavor. These cigars have gained immense popularity among cigar enthusiasts, with their unique flavor profile and adventurous spirit.
Maduro Wrapper Magic
Drew Estate's mastery of the Maduro wrapper is a testament to their dedication to quality and innovation. The Maduro wrapper is crafted using various types of tobacco, such as Mexican San Andrés and Broadleaf, and undergoes a lengthy and meticulous fermentation process.
The result is a deep brown wrapper with flavors ranging from chocolate to peppery, accompanied by a natural sweetness. The Maduro wrapper adds depth and richness to Drew Estate's cigars, providing a truly satisfying and flavorful smoking experience.
Iconic Drew Estate Blends
Drew Estate has created a variety of iconic blends that have become popular among cigar enthusiasts worldwide. These blends are artfully crafted with long filler leaf and feature a proprietary infusing process to enhance their flavor. Each blend has unique characteristics and uses different wrappers, binders, and fillers sourced from various regions, such as Nicaragua, Brazil, and beyond.
From bold and adventurous Deadwood Tobacco to the luxurious Liga Privada, Drew Estate's iconic blends cater to different tastes and preferences, ensuring that there's a perfect cigar for every palate.
Drew Estate and International Markets
Drew Estate's presence in international markets has allowed them to reach an even wider audience and expand their customer base, creating unique blends and products that cater to diverse tastes and preferences. With a presence in various countries and regions, Drew Estate has made its mark on the global cigar market.
Their success is due to their commitment to quality and innovation, as well as their ability to comply with GDPR regulations.
World Trade Center Connection
Drew Estate's connection to the World Trade Center has played a significant role in boosting its global presence and recognition. In 1996, Jonathan Drew opened a cigar kiosk in the World Trade Center, marking the beginning of Drew Estate Cigars.
From its humble beginnings in the WTC to its current status as one of the fastest-growing tobacco companies in the world, Drew Estate has come a long way. This incredible journey is a testament to the company's passion, innovation, and commitment to excellence.
Pairing Recommendations for Drew Estate Cigars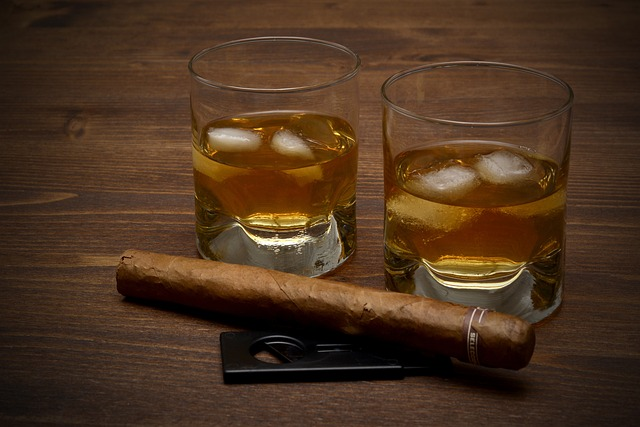 To enhance the enjoyment of your Drew Estate cigar, consider pairing it with complementary drinks and foods. Matching the flavor profiles of cigars with the flavors of drinks and foods can create a truly memorable and enjoyable smoking experience.
For instance, the Liga Privada No. 9 pairs wonderfully with a cup of coffee, while the ACID Kuba Kuba is a perfect match for a glass of whiskey. Experiment with different pairings to find the perfect combination that suits your taste buds and enhances your Drew Estate cigar experience.
Summary
In conclusion, Drew Estate Cigars offers a world of unique and unforgettable smoking experiences, from the innovative flavors of ACID cigars to the luxurious Liga Privada line. With a rich history, iconic blends, and a presence in international markets, Drew Estate continues to captivate cigar enthusiasts around the globe. Discover the magic of Drew Estate cigars for yourself and ignite your passion for the world of premium cigars!