Posted by Ana Cuenca on Jul 10, 2023
Welcome to the flavorful world of sweet janes cigars, where each puff tantalizes your taste buds with a unique blend of sweetness, coffee, and chocolate. Join us on this sensory journey as we dive into the origins, production, and flavors that make sweet janes an unforgettable smoking experience.
Short Summary
Discover the deliciousness of Sweet Jane cigars - hand-rolled in Nicaragua with a unique dark Maduro wrapper for an unforgettable flavor.
Enjoy their rich and flavorful blend of aromatics tobaccos, boasting pre-light sweetness & coffee notes, mild to medium strength & body.
Get your next box from Cuenca Cigars or visit nearby tobacco shops - customers rave about their flavor, strength & construction!
The Allure of Sweet Jane Cigars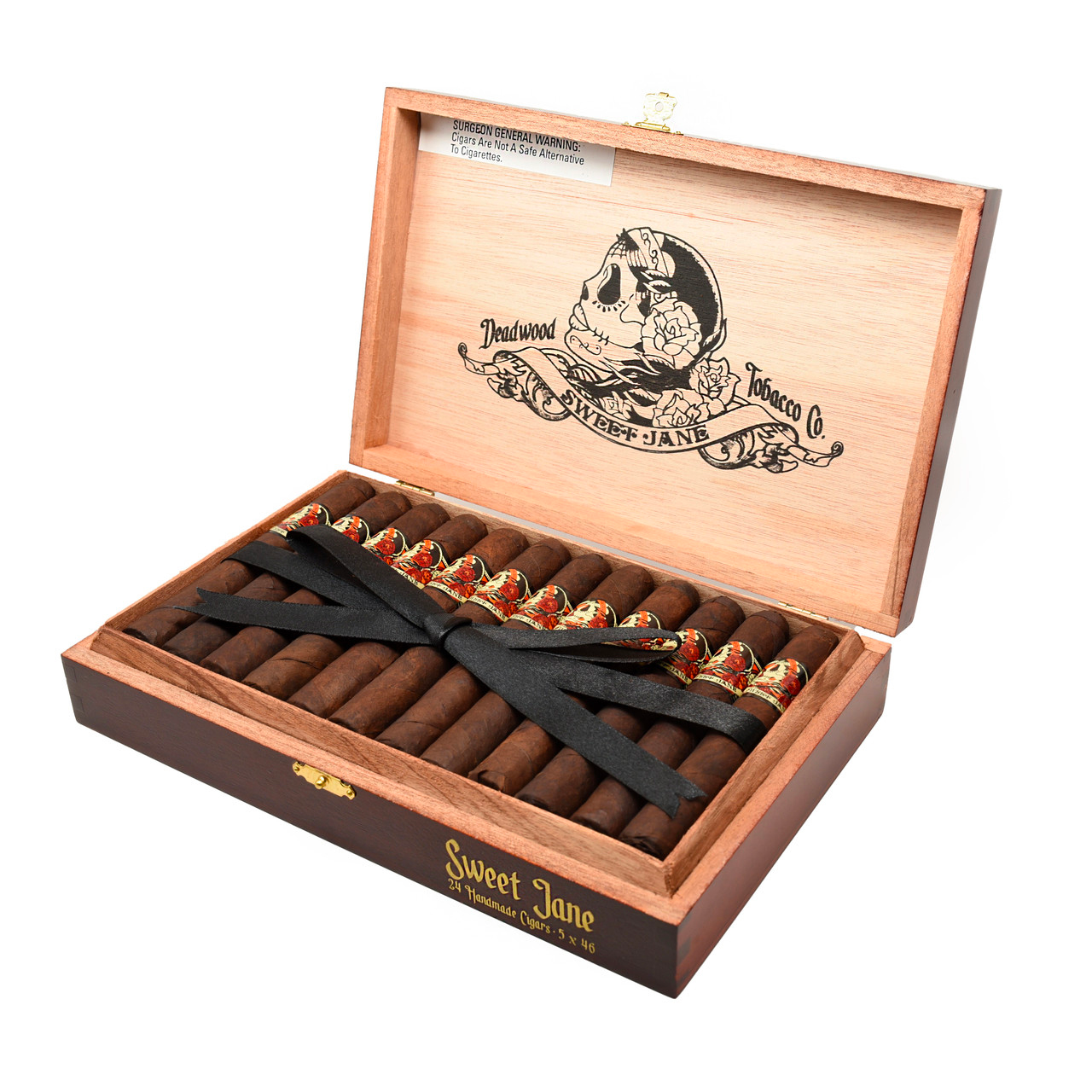 Sweet Jane cigars have gained popularity for their delicious flavors and high-quality construction, making them a great smoke for both novice and seasoned cigar enthusiasts alike. Handcrafted by Drew Estate in Nicaragua, these cigars are part of Deadwood Tobacco Company's Yummy Bitches series, offering a medium-to-full-bodied smoke with a mix of anise, pepper, earth, dried fruit, and a hint of floral.
But what truly sets Sweet Jane cigars apart is their unique flavor profile that delights the taste buds with notes of coffee, chocolate, and a hint of sweetness. The secret behind this scrumptious combination lies in the Maduro wrapper and the aromatic tobaccos used in the blend, creating a smooth and mellow flavor that has cigar aficionados coming back for more.
Origins and Production
Sweet Jane cigars, also known as Deadwood cigars, are a product of the collaboration between Deadwood Tobacco Co. from South Dakota and Drew Estate, a renowned Nicaraguan cigar manufacturer. These cigars are hand-rolled at Drew Estate's La Gran Fabrica in Esteli, Nicaragua, using a dark Maduro wrapper leaf that contributes to their distinct sweetness and dark chocolatey flavor.
The blend of tobaccos used in Sweet Jane cigars remains a closely guarded secret, but one thing is certain – the aromatic tobaccos provide a smooth and mellow flavor with hints of chocolate, baking spices, and coffee.
This unique combination of flavors creates an unforgettable smoking experience that keeps cigar enthusiasts coming back for more.
The Yummy Bitches Series
Deadwood Sweet Jane is part of the Yummy Bitches series by Deadwood Tobacco Company, a collection of three cigars that includes Fat Bottom Betty and Crazy Alice. All three cigars are hand-rolled by Drew Estate Cigar Company in Esteli, Nicaragua, and are blended with aromatic and exotic tobaccos that bring out their natural sweetness.
These cigars, affectionately nicknamed "Yummy Bitches," share the same flavorful characteristics as Sweet Jane, making them a must-try for anyone looking to indulge their taste buds with a unique and enjoyable smoking experience.
Deadwood Sweet Jane a Maduro Wrapper Magic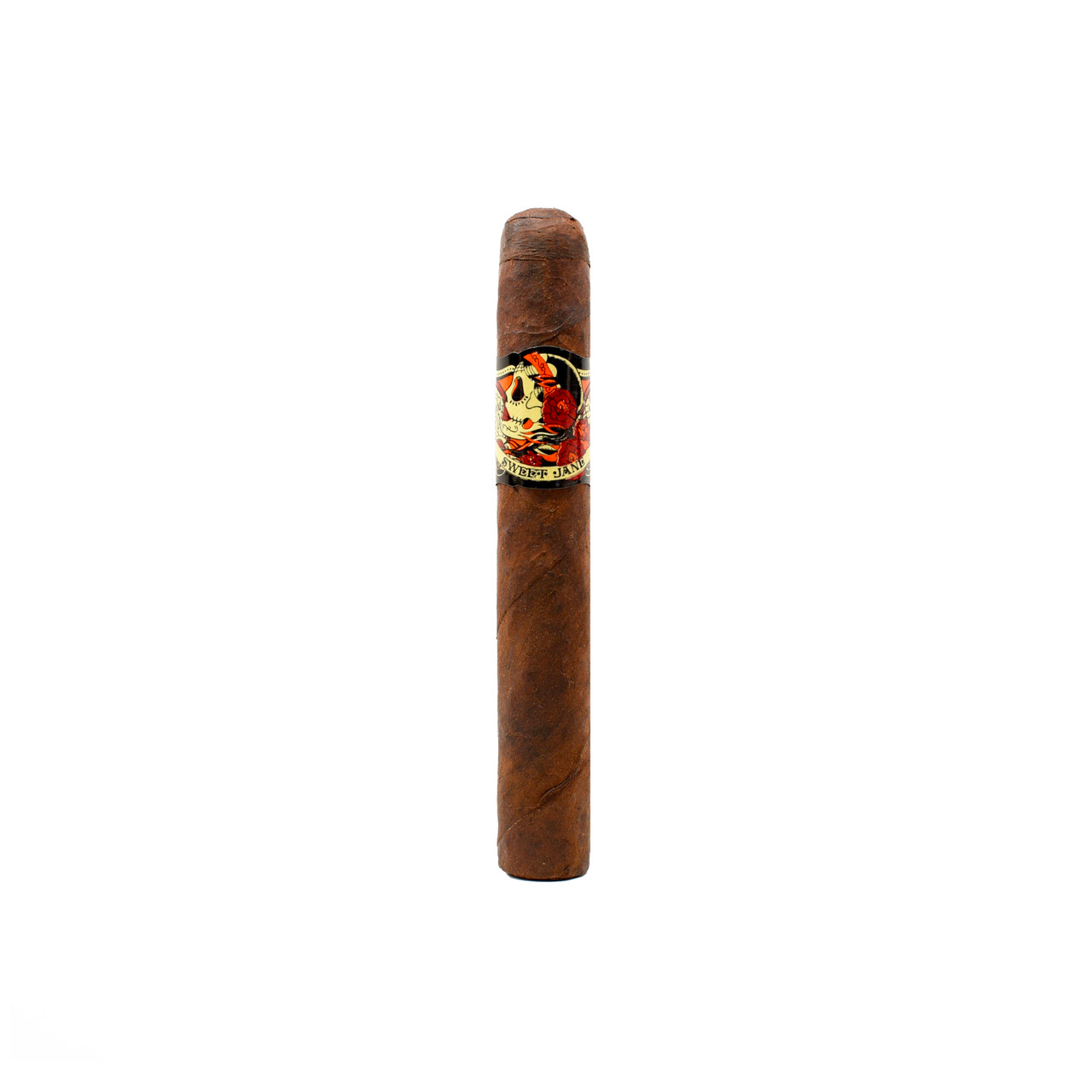 The Maduro wrapper plays a significant role in giving Deadwood Sweet Jane cigars their unique sweetness and dark chocolate notes. A dark Maduro wrapper leaf envelops these cigars, providing them with a rich, complex flavor that is both enjoyable and memorable.
This exceptional wrapper, combined with the aromatic tobaccos used in Sweet Jane cigars, creates a truly one-of-a-kind smoking experience that has captured the hearts and palates of cigar enthusiasts worldwide.
Aromatic Tobaccos
The aromatic tobaccos used in Deadwood Sweet Jane cigars are known for their smooth and mellow flavor profile, featuring hints of chocolate, baking spices, and coffee. These tobaccos are handcrafted in Esteli, Nicaragua by Drew Estate, ensuring the highest quality and consistency in each cigar.
Though the exact blend of tobaccos, including pipe tobacco, remains a secret, the result is a cigar that offers a rich and flavorful smoking experience unlike any other. From the first puff to the last, the aromatic tobaccos in Sweet Jane cigars consistently deliver a satisfying and enjoyable smoke.
Dark Chocolate Notes
The presence of dark chocolate notes in Sweet Jane cigars adds depth and richness to their overall taste. Dark chocolate offers a range of flavors, such as tannin, floral, fudge, creamy, nutty, bitter, earthy, and red fruit, which perfectly complement the other flavors present in these cigars.
This harmonious blend of flavors creates a truly indulgent smoking experience that is both delightful and memorable.
Deadwood Cigars - Vitola Variations
Deadwood Tobacco cigars are available in different vitolas, including Deadwood Tobacco Sweet Jane, Toro, Baby Jane, and Corona Gorda, giving cigar enthusiasts the opportunity to explore and enjoy their unique flavors in various sizes.
Regardless of the vitola you choose, the quality and flavor of Sweet Jane cigars remain consistent, ensuring a truly enjoyable smoking experience.
Tasting the Sweetness
When it comes to experiencing the flavors of Deadwood Tobacco Sweet Jane cigars, the journey begins even before lighting up. The pre-light draw reveals notes of sweetness, coffee, chocolate, cedar, cinnamon, and earthy flavors, setting the stage for a flavorful smoking experience.
As you light up and enjoy your Sweet Jane cigar, the mild-to-medium strength and medium body create a perfect balance of flavors on the palate. The subtle sweetness, rich coffee notes, and hints of chocolate come together in harmony, making each puff a truly indulgent experience.
Pre-Light Impressions
The pre-light draw of Sweet Jane cigars offers a sneak peek into the flavors that await you. One review noted that the pre-light draw gave off a sweet taste reminiscent of Equal sweetener, with coffee notes present but overshadowed by the sweetness.
This initial impression sets the stage for the flavorful smoking experience to come, as the sweetness and coffee notes continue to delight the senses throughout the smoke.
Strength and Body
Sweet Jane cigars boast mild-to-medium strength and a medium body, with the body having a slight edge over the strength. This balance allows coffee, chocolate, and sweetness flavors to shine through while still providing a satisfying smoking experience.
As you enjoy each puff of the Deadwood Tobacco Sweet Jane, you'll find that the strength and body of Sweet Jane cigars perfectly complement the unique blend of flavors, creating a smoking experience that is both enjoyable and memorable.
Perfect Burn and Draw
An exceptional burn and draw are essential for a satisfying smoking experience, and Sweet Jane cigars deliver on both counts. One review praised the burn of the Sweet Jane, stating that it was as good as it gets and received the highest rating for burn.
The draw of Sweet Jane cigars, available at a great price, strikes an ideal balance between resistance and openness, allowing for a smooth and enjoyable smoking experience from start to finish.
Customer Testimonials
Those who have experienced the flavors of Sweet Jane cigars have nothing but praise for these unique smokes. Customers have described them as delicious, full of flavor, and perfect for beginners, thanks to their mild-to-medium strength and medium body.
Many have also commented on the excellent construction of Sweet Jane cigars, noting that the build is top-notch and contributes to the overall satisfaction of the smoking experience.
Purchasing Sweet Janes at Cuenca Cigars
If you're eager to indulge in the unique flavors of Sweet Jane cigars, look no further than Cuenca Cigars, a trusted online retailer offering an extensive selection of premium cigars at competitive prices. With their exceptional customer service and commitment to quality, Cuenca Cigars is the perfect place to purchase your next box of Sweet Jane cigars.
In addition to their online store, you may also find Sweet Jane cigars at nearby tobacco shops, allowing you to explore and enjoy the flavorful world of Sweet Jane cigars in person.
Summary
From the unique flavors and aroma to the exceptional construction and burn, Sweet Jane cigars offer a truly indulgent smoking experience that is both memorable and satisfying. Whether you're a seasoned cigar enthusiast or just beginning your flavorful journey, Sweet Jane cigars are sure to delight your taste buds and leave you craving more. So go ahead, light up a Sweet Jane, and let the flavors take you on an unforgettable sensory adventure.
Is Sweet Jane a good cigar?
Yes, Sweet Jane by Drew Estate is a great cigar. It has a dark Maduro wrapper, a sweet aromatic profile, and notes of coffee and espresso, making it a perfect indulgence.
All in all, Sweet Jane is a smooth and mellow cigarillos you won't want to miss.
Is Deadwood Sweet Jane infused?
No, Deadwood Sweet Jane is not infused; instead, it relies on the natural sweetness of its tobaccos to provide an enticing and tasty experience. The blend is highlighted by a pleasant combination of coffee, cream, and earthy notes, making it a great way to enjoy a sweet smoke without having to rely on infusions.
What is the Fat Bottom Betty cigar infused with?
Fat Bottom Betty cigars are the perfect treat for the casual smoker. They feature an enriched tip that has been sweetened, creating a flavor profile reminiscent of infused cigars.
However, they don't actually contain any infused tobacco - it's just a flavored cap!
What kind of cigar is a Sweet Jane?
A Sweet Jane is a classic Corona-size cigar that offers a mellow yet flavorful smoke with notes of cocoa and spice. It provides a sweet and complex profile that appeals to both experienced cigar aficionados and novice smokers alike.
The cigar is made with a blend of Dominican and Nicaraguan tobaccos and is wrapped in a Connecticut shade wrapper. The wrapper adds a subtle sweetness to the smoke, while the Dominican and Nicaraguan tobacco add a subtle sweetness to the smoke.
What makes Sweet Jane cigars unique?
Sweet Jane cigars provide a unique and complex flavor that combines sweetness, coffee, and chocolate notes, thanks to the Maduro wrapper and the selection of premium aromatic tobaccos.
These tobaccos are carefully blended to create a smooth and flavorful smoke that is sure to please even the most discerning cigar aficionado. The Maduro wrapper adds a rich and creamy texture to the smoke, while the tobaccos provide a complex and flavorful flavor.