Macanudo Cigars
SCROLL TO PRODUCTS
Enjoy Macanudo Cigars - A Guide to the M Bourbon Collection
Ready to embark on a luxurious and flavor-packed journey? Discover the world of Macanudo cigars, where premium craftsmanship meets tantalizing flavors. In this blog post, we'll explore the hand-rolled perfection and unique bourbon taste sensations of the Macanudo Robusto, as well as the delightful combination of bourbon and cherry sweetness in the M Bourbon by Macanudo. Plus, learn how to elevate your experience with perfect cocktail pairings and spread the joy by gifting these exquisite cigars to friends and loved ones! Let's dive in!
Short Summary
Experience the exquisite flavor and perfect burn of Macanudo Robusto cigars!

Enjoy a unique taste sensation with The M Bourbon by Macanudo, an infused cigar delight!

Elevate your experience with fashionably crafted cocktail pairings or share the love by gifting luxurious Macanudos to your loved ones.
The Macanudo Robusto: A Premium Cigar Experience
The Macanudo Robusto is a premium flavored cigar that offers a truly remarkable experience for cigar enthusiasts. This luxurious smoke is crafted using only the darkest Connecticut Shade wrapper leaves from the Connecticut River Valley, providing a smooth and creamy taste with subtle sweetness from the bourbon-infused flavors.
The meticulous attention to detail in selecting and hand-rolling the wrapper leaves ensures a perfect burn and draw, making the Macanudo Robusto a hand-rolled perfection.
Hand-Rolled Perfection
The Macanudo Robusto demonstrates exceptional craftsmanship in every aspect, from the flavorful blend of Dominican tobaccos to the select binder grown in the lush St. Andres Tuxtla Valley of Mexico. The Entubado method of rolling, where each filler leaf is rolled into a scroll and then put together inside the binder, contributes to the premium quality of this cigar.
The St. Andres Tuxtla Valley, with its rich soil and ideal climate, is renowned for producing high-quality tobacco. This ensures that the select binder used in the Macanudo Robusto delivers a consistently satisfying smoke, making it a true hand-rolled perfection.
The Bourbon Taste Sensation
The Bourbon by Macanudo Robusto sets itself apart from other cigars with its unique bourbon-infused flavor profile. The smooth and creamy taste of the mild cigar is beautifully complemented by the subtle sweetness of bourbon, creating an extraordinary and enjoyable experience.
With exciting flavors of pepper, cedar, espresso, anise, leather, earth, and dark caramel, the Macanudo Robusto has a medium-strong body and a creamy, earthy aftertaste. This exquisite bourbon-infused flavor sets the Macanudo Robusto apart from other cigars and makes it a truly special and good cigar.
The M Bourbon by Macanudo: An Infused Cigar Delight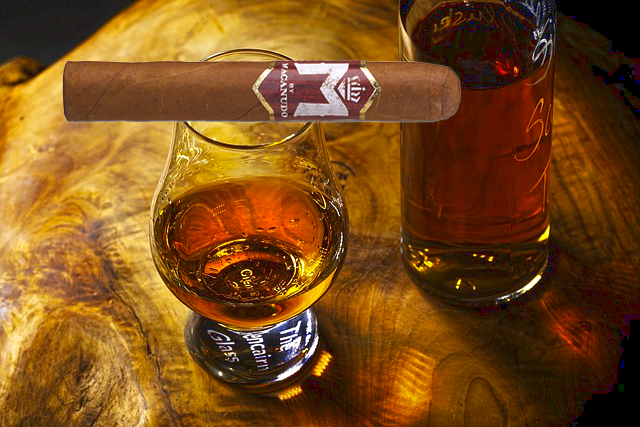 The M Bourbon by Macanudo is another exciting addition to the Macanudo family. This infused cigar combines the delicious flavors of bourbon, cherry sweetness, and aromatic bitters, creating a versatile smoke that's perfect for any occasion.
The subtle bourbon taste with a nice flavor, reminiscent of an old-fashioned cocktail, without the alcohol edge, makes it a popular choice among cigar enthusiasts.
Bourbon Flavor Meets Cherry Sweetness
The M Bourbon by Macanudo offers a harmonious blend of bourbon and cherry flavors, creating a smooth and enjoyable smoke. The Bourbon flavor is the main profile, enhanced by the delightful cherry sweetness that adds a hint of brightness to the cigar.
The bitters are another subtle element that adds complexity to the M Bourbon by Macanudo, making it an exciting, layered smoke for those looking to try something new and flavorful.
A Great Smoke for Any Occasion
The M Bourbon by Macanudo is a versatile cigar that can be enjoyed on both casual and special occasions. Its tantalizing flavor tasting notes and luxurious departure from the everyday make it ideal for celebrating life's milestones or simply relaxing after a long day.
Whether you're sharing with friends or enjoying it solo, the M Bourbon by Macanudo is a great choice that guarantees an amazing cigar experience.
Fashioned Cocktail Pairings: Elevate Your Macanudo Experience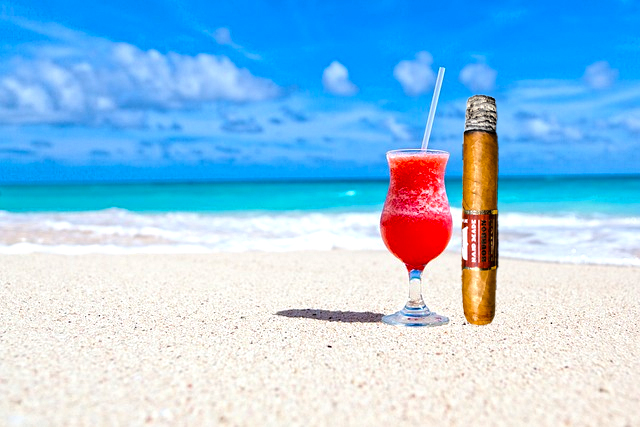 To further enhance your Macanudo experience, consider pairing your cigar with a perfectly matched cocktail. Classic pairings include Scotch, Bourbon, Rye, Rum, Brandy, and Cognac, while white spirits like vodka and gin are not recommended. Whiskey, in particular, is an amazing choice to accompany your Macanudo cigar. The rich and complex notes of whiskey complement the flavors of the cigar, creating a truly elevated smoking experience.
Experiment with different pairings to find the one that best suits your taste and enhances the flavors of your Macanudo cigar. The possibilities are endless, and the perfect pairing awaits you!
Sharing the Love: Gifting Macanudo Cigars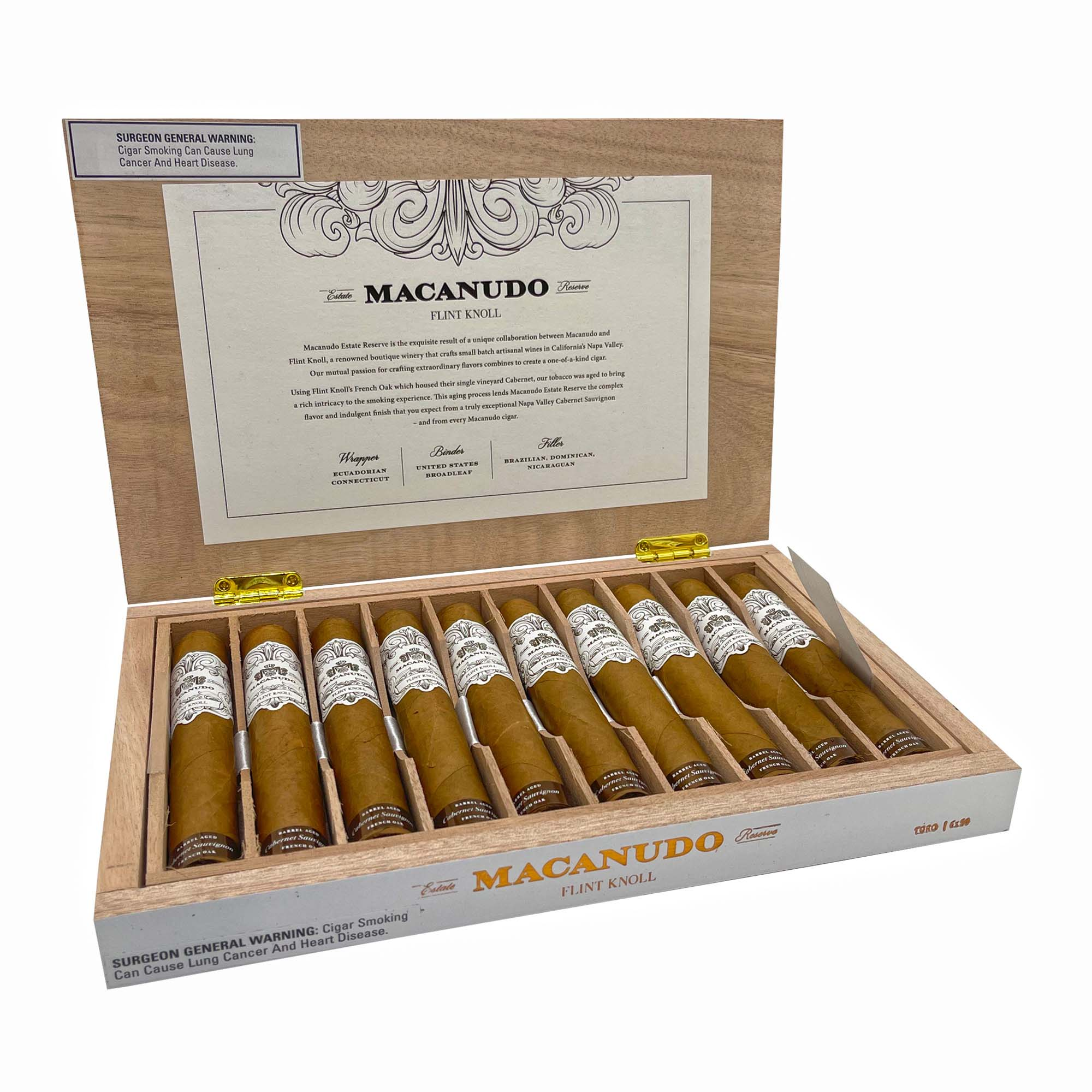 Gifting Macanudo cigars is a thoughtful way to show your appreciation for someone special. To choose the perfect gift, consider the recipient's taste and preferences, and select a high-quality cigar that they will truly enjoy. Presentation is key when gifting Macanudo cigars. Elegant packaging adds a special touch and shows the recipient that you put thought and effort into their gift. A humidity pouch is also a great addition to keep the cigar fresh and ready to be enjoyed.
With an exquisite Macanudo cigar in hand, your friends and loved ones will be able to indulge in a luxurious smoking experience with premium cigars that they won't soon forget.
Summary
The Macanudo Robusto and M Bourbon by Macanudo cigars offer unparalleled craftsmanship and unique, tantalizing flavors that set them apart from other cigars. With hand-rolled perfection, bourbon-infused taste sensations, and the delightful combination of bourbon and cherry sweetness, these premium cigars are perfect for both casual and special occasions.
So, why not treat yourself or a loved one to the luxurious experience of a Macanudo cigar? Whether you're savoring the flavors on your own or sharing them with friends, these exquisite cigars are sure to impress and delight.
Macanudo Cigars is a name to reckon within the boutique cigar industry and has made a permanent place in the top position in the USA cigar circuit. Macanudo Cigars is one of the most recognized brands in the world also. These cigars are crafted using patiently aged tobaccos that are then paired with Connecticut Shade wrappers that are grown, cured, and aged twice themselves. They are noted for their smooth, consistent, rich, distinctive flavors that entices the smoke enthusiasts all over the world. Each piece is created with so much care and attention to detail that they turn out to be an example of perfection. They are available in varieties like Macanudo Cafe, Macanudo Cru Royale, Macanudo Especiales, Macanudo Gold, Macanudo Maduro, Macanudo Robust. To experience such rich taste all you have to do is to place an order with us and enjoy them at your leisure time.