Tatiana Cigars
SCROLL TO PRODUCTS
Exploring the Flavors of Tatiana Cigars
Imagine a world of rich, indulgent flavors and aromas swirling around you as you enjoy a moment of pure relaxation. Welcome to the world of Tatiana-flavored cigars! In this journey into the flavorful realm of these premium cigars, we'll guide you through their origin, the tantalizing flavor profiles, and how to best enjoy them with your favorite beverages. From proper storage techniques to using a flavor wheel to identify the distinct tastes, this blog post aims to be your ultimate guide to truly appreciating the delightful experience that is Tatiana cigars.
Tatiana is a reputable brand that offers exquisite, sweet-flavored cigars. Renowned for their exceptional quality, these cigars boast Dominican tobacco fillers, cultivated from Cuban seed, and are expertly adorned with Indonesian wrappers. Each cigar is meticulously handcrafted to ensure an unparalleled smoking experience.
Discover a wide selection of Tatiana-flavored cigar sticks at our shop. Indulge in the smooth, mild, and mellow taste with a delightful aroma. These cigars are artfully infused with vanilla, cherry, milk chocolate, honey, and cinnamon, setting them apart in the market. Explore the diverse Tatiana series, including Classic, Lavita, Trio Flavor Classic, Mini Trio, Dolace, and more, offering various shapes and sizes to please every palate. Don't miss out, place your order now and experience the exquisite range of cigar varieties we carry.
With a rich history and a variety of carefully crafted cigars, Tatiana offers a unique and flavorful experience for cigar lovers. So sit back, relax, and let us take you on a journey through the enticing world of Tatiana cigars, where each puff promises to create a delightful, aromatic, and unforgettable experience.
Short Summary
Tatiana Cigars offer a flavorful and unique experience with their high-grade Cuban-seed filler tobaccos, infused oils and sweeteners, variety of wrapper tobaccos.

Tatiana cigars can be expertly paired with coffee/espresso, wine/spirits for an enhanced smoking experience.

Utilizing the flavor wheel found on the Tatiana website to identify tastes in premium cigars will help develop one's palate and appreciation of its flavors.
Tatiana Cigars: A Flavorful Experience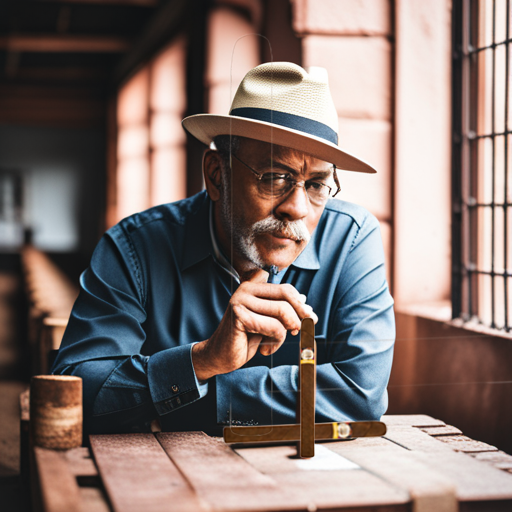 The heart of Tatiana-flavored cigars also lies in their sweet and smooth flavors, an ideal draw, and a delightful aroma with each puff, making them a favorite among cigar lovers. These cigars utilize a high-grade blend of Cuban-seed wrapper and filler tobacco, providing an enjoyable smoking experience that will have you coming back for more. Unlike traditional premium cigars, flavored cigars are infused with oils and sweeteners that mask the inherent flavor of the wrapper and the tobaccos they're composed of, creating a unique taste sensation.
As you indulge in the luxurious world of Tatiana cigars, you'll discover that the brand has a rich history and a wide variety of wrapper tobaccos contributing to their distinct flavors. In the following sections, we'll delve deeper into this fascinating history and explore the different wrapper tobaccos that make Tatiana cigars truly stand out.
Origin and History
Tatiana cigars originated from the Dominican Republic, where high-quality Dominican filler tobacco leaves, a Dominican binder, and an aged Indonesian wrapper come together to create these exquisite cigars. The brand was given the name Tatiana in 1996, and since then, it has gained popularity as a flavored cigar brand, thanks to its unique flavor profiles, including earthy notes, high-quality ingredients, aged,, and distinctive packaging and marketing campaigns.
It's no wonder that Tatiana cigars have become a sought-after choice among discerning cigar lovers.
Wrapper Tobaccos
The distinct flavors and qualities of Tatiana cigars can be attributed to the selection of wrapper tobaccos used in their production, which include Connecticut Shade, Ecuadorian Connecticut, and Indonesian Bezuki. These wrapper tobaccos contribute to earthy notes, nutty flavors, and create the classic Indonesian taste and smell found in Tatiana cigars.
The combination of these wrapper tobaccos with the filler tobacco blend creates a unique smoking experience that cigar lovers will undoubtedly cherish.
Flavor Profiles of Popular Tatiana Cigars
Tatiana offers a variety of cigar lines to cater to the diverse tastes of cigar enthusiasts, including the Classic, Miniatures, and La Vita lines. Each line boasts a unique flavor profile that will satisfy your taste buds and enrich your smoking experience.
In the following sections, we'll explore the flavor profiles and qualities of these popular Tatiana cigars, providing you with a comprehensive understanding of what makes each cigar in each line special.
Tatiana Classic
Tatiana Classic is a highly sought-after selection among cigar aficionados, and for good reason. These cigars boast a flavor profile of rich vanilla flavors that exude a mild sugary sweet aroma, making them a delightful choice for those who appreciate a flavorful smoking experience.
In addition to their enticing flavors, Tatiana Classic cigars also offer a medium-bodied profile, exhibiting notes of cedar, tobacco, leather, smoke and earth. These sophisticated characteristics make Tatiana Classic cigars a well-rounded and satisfying choice for those looking to indulge in a truly exquisite smoking experience.
Tatiana Miniatures
Tatiana Miniatures are small cigars that pack a punch when it comes to flavor. These little gems boast a smooth, mild-bodied flavor profile with subtle hints and notes of sweet cream, cocoa, spices and nuts, making them the perfect choice for a brief yet gratifying smoking experience.
The flavor profile of Tatiana Miniatures includes delectable varieties of spices such as cherry, honey, vanilla, and other sweet and savory flavors. Each flavor offers a distinct taste experience with a smooth and subtle aroma, allowing you to enjoy a unique and satisfying smoking experience with every puff.
Tatiana La Vita
Tatiana La Vita cigars are known for their unique flavor combinations and larger size, making them an enticing choice for those seeking a more robust smoking experience. These cigars possess a mild-medium flavor profile, with a base of mild nutty tobacco notes that will delight your palate.
The La Vita line smoking cigars offers a variety of flavors, including cherry, cinnamon, cognac, rum, vanilla, Groovy Blue, and honey. Each flavor in the Tatiana La Vita line flavored cigars adds a new dimension to the smoking experience, ensuring that you'll find a cigar that perfectly suits cigar tastes and your taste preferences.
Pairing Tatiana Cigars with Beverages
In addition to appreciating the unique flavors of Tatiana cigars, pairing them with the right beverage can significantly enhance your overall smoking experience. From coffee and espresso to wine and spirits, the possibilities for creating harmonious and enjoyable pairings are endless.
In the following sections, we'll guide you through some recommendations for pairing Tatiana cigars with various beverages, so you can fully savor the delightful taste sensations they offer.
Coffee and Espresso
Coffee and cigars have long been known to complement each other, thanks to the distinct characteristics derived from the soil and growing climate in which the coffee plants, beans and tobaccos are harvested. Pairing Tatiana cigars with coffee or espresso drinks can bring out the rich flavors found in both the cigar and the beverage, creating a match made in heaven.
When pairing Tatiana cigars with coffee and espresso, consider the flavors present in both the cigar and the drink. For instance, those with notes of black coffee, such as My Father La Opulencia, will pair well with a bold, dark roast coffee. Meanwhile, cigars with notes of creamy espresso, like the Oliva Connecticut Reserve, will complement a smooth latte or cappuccino. Experimenting with different combinations will allow you to find your ideal pairing and elevate your smoking experience.
Wine and Spirits
Pairing Tatiana cigars with wine and spirits can also result in a harmonious and pleasurable experience that enhances the flavors of both the cigar and the beverage. Whether you prefer a glass of sparkling wine, a sip of cognac, or a taste of single malt whiskey, there's a perfect match waiting for you.
To create an enjoyable pairing with wine and spirits, consider the flavor profile of the cigar, the strength of the beverage, and the flavor notes of the beverage itself. For example, a full-bodied Tatiana cigar with hints of black pepper, red pepper, and cayenne might pair nicely with a bold, spicy bourbon or a robust red wine.
Experimenting with different combinations will allow you to discover the ideal pairing that enhances the flavors of both the cigar and the beverage, creating a truly memorable smoking experience.
How to Properly Store and Smoke Tatiana Cigars
To fully appreciate the delightful flavors of Tatiana cigars, it's essential to properly store and smoke them. In this section, we'll share some tips on how to maintain the freshness and quality of your cigars.
Techniques for enhancing your smoking cigar experience include selecting the right cigar for the occasion, properly cutting and lighting the cigar, and taking the time to properly smoke the cigar.
Storage Tips
Proper storage is key to preserving the freshness and quality of your Tatiana cigars. It is advised to keep them in a humidor in a cool and dry environment to prevent the growth of mold and maintain the correct temperature and humidity. Additionally, avoid exposing the cigars to direct sunlight, as this can negatively affect their flavor and aroma.
If you smoke and don't have access to a humidor, it's best to stick with the original packaging, as this will provide some protection against fluctuations in temperature and humidity. However, keep in mind that this method is not a long-term solution, and investing in a humidor will ensure that your cigars remain fresh and flavorful for years to come.
Smoking Techniques
To fully enjoy the unique flavors and aromas of Tatiana cigars, it's important to smoke them correctly. Start by cutting the cigar, toasting the foot, and lighting the cigar. When smoking cigars, take your time and appreciate the flavors by drawing in the smoke slowly and evenly, and avoid inhaling. Inhaling the smoke can be detrimental to your health and alter the taste of the cigar.
Properly extinguishing your cigar is also crucial to maintaining its quality and flavor. When you're finished smoking, gently tap the cigar in an ashtray to remove any remaining ash, then let the body of the cigar rest in the ashtray until it goes out on its own. Disposing of your cigar responsibly and safely will help preserve the environment and ensure a pleasant cigar smoking experience for everyone.
Using a Flavor Wheel to Identify Tatiana Cigar Tastes
Another useful tool for enhancing your appreciation of Tatiana cigars is the flavor wheel, which can be found on their website. This simple yet effective tool can help you identify and give words to describe the tastes of these premium cigars, providing a shared sense of language for discussing the distinctive characteristics and flavors of each cigar.
In the following sections, we'll guide you through the process of understanding and applying the flavor wheel to Tatiana cigars.
Understanding the Flavor Wheel
The flavor wheel is a tool utilized by cigar aficionados to identify and converse about the flavors present in cigars. It provides a visual representation of the numerous attributes and characteristics that can be experienced when tasting notes or smelling the product, helping to standardize the language used to depict flavors and encouraging communication among specialists in the tobacco sector.
Using the flavor wheel allows you to discern fundamental flavors and then refine to more precise flavors. For example, you might start by identifying a sweet flavor in your Tatiana cigar, then narrow down the sweetness to specific flavors such as honey, caramel, or vanilla. This process can help you better understand and appreciate the unique flavors and aromas of each Tatiana cigar.
Applying the Flavor Wheel to Tatiana Cigars
To apply the flavor wheel to Tatiana cigars, begin by familiarizing yourself with the various flavors and aromas found on the wheel. As you smoke your cigar, try to identify the flavors that are present and correlate them to the corresponding flavors on the wheel. This will help you articulate the specific characteristics of the cigar and enhance your appreciation of its unique flavor profile.
Practicing and refining your ability to recognize flavors is essential to fully enjoying and appreciating Tatiana cigars. As you continue to taste different flavored cigars, and compare them to the flavors on the wheel, you'll develop your palate and become more adept at identifying the subtle nuances in each cigar. Remember, taste is subjective, so your personal experience and preferences will play a significant role in your flavor identification journey.
Summary
Throughout this blog post, we've explored the captivating world of Tatiana cigars, delving into their origin, unique flavor profiles, their qualities, and how to best enjoy them with various beverages. We've also provided tips on proper storage and smoking techniques, as well as a guide to using the flavor wheel to enhance your appreciation of these premium cigars.
With their rich history and enticing flavors, Tatiana cigars truly offer a flavorful experience that is second to none. We hope that this blog post has inspired you to further explore the world of Tatiana cigars and that you can now appreciate the delightful taste sensations they offer with newfound enthusiasm. So go ahead, light up a Tatiana cigar, and let your senses be transported to a world of indulgence and pleasure.