Posted by Ana Cuenca on Jan 15, 2013
NEWS: La Aroma de Cuba Mi Amor Reserva Presented at the IPCPR 2012 available now at our online store.
Ashton Distributors Inc. and the Garcia family have launched a more intense version of their award-winning La Aroma de Cuba Mi Amor brand called La Aroma de Cuba Mi Amor Reserva as per Ashton Distributor at the IPCPR Trade Show 2012.
"Introducing La Aroma de Cuba Mi Amor Reserva: Handcrafted in Nicaragua by Pepin and Jaime Garcia, this could very well be the Garcia family's finest cigar to date! Gorgeous chocolaty-brown Oscuro wrappers grown in Mexico from Cuban seeds accompany a beautifully-bold blend of the finest, most diligently-aged Nicaraguan tobaccos. Full-bodied in strength, this new masterpiece boats a rich and decadent flavor-profile defined by regal notes of earth, spice, cedar, and luscious chocolaty finish. Featuring a traditional Cuban-style box-pressed finish, La Aroma de Cuba Mi Amor Reserva comes in 4 sterling sizes packaged in wooden chests of 24."
"Picture a stronger, richer, even more complex and refined version of Mi Amor," said Ashton vice president Sathya Levin. La Aroma de Cuba Mi Amor Reserva has the same wrapper component as the traditional Mi Amor, a Cuban-seed leaf grown in Mexico, but the wrapper on the new cigar is from a higher position on the plant, and is darker in color.
This new blend use filler and binder form all Nicaragua, but the components have been tweaked from the original. "It's a different blend," said Levin. The blend is expected to be a fuller body than the original Mi Amor with a lot of flavor and a toasted tip that it is been to well received by the aficionado audience.
Aroma de Cuba Reserva will be available in four sizes, each of them parejos with a slight box press:
Beso, 5 5/8 inches long by 48 ring;
Maximo, 5 1/2 by 54;
Divino, 6 1/4 by 52,
Romantico, 6 7/8 by 50.
Prices for this new line are higher than for the original Mi Amor, which sells for $6.75 to $8 per cigar. The least expensive Reserva will have a suggested retail price of $8.50, and the most expensive will retail for $9.95.
The brand was on display at last weekend's International Premium Cigar & Pipe Retailers trade show in Orlando, and should begin shipping in September. While not a limited-production brand, Levin plans to make fewer Reservas to start, then ramp up production later.
The La Aroma de Cuba Mi Amor Belicoso, which scored 95 points, classic on our 100-point-scale, is the No. 2 cigar of the year from Cigar Aficionado magazine.
You can now buy this cigar in our Online Store Pre-Orders Only. See More.
Popular Brands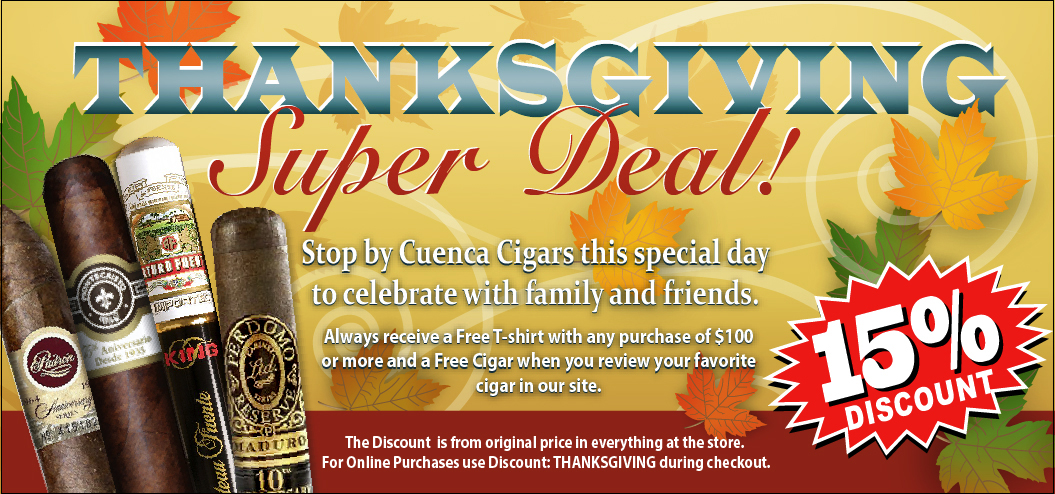 Come to Cuenca Cigars and celebrate Thanksgiving with us. It's been a tradition for almost 5 years and everyone is already asking for this day celebration. And we are celebrating!
Thanksgiving day we are offering a Dinner for everyone who wants to attend. Dinner is free with a minimum purchase of 3 Cigars that night. You will receive a ticket that you can redeem for dinner at the store. Dinner is scheduled for 8:00 pm. Store Hours will start for that day only at 9 am and special discount will 15% with a minimum purchase require of $49.99.
Let's make of this Holiday Season a great one. Count on us for everything. Questions?, call or email us. Want to buy something that is not online, call us.....
15% Discount is good for everything at the store. Online only qualified brands will enjoy the discount. Use discount code: THANKSGIVING during checkout!
Best Cigar Brands: 601 Cigars, Alec Bradley, Arturo Fuente Cigars, Perdomo Cigars, Romeo y Julieta, Montecristo, Oliva Cigars, Ashton Cigars, My Father Cigar Company, H Upmann, Illusione Cigars, La Aroma de Cuba Cigars, My Father Cigar Company, Ortega Cigars, Padron Cigars, San Cristobal Cigars, San Lotano Cigars, Tatuaje Cigars
Ana Cuenca
Your Friend!
https://www.cuencacigars.com/brands/Arturo-Fuente-Cigars.html">Arturo Fuente Cigars, Perdomo Cigars, Romeo y Julieta, Montecristo, Carlos Torano Cigars, Ashton Cigars, My Father Cigar Company, H Upmann, Oliva Cigars