Posted by Ana Cuenca on May 19, 2014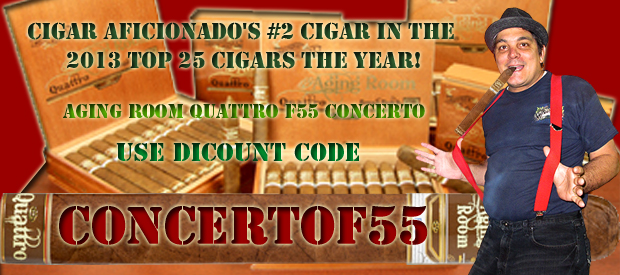 Aging Room QUATTRO F55 Small Batch Concerto - Sumatra Box of 20
DEALS....
YOUR FAVORITE BRAND IN ON SALE NOW!
Cigar Aficionado's #2 cigar in the 2013 Top 25 Cigars the Year is a box-pressed masterpiece that has complex flavors from start to finish. After years of creating impressive cigars, the 95-rated Aging Room Quattro F55 may be Rafael Nodal of Oliveros's finest achievement.
Made with a well-aged 2003 Sumatra wrapper and rare Dominican long fillers and binder, the Quattro F55 from Aging Room is a true small batch cigar with only 400,000 cigars being made.
After the Top 25 Cigar Aficionado Release, this cigars have become a HOT and HARD to find item. Cuenca Cigars has some availabilities and we think you all should tried it. For a limited time only we are giving you this Discount Code CONCERTOF55 so you can give it a tried and understand the beauty of this cigar. Discaunt is available for BOX Purchase only and will expire a week from now.
You also qualify for Free Shipping; Continental USA only and a Free Cuenca Plastic Cutter so you don't forget about us!