Posted by Ana Cuenca on Dec 03, 2014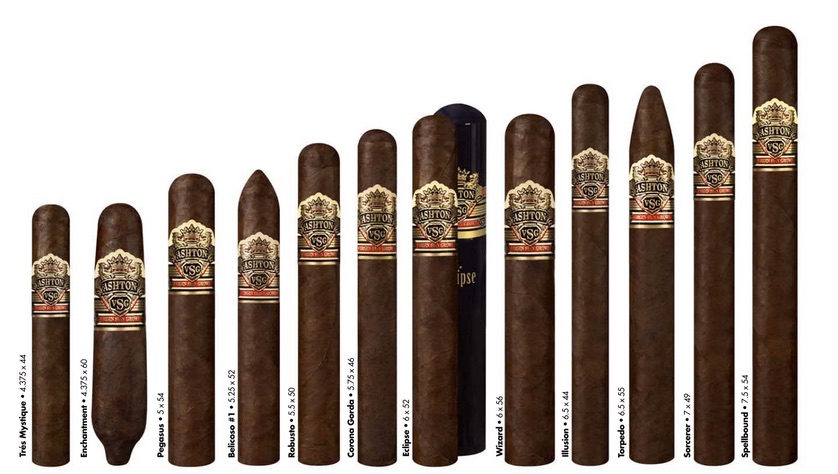 The Ashton Virgin Sun Grown line, known more casually as Ashton VSG, is made by the Fuentes in the Dominican Republic and features dark, oily, high-priming wrappers grown in Ecuador from Sumatra seeds. When Ashton VSG debuted in 1999, there were only six sizes. Fifteen years later, the line has doubled, becoming a versatile portfolio with myriad shapes that start as small as petit coronas and range as large as double coronas. Rather than conduct an entire vertical, we did a sampling of sizes that are not only popular, but most readily available at retail to consumers. Two cigars in this tasting scored 91 points, the Robusto and the Spellbound. Both had exemplary construction, fine combustion and lots of character.
91 POINTS n 5 1/2" x 50 n $10.75 n Humidor Selection
Oily and dark with a few veins on the wrapper. The draw is perfect, imparting a balanced combination of leather and coffee bean with cinnamon and nutmeg. Body: Medium
91 POINTS n 7 1/2" x 54 n $14.50 n Humidor Selection
Each toasty puff of this dark, box-pressed double corona carries notes of chocolate and earth balanced by minerals and a sweet touch of peppermint. Body: Medium to Full
Ashton VSG Pegasus
87 POINTS n 5" x 54 n $11.00
Packed with tobacco, this dark cigar has a bit of a firm draw, but still offers sweet dried fruit notes along with touches of leather. A metallic finish offset the score. Body: Medium to Full
86 POINTS n 5 3/4" x 46 n $10.60
A salty smoke that takes on some coffee bean and raisin notes before turning charry and a bit acidic. The finish leaves a chalky sensation on the palate. Body: Medium to Full.