Posted by Ana Cuenca on Jul 22, 2012
Alec Bradley Family Blend No 16 Best Cigars of the Year 2009.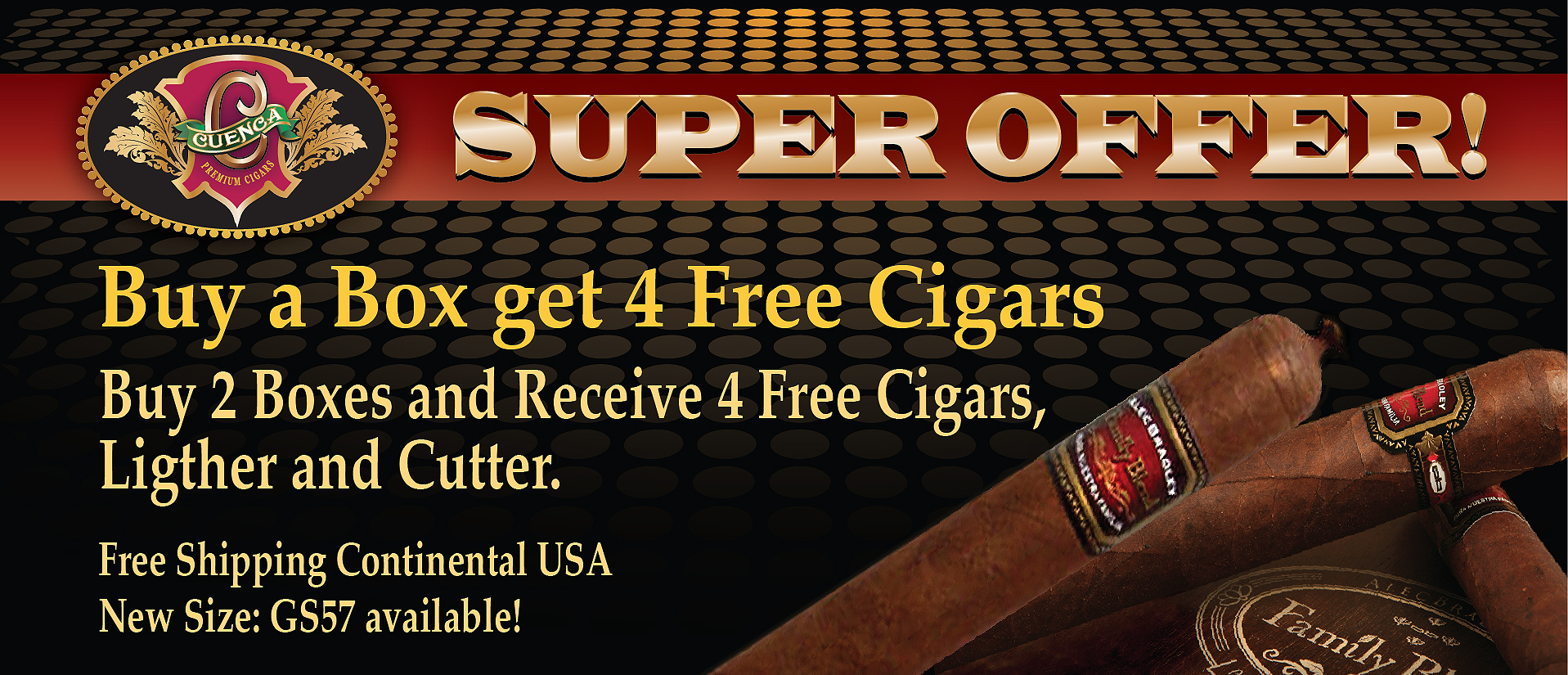 Family is an important word in the business of cigars, an industry in which the secrets of tobacco are often passed down from father to son. Alan Rubin has made family a priority since he founded his cigar company in 1997: he named it Alec Bradley Cigars after his two sons. This year, he decided to honor not only his father, but the fathers of his two key associates in the business, by releasing Alec Bradley Family Blend, a one-size fat cigar capped with a tight pigtail. The smoke is marvelous, subtle, elegant and balanced, with a medium body. (Cigar Aficionado)
MADE BY:
Fabrica de Tabacos Raices Cubanas S. de R.L.
FACTORY LOCATION:
Honduras
WRAPPER:
Honduras
BINDER:
Indonesia
FILLER:
Honduras
RING GAUGE:
50
LENGTH:
5 1/2"
RATING:
92
This is an excellent offer. Get a 15% Discount, already apply to boxes. Free Continental USA Shipping in orders over $99.99. Buy a box of cigars and receive 4 Free Cigars. Buy 2 Boxes, receive 8 Cigars, a Free cutter, Free Lighter. Hurry Up. If we can answer any other questions please feel free to email us Thank you! sales@cuencacigars.com or visit us online at www.cuencacigars.com. Tags: best cigar of the year, top, cigars, cigar, best, list, que pasa, top 10, top 25, cigar aficionado, cuenca cigars, cuencacigars.com
Popular Brands
601 Cigars A. Turrent Alec Bradley Alec Bradley Cigars Arturo Fuente Cigars Ashton Cigars AVO Cigars Blazer Lighters Boveda Brick House Brick House Cigars Café Crème Cain Cigars Camacho Cigars CAO Cigars Carlos Torano Cigars Colibri Lighters Craftmans Bench Cuban Crafters Cubao Cigars Cuenca Cigars Cuesta Rey Cuesta Rey Cigars Dominico Cigars Don Diego Dos Familias Excallibur Cigarrillos Flavour Cigars Flavours Cigars Frank Llaneza God Of Fire Cigars God of Fire Humi-Jars by Prometheus Gurkha Cigars H Upmann Havana Sweets Hookah Tobacco House Blend Illusione Cigars Java Cigars JC Newman John Gillan Photography La Aroma de Cuba Cigars La Flor Dominicana Cigars Liga by Drew Estate Lost City Cigars Montecristo Montecruz Murcielago My Father Cigar Company Neos Cigarrillos Nestor Miranda NUB Cigars Oliva Cigars Omar Ortez Onyx Orleans Group Padron Cigars Partagas Cigars Perdomo Cigars Playboy Prometheus USA Punch Cigars Quorum Cigars Rocky Patel Cigars Romeo y Julieta San Cristobal Cigars Savor Accessories Savoy Sencillo Cigars Siglo Tatiana Tatuaje Cigars Trinidad Vector KGM Xikar Accessories