Posted by Ana Cuenca on Mar 10, 2023
Buy Limited Edition Cigars Online at the Best Prices & Save Big
Generating imaginative product concepts can be a laborious endeavor, so I decided to take it a step further and let my subconscious mind do the work for me. As I drifted off to sleep last night, I anxiously awaited what sort of creative ideas would surface during my visit to my dream state. To my delight, in that very instant, an inspirational vision emerged of myself writing about the newly crafted cigars honoring the Chinese New Year Calendar, The Year of the Rabbit cigars! It was exceptionally vivid and enthralling.
I ventured to visit the Cigar Shop this morning expecting to find a collection of rare cigars commemorating this year, yet much to my dismay, there were only three in stock. Unfortunately, most of these rare cigars have been sold or exclusively released in the Asian Market.
Then, I decided to broaden my selection of cigars and include some rare, hard-to-find varieties.
It's not too often you hear about luxurious, rare cigars – but today, I'm giving away a secret! You deserve to explore the world of rare cigars, and add a few of these masterpieces to your collection. Not only will you find cigars they be of amazing quality, but they will be limited editions that could make any cigar enthusiast swoon with delight. Don't miss out on this opportunity – it's time for you to find rare cigars, and to find cigars and treat yourself right!
The Best Limited Edition - Year of the Rabbit - Rare Cigars
The passion and enthusiasm we share for cigars are based on taste and a desire to understand the complexities of different blends. Cigar aficionados continuously seek new tastes by trying out various brands to get an idea of the hype about them. If you agree, I may suggest something: Celebrate The Year of the Rabbit with a premium cigar! Get in on this year's limited edition releases from your favorite manufacturers and experience something truly special.
Why not store your cigars in a personal humidor until the latest batch of stogies is released? I guarantee you won't be disappointed when you light them up! Enjoy these smooth, rich flavors and savor every puff.
Take advantage of this rare opportunity to add these top-rated cigars to your next shopping bag! We've created a very limited edition cigars sampler including them - and only Cuenca Cigar Shop has it. Don't wait any longer, as supplies won't last long. Grab yours today for the ultimate cigar-smoking experience!
Plasencia Year of the Rabbit Cigar

The Plasencia Year of the Rabbit, a 6 1/2 x 54 toro extra made entirely with Nicaraguan tobaccos and focusing on Jalapa region leaves, is now available in limited quantities. Only six thousand boxes (each containing ten cigars) will be released to the U.S., each retailing for $52 apiece. Grab yours while supplies last!
Nestor Andrés Plasencia, CEO of Plasencia 1865, attests the view that the Rabbit is a perfect emblem for our modern age—capable of adapting to any atmosphere. "The rabbit symbolizes longevity; therefore, we wanted to make sure that 'The Year Of The Rabbit' cigar brand had long-lasting flavor and quality," he said. We completely believe this product will be an ideal representation of the Chinese New Year.
Vegafina Year of the Rabbit Cigar

As we draw closer to the close of the Lunar New Year, Altadis U.S.A celebrates the arrival of VegaFina Year of the Rabbit 2023 at local retailers! This excellent cigar is expected to be released globally in February following its launch this month in America.
An exquisite 6 x 50 torpedo crafted with an Ecuadorian wrapper and a Dominican binder. The filler blend of tobaccos from the Dominican Republic and Nicaragua ensures that your smoking experience starts mild and gradually builds up to full to medium-bodied intensity. Tabacalera de García in La Romana, Dominican Republic, proudly produces these cigars for Altadis U.S.A., designed to take you on a flavorful journey!
Flor de Selva El Ano del Canejo - Rare Cigars

Five years ago, Maya Selva initiated the shipment of and sold their first blend from their Zodiac Series - and it has been a yearly hit ever since! While this series wasn't pioneering in its field (Davidoff's Year of the Dragon in 2012 likely holds that title), it did come out before other companies, and brands and companies like Drew Estate, Great Wall, Habanos S.A., Plasencia, and VegaFina released and sold theirs.
Maya Selva's newest addition to their brand series was revealed in September to celebrate the Year of the Rabbit. Titled Año del Conejo 2023—or Year of the Rabbit 2023 from Spanish—this 5 1/2 x 48 Honduran puro is encased in a wrapper cultivated from Jamastrán and contains a binder coming straight out of Azacualpa, Olancho. It promises an unforgettable smoke with plenty of rabbit-inspired flavors!
Plasencia Ehtëfal for World Cup 2022

Plasencia 1865 is excited to present its newest celebration smoke, احتفال, premiering in time for the 2022 FIFA World Cup. Contrary to popular belief, it's not a limited edition exclusive item solely produced for Qatar but will be available worldwide. The blend comprises 10-year-old Nicaraguan and Honduran fillers enclosed by a sun-grown Jalapa wrapper rolled into 6x52 toros! A must-have – so why wait? Grab yours now and join us as we commemorate an international event with quality smoke!
Ehtëfal—at an MSRP of $65 per stick—will release 5,000 boxes of 10-count worldwide, with half allocated to U.S.-based stores and the other half available internationally.
Plasencia Alma Fuerte Eduardo Colorado Claro

On June 2022, the Plasencia family declared their newest release—the Alma Fuerte Colorado Claro toro vitola, in honor of Eduardo Plasencia, one of the Pioneer tobacco growers after migrating from the Canary Islands to Cuba back in 1865. Counterpart of the previous Maduro Version. This box-pressed delight has a 54-ring gauge and measures 6 1/4 inches long, with each elegant stick priced at $20.60 per 10 cigars. All these marvels find cigars are produced in Nicaragua by none other than the Plasencias' factory located in Estelí city!
Romeo y Julieta Envy Amulet

The Envy Amulet from Plasencia 1865 S.A is a limited-edition 6 x 55 toro extra-size cigar crafted with only Nicaraguan tobaccos, and it's the natural follow-up of Romeo y Julieta Eternal, yet another Altadis U.S.A production made by Plasencia! At an MSRP price of $17.50/cigar in boxes containing 11 units each, the price and its total price is close to 100k cigars or 9090 boxes, respectively -making the price of this exclusive item highly desirable amongst aficionados all over the world!
After a lengthy aging process, Tabacalera USA's Head of Product Capability, Rafael Nodal, concluded that this exquisite blend was ready. As he spoke in a press release, "The only thing left was discovering the perfect shape and size to showcase these Nicaraguan tobaccos." We are proud to present what is surefire going be an absolute hit - truly fantastic!
D'Crossier Golden Blend Refinados

Get ready to experience the delightful flavors and aromas of the freshly released Refinados from Pure Aroma Cigars, part of their well-known D'Crossier Golden Blend Series! These series find cigars pay tribute to Santana's father cigars and are named after two years in which they dedicated themselves solely to refining this exceptional blend. Acquire an authentic taste of refinement with every puff you take - indulge yourself with these premium cigars today!
Discover our exquisite blend of aged Ecuadorian Habano colorado wrapper that has been meticulously triple-fermented for 10 months and seasoned with Spanish cedar aging. A 5-year-old combination of Nicaraguan and Dominican Republic fillers forms the core while we hold the binder under wraps. Available in 3 sizes only at Tabacos de Costa Rica!
While these cigars are not limited editions, they are extremely limited. You can only find them at Brick and Mortar stores or limited online retailers such as Cuenca Cigars website.
These cigars are simply divine. The meticulous blend of old tobacco creates a flavor profile that is second to none, while the packaging and cedar liner demonstrate an unwavering devotion to cigar crafting excellence. Enjoy these unique beauties today and experience what it means to savor every puff truly!
Fuente Fuente OpusX 20th Anniversary

Arturo Fuente Opus X cigars need not be introduced to any cigar aficionado, as they are world-renowned products for their natural excellence. This 20th Anniversary limited edition cigars celebrates two glorious decades of the iconic brand's legacy, and loyal fans can anticipate a similar degree of natural perfection with an alluringly distinctive approach.
The Opus 20th exudes an unparalleled smoothness and medium-bodied flavor, making it a more subdued version of the original bold Opus X. As you puff away at this exquisite cigar, its flawless construction and natural side provide an open draw that floods your palate with rich cedar, creamy leather, and tantalizing spice notes - enabling you to indulge in a complexity like no other! Arturo Fuente's 20th Anniversary Line will leave even the most discerning connoisseur enamored.
Rare Pink 60's Sophisticate Hooker

Carlos Fuente Jr.'s keen sense of humor is reflected in the curious name of this cigar. Sophisticated Hooker? Of course, it refers to a fishing boat (referred to as 'hookers') from his father Arturo Fuente's younger days. As the biggest size among the Rare Pink line-up, father cigars - shapely figurados similar to the Hemingway series - you can be sure that sophisticated hooker has something special just for the man in you.
This unique blend is unlike anything you can find in Hemingway's. Additionally, its sale provides a memorable experience and contributes to an important social cause - breast cancer research. With the price of every box of cigars sold comes the satisfaction of knowing that part share of what you paid for your purchase goes towards this noble endeavor, evident from their sale and offer of signature pink boxes, which are intended to mirror the official color for Breast Cancer Awareness campaigns!
When the Sophisticated Hooker was first released in the Spring of 2021, it had yet to receive or be included among its four other sizes. However, at Big Smoke Meets WhiskyFest later that year, attendees were granted a sneak peek of this intriguing cigar. Now available on the market but still produced in limited numbers, upon lighting, you will be greeted with cedar and herbal aromas followed by nutty and graham cracker sweetness with hints of red meat and caramel before finishing off sweetly nuttily.
All the Reasons to Love Our Premium Smokes!
Look no further if you're looking for the crème de la crème of cigars! Rare and hard-to-find varieties are available here – they may not come cheap but offer an unbeatable experience. Visit the visit our website or Cigar Shop to get your hands on these must-have Cigars today! But hurry, It could be too late!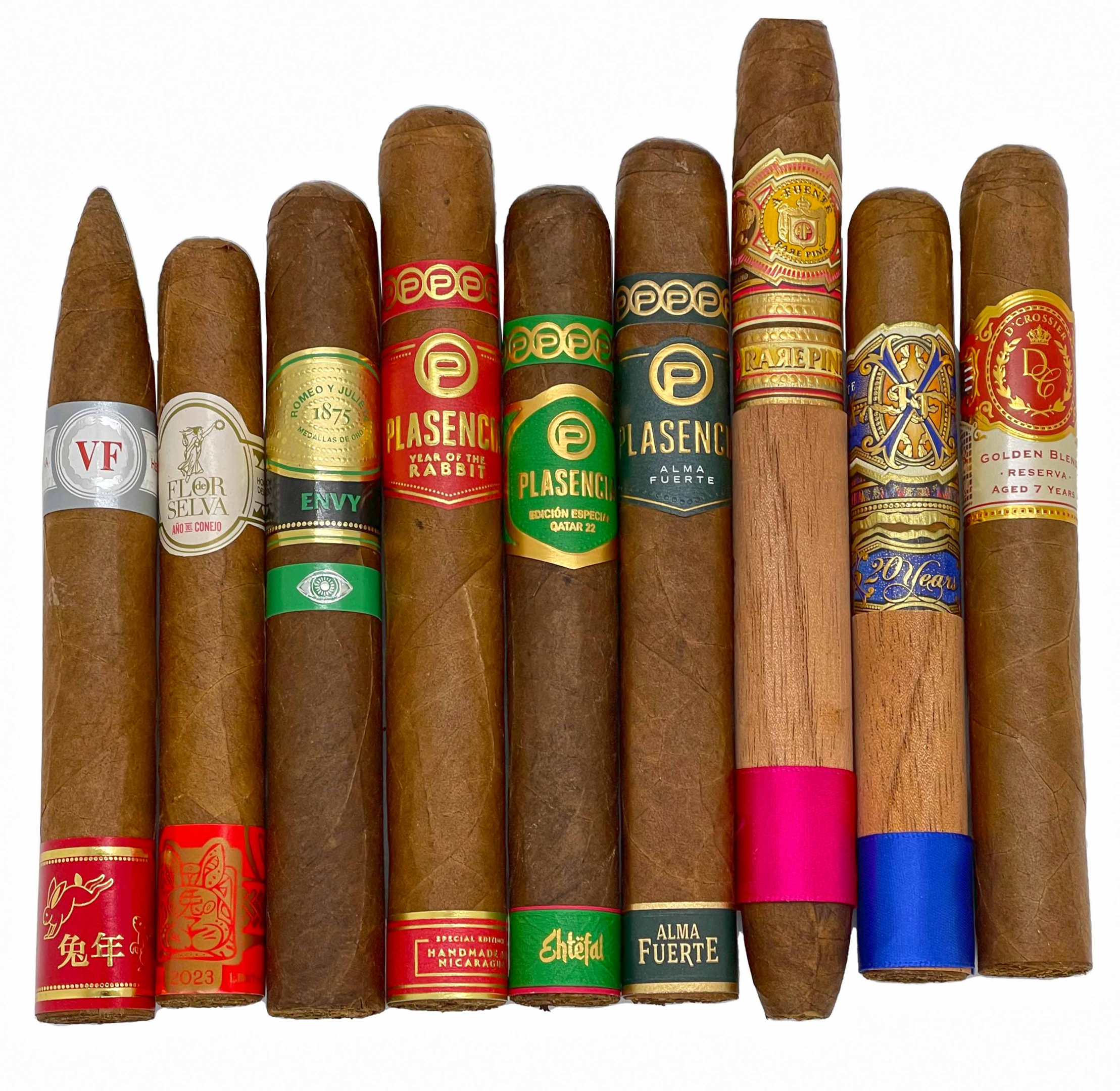 Although a small handful of rare cigars used in this selection are not classified as Limited Editions, they are incredibly difficult to purchase and locate.
I am passionate about this assortment selection of cigars, as it provides a wide range of flavors and quality. From Nicaragua to the Dominican Republic to Honduras, Handmade cigar companies has crafted these luxurious smokes with one thing in common - outstanding excellence! Each smoke consists of medium-to-full-bodied flavor profiles that define premium cigars at their finest.
If you're ready to purchase, don't delay! These cigars are selling quickly and the stock will be gone soon - so act fast before it's too late!