Posted by Ana Cuenca on Aug 08, 2018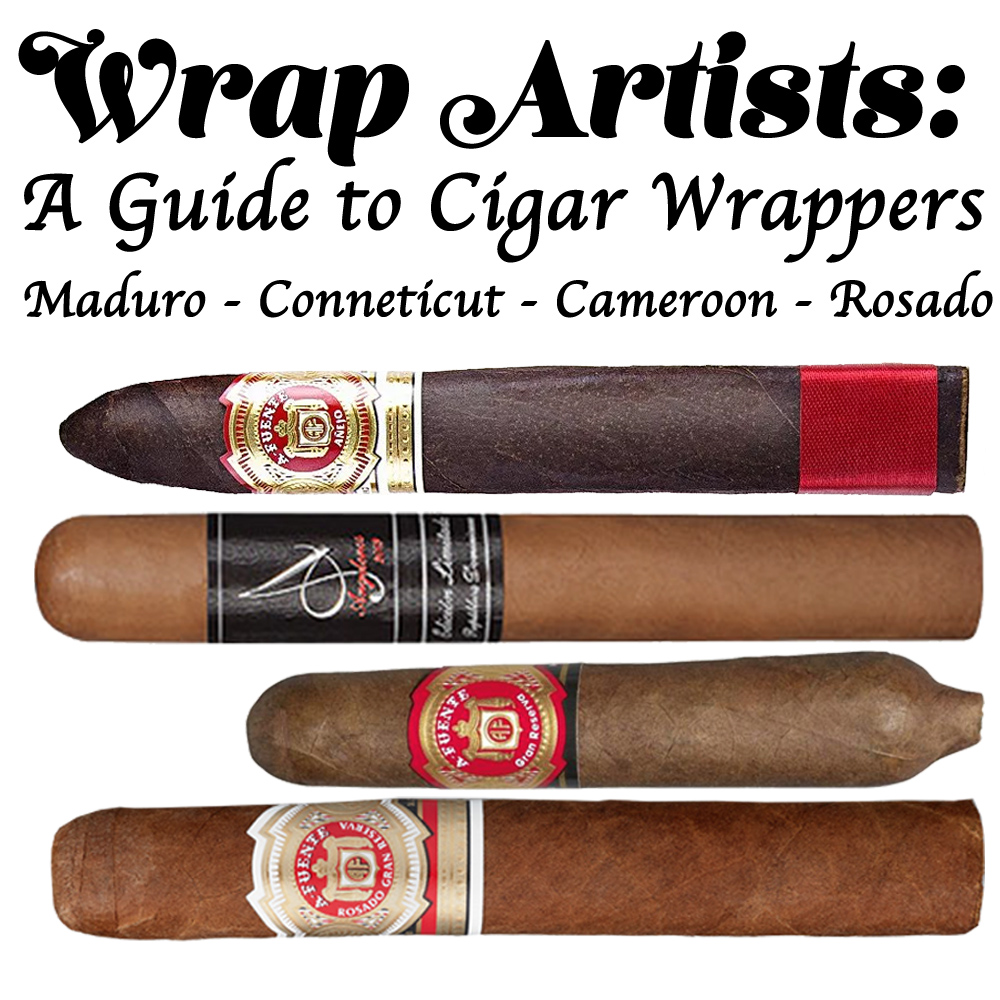 With the popularity of cigars growing around the country, there are now over 17 million cigar devotees and counting. If you've never had the pleasure of smoking a really good cigar, you probably don't know much about cigar wrappers. While some cigars come wrapped in cellophane the highest quality cigar wrappers are made of tobacco.
To understand how cigar wrappers can influence the smoking experience, get to know these four types.
1. A Maduro
When you see "Maduro" on a wrapper, you know the cigar is more "mature" or "ripe". The darker brown leaves take longer to age, curing for up to a month and a half. After these green leaves turn to a rich brown, the tobacco is aged for years in some cases to enrich the taste and bring out natural sugars.
You'll notice a caramel sweetness when you smoke them. Their wrappers are going to be thicker than other wrapper given the length of the fermentation process.
While there is an odd company here and there who will dye or heat the leaves to give them an artificial age, most stick to tradition. These wrappers inform you that you're about to smoke a dessert or a nighttime cigar.
Cigar manufacturers and tobacco growers have made a Big Deal of Maduro wrappers and developed out of the box techniques in the making. The Maduro wrappers are attractive smokes and people have the tendency to believe is directly related to the strenght of the cigars, but people with knowledge cigars know better. Maduro is at best a flavorful smoke and the strenght come from within.
One of my all time favorite smokes happens to be a cigar that uses Maduro wrapper: Arturo Fuente Anejo. The process of fermentation covers 5 years of Connecticut broadleaf tobacco placed in Cognac Barrels to age. This is a unique aging process that of course produce a very distinct finish and texture.
2. Connecticut Wrappers
These can also be called "claro" wrappers. They're shade grown from Connecticut seeds either here in the U.S. or in Ecuador.
When something is "shade-grown", its grown under a giant sheet of cheesecloth. Believe it or not, this gives it a milder flavor by blocking out some of the sunlight.
The aging process then can imbue them with notes of grass, butter, or coffee. Connecticut wrappers are a spicier kind of flavor because of the ammonia that tobacco leaves give off. They have the tendency to add a milder bittness to the smoke. Some well cured Connecticut wrappers will cut out this excess of it, but the reality is that most cigar aficionados love it.
Some see Connecticut and immediately assume the cigar is mild, but people who really know cigar, know better. The outside look is not always related to strenght. We can find some Connecticut wrapped cigars that offer a more colorful smoke, some others stick to the plan until it gets fun.

3. Cameroon Wrappers
A Cameroon wrapper, quite obviously, originates from Cameroon as a grainy or "toothy" leaf. They are sometimes grown in the Central African Republic and tend to be less oily and not as sweet as the Maduro cigars.
You'll notice flavors of butter, leather, and sweet toast. The flavor tends to be smooth and manageable because of the more delicate fermentation process. Casual and part-time smokers will appreciate these wrappers more than the more intense flavors of the darker wrappers.
One of the old timers known Cameroon wrapper cigars is the famous Arturo Fuente Hemingway Line. The complex figurado shape with the tasty covered Cameroon offer a balanced and sublime flavor profile. This was in time probably one of the first cigars someone ever recommended to you. The balanced nuances of flavors with the medium strength and sweetness of the Cameroon, make this a top 5 Best Cigars for Beginners.

4. Rosados
This is a less common wrapper color but will tend to be of a pinker or more reddish hue than a standard wrapper. They grow mostly in Cuba, which means that they're not expected to be typically available to standard domestic smokers.
They're a rare cigar indeed and can be expensive a sought after. Even the flavor is special, as they give off notes of pepper, cedar, and coffee. Some people note they have a very earthy taste and scent compared to other types of cigars.
Carlos Carlitos Fuente Jr., is known for being producing Rosados wrappers for many years. After Cuba tobacco acquisition become impossible, he started to study the different offering of soils and start experimenting with tobacco at his Dominican Republic farm. No one believed that a Rosado wrapper can be produced in other than the fertile and blessed Cuban soil. He proved them wrong and produced the most beautiful and tasty Rosado wrapper there is: Opus X Fuente Fuente.
For many years these cigars have been limited editions after carefully hand picking among all the Rosados that they produce. Some of these wrappers were left in the side after failing the extremely high standards on the Opus X cigars. But they were excellent wrappers, clean rosados that need it to make out to the public. The Arturo Fuente Rosado sungrown was born. This is a much affordable and easier to produce smoke than THE Opus X cigars with still a quality and profile to the roof! Lets just welcome the best cigar there is: Arturo Fuente Rosado Sungrown.

Cigar Wrappers Enhance the Experience
If you get to know the nuances of smoking and tasting cigars, you'll understand how cigar wrappers can influence how you enjoy them. Cigar flavors can be as delicate as coffee or wine and once you get to know the tastes, you'll become obsessed.
If you're looking to pair cigars with drinks with friends, check out our guide for tips.
There are many other wrappers in the market. Cigar Manufacturers experiment all the time with the fermentation process and this is what most people call it "A Signature". Let's imagine we do a Blind Tasting of cigars. By knowing the producer Signature you can tell the cigar you smoking. But that is not an easy process and not everyone have the sophistication that it takes to get to this point, when you smoke a cigar and you can tell who produce it, what wrapper is been used and determine the strength then you can say: I am a Cigar Aficionado Expert!