Posted by Ana Cuenca on Mar 09, 2023
My Father La Antiguedad cigars - From the Garcia Family!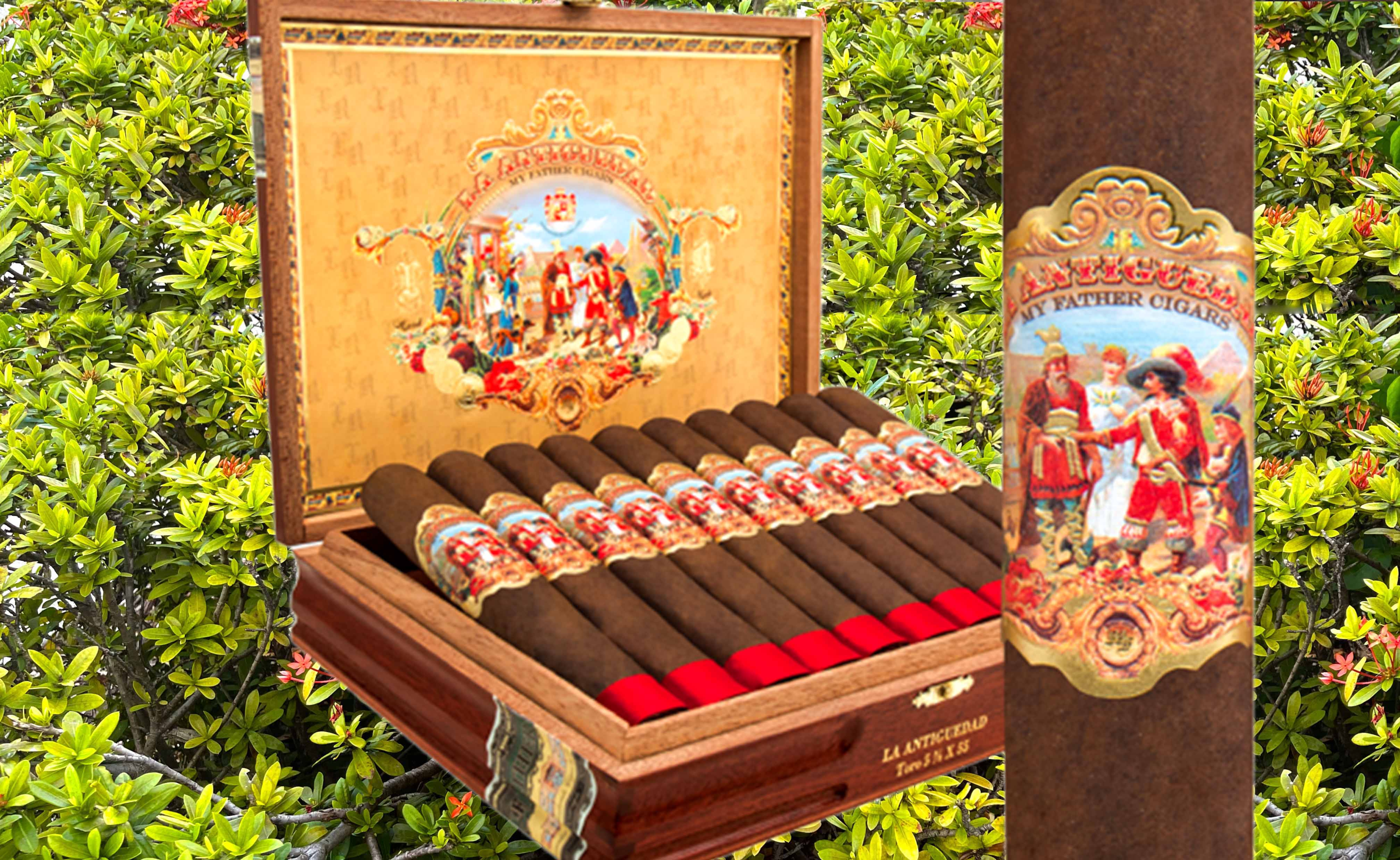 The Garcia's proudly presents - My Father La Antiguedad!
My father, Don Pepin Garcia, is widely acclaimed for his incomparable quality and remarkable flavor of tobaccos, and the brand-new stick continues to uphold his impressive reputation. If you're searching for a genuinely satisfying smoking experience, look no further than this one-of-a-kind blend from the Garcia's.
It's difficult to believe that something could upstage the Flor De Las Antillas, named the best cigar of 2012. However, if there is one thing we can confidently predict for 2014, My Father La Antiguedad will undoubtedly receive high accolades on next year's list. This Cuban-style 'entubado'cigar boasts a magnificent flavor profile with numerous complex notes that will please even those who have acquired an expert palate for cigar aficionados!
My Father La Antiguedad, Spanish for The Antiquity, boasts a Nicaraguan Habano Criollo leave and is made with an exquisite combination of select Nicaragua tobaccos from the Garcias family-owned farms. San Rafael, Las Quebradas, and San Jose are all in this unique blend of tobaccos crafted by the esteemed Garcia's family.
The released this stick from My Father Cigars, who won the coveted "Cigar of the Year" award, is sure to be a hit! It pays homage to Cuban culture through its artwork that dates back over 150 years. Additionally, this blend celebrates complexity and delicacy - it contains two Nicaraguan binders and an Ecuadoran Habano wrapper leaf for those seeking richness in flavor. Any enthusiast can appreciate this exquisite combination created by My Father Cigars!
Enveloped in an exquisite Ecuadorian Habano Rosado Oscuro and entwined with two Nicaraguan binders - one Criollo, the other Corojo – a unique combination of aged tobaccos from three regions in Nicaragua. After being seasoned for at least three-and-a-half years to bring out its full flavor potential. These meticulously blended ingredients create a luscious medium to full-bodied that exudes hints of cocoa, coffee, leather and just the slightest hint of pepper. With every puff comes complexity like never before!
My Father La Antiguedad - Reviews
The blend was released in 2014, and its banding immediately conjures memories of another father" stick from the same company. Although these two my father" lines differ in blend and flavors, their similar box packaging gives them a unified presence. Both are iconic box-pressed design reinforces this connection; it's easy to see why one might group this blend with Flor de Las Antillas!
It has been a wildly successful smoke, with the public and critics praising it in recent years. Such success makes it no surprise that I thoroughly enjoy La Antiguedad, as well - they have enhanced my smoking experience more than half years, and more each time!
In 2014, the Don Pepin unveiled it - a classy smoke blended with fillers from three Nicaraguan areas: San Rafael, Las Quebradas, and San Jose. What makes this smoke even more special is that all of these locations are privately owned by none other than the esteemed Garcia family themselves!
La Antiguedad is a brand that pays tribute to Cuban heritage, using artwork from the 1870s Cuban Brand. Featuring a double binder from Nicaraguan - Nicaraguan Criollo and Corojo - and an Ecuadoran Habano wrapper leaf, this remarkable blend of flavors has caught the attention of many since its official launch in February 2014, farms privately owned by Garcias Cigars. Since then, La Antiguedad cigars have been highlighted in numerous articles and ratings lists throughout the industry.
La Antiguedad - The Line up!
The La Antiguedad is an exquisite smoke in five sizes, all conveniently packaged with twenty cigars per box. For those looking for a Robusto size, a box of the La Antiguedad covers you at 5 1/4 x 52. Additionally, there's also a toro (5 5/8 x 55), Corona Grande (6 3/8 x 47), La Antiguedad Super Toro (7x56), and even a Toro Gordo (6x60). So whatever your preference for fine cigars, we have something special waiting just for you!
The Antiquity Super Toro - The Best Size in the Cigar Brand
The Shape Double Corona is a 7 x 56 exquisite cigar with an Ecuadorian Habano wrapper and a Colorado Maduro color. We called Antiguedad Super Toro. Hand-rolled with long filler from Nicaragua, this medium to full-strength Nicaraguan cigar was blended by Don Pepin & Jamie Garcia - two of the top blenders in the industry! Get ready to set one of these smokes in your humidor for an unforgettable smoking experience today!
Boasting an impressive 60-ring gauge, the Toro Gordo is by far the thickest blend on this year's 2019 Top 25 list. Expertly crafted with a blocky shape that resembles a chocolate bar, it provides unparalleled sweetness and toasty notes of raisins, toffee, and crushed walnuts — all culminating into one memorable finish! The Garcia's has once again proven their worth in creating yet another masterpiece for this highly esteemed list.
If a thick cigar is your go-to, then you won't want to miss out on the Toro Gordo. Even if you prefer smokes with thinner ring gauges, this option provides an alluring opportunity for growth and exploration into heavyweight cigars - don't be afraid of stretching beyond your comfort zone!
Shop My Father La Antiguedad Now