Posted by Ana Cuenca on Feb 22, 2023
My Father Garcia y Garcia a Limited production cigar.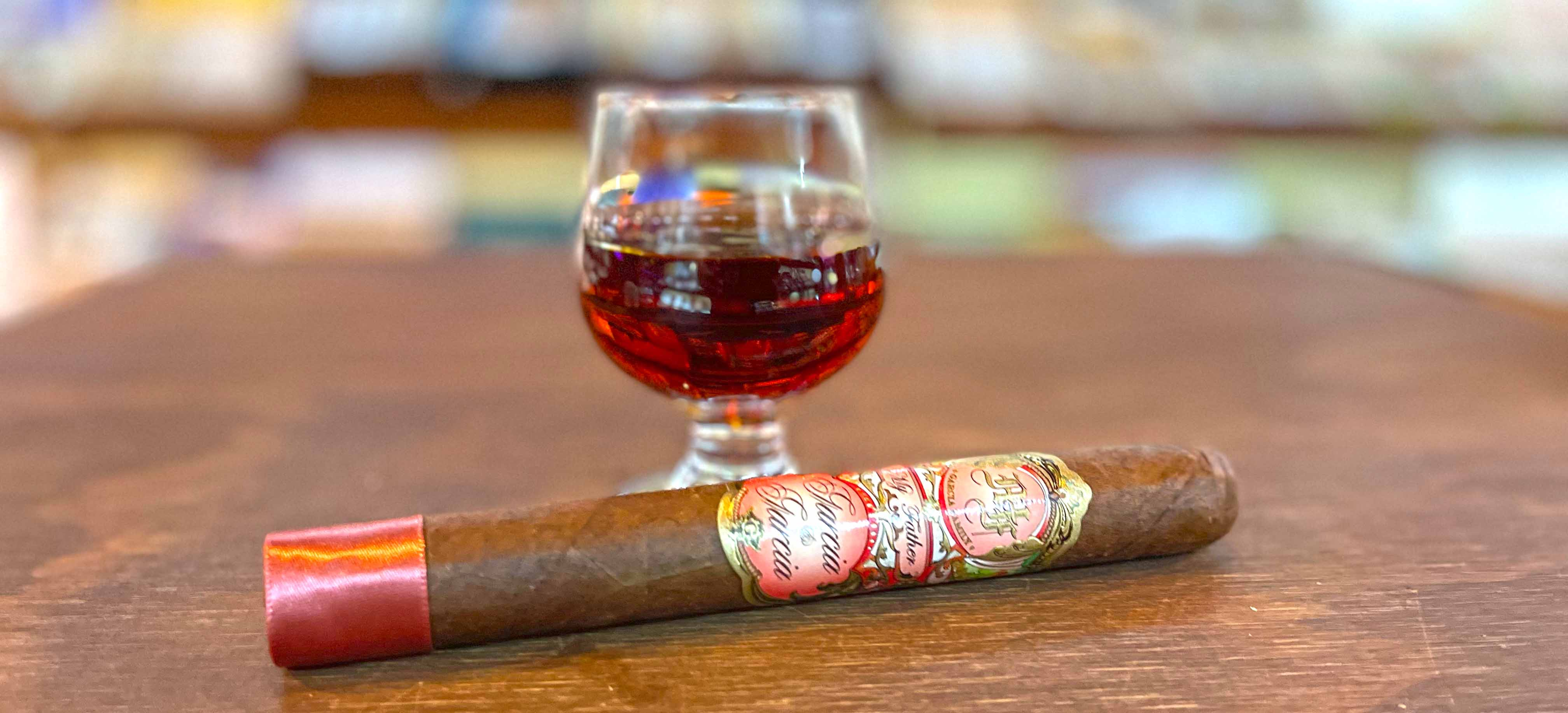 Introducing My Father Garcia y Garcia - an exquisite Limited Release Cigar, available in Toro Deluxe 6 3/4 inches with a 54 ring gauge. Handcrafted from the finest Nicaraguan tobacco leaves, encased in Ecuadorian Habano Rosado wrapper and bound with Nicaragua Criollo 98 & Pelo de Oro Nicaraguan fillers. Embark on a sumptuous smoke journey with this 5 ¾ inches long by 52 ring gauge Robusto Extra upon its launch on September 16th, 2021! A box of 10 cigars is priced at just $35. Hurry though as there are only 3000 boxes of these luxurious gems available for purchase!
Buy My Father Garcia & Garcia Toro Deluxe - Elegant Cigars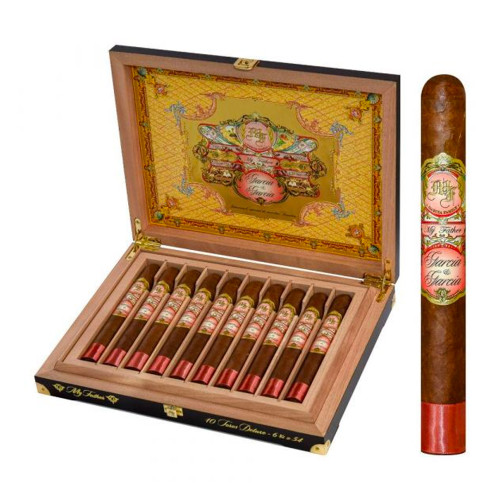 Meet the My Father Garcia and Garcia, an exceedingly limited-edition cigar named after José "Pepin" Garcia and his son Jaime. This ultra-exclusive creation could be their best cigars most elaborate yet: a Nicaraguan core blend of fillers including Pelo de Oro – one of the rarest tobaccos available on earth! Enjoy this luxurious smoke for your next special occasion.
Don't miss your opportunity to make this masterpiece of Nicaraguan Criollo 98 Binder and silky Habano Rosado wrapper yours! Not only is it medium-full-bodied, and full of flavor great smoke, but its construction is also immaculate. So don't wait any longer - get a box now with My Father Cigars and enjoy the elegant cigar while supplies still remain!
Treat your father to an unforgettable gift: the luxurious Garcia & Garcia Toro Deluxe Cigar. You can conveniently purchase it online now and make his day extraordinary!

My Father Garcia y Garcia is an exquisite, limited-production cigar handcrafted with the utmost attention to detail and care. The cigar is the first third one produced by the renowned Garcia family in Esteli, Nicaragua, and has quickly become one of the most sought-after premium cigars on the market.
The Garcia y Garcia cigar features a tantalizing blend of Nicaraguan medium and long filler tobaccos from Esteli, Jalapa, and Condega. These carefully-selected tobaccos are expertly rolled in a dark Ecuador Habano Rosado wrapper and finished with a signature triple cap. Every puff of this luxurious stick offers an amazing full to medium-bodied flavor profile filled with notes of black pepper, earthiness, sweet spices spice, leather, and a hint of sweetness on the finish.
My Father Cigars - The Best Nicaraguan Cigars
The expertise that goes into producing each My Father Garcia y Garcia Toro Deluxe cigar is what makes them truly special. This limited-production cigar is crafted by experienced rollers who have mastered their art over the last first second third third generations to provide aficionados with an exceptional experience like no other. My Father Cigar did it again!
Hand-selected Nicaraguan spice long-fillers are laid into binder leaves at precise densities to ensure consistent flavor and combustion properties throughout the burn of each stick while the wrapper's triple cap keeps it firmly secured toasted and during smoking. Every phase of production - from leaf selection to finished product - takes place under the watchful eye of the legendary Don Pepin himself or one of his trusted master blenders so that only the highest quality product leaves their factory doors.
My Father's Pelo de Oro is a rare and luxurious cigar, bound in Nicaraguan Criollo 98 Binder and wrapped in a silky smooth robust Habano Rosado leaf. Medium to full to medium-bodied with remarkable flavor and aroma, this cigars will surely provide you an exquisite smoking experience of incomparable construction! Don't wait any longer; order your box today so that you can enjoy these marvelous wonders before it runs out.
In short, My Father Garcia y Garcia Toro Deluxe cigars are an impressive example of superior craftsmanship and blend delivering an unparalleled smoking experience every time you light up one of these exquisite cigars.
Shop Garcia & Garcia Cigar - Cuenca Cigars
Garcia & Garcia is the epitome of a luxury cigar. Located in Downtown Hollywood, Florida, Cuenca Cigars is proudly chosen as an appointed retailer for their finest cigar offerings while also stocking a full line of My Father cigars.
About the Previous Release - My Father Garcia y Garcia Robusto Deluxe
This My Father Garcia y Garcia Robusto Deluxe Limited Edition cigar is a Nicaraguan treasure. It boasts a wrapper Ecuadorian Rosado Habano and a Nicaraguan binder, which envelops the Criollo 98 and Pelo de Oro filler blend within its 5 3/4 inches with a 52 ring gauge body. Behold this beautiful smoke that offers both complexity and finesse in every single puff!
Like Fuente Fuente, Garcia y Garcia Robusto Deluxe is a cigar created by a father and son. It's the perfect fit for the first third and second third of this company, as it was Jaime's unique blend that sparked his dad José (Don Pepin) to transform El Rey de Los Habanos into My Father cigars - alluding to their close bond. This improvised mixture of tobacco was so remarkable that Don Pepin decided to focus the first half of his energies on operations in Nicaragua rather than Miami based El Rey de Los Habanos factory.
After the switch in 2008, "My Father" cigars continued to make a bit of a name for themselves - so much so that Cigar Aficionado recognized them twice with their highly-regarded Cigar of The Year award; Flor de las Antillas in 2012 and Le Bijou 1922 in 2015. It's been a bit of a successful journey ever since!
The My Father Limited Edition Garcia y Garcia Robusto Deluxe cigar is a testament to the collaboration between father and son duo, Jaime and Don Pepin. It made its debut in 2016, swiftly becoming renowned for its savory flavor profile. Featuring Ecuadorian Habano Rosado wrapper leaves crafted by none other than Don Pepin himself alongside aged Nicaraguan long-fillers, this luxurious stogie is sure to satisfy any palate!
Two especially great tobaccos are Criollo '98 and Pelo de Oro, which is the "golden hair" tobacco that propelled the Le Bijou 1922 to fame. For decades, the Garcia family has artfully blended this prohibited leaf (Cuban farmers won't work with it due to its vulnerability to certain plant diseases) into the flavors and produced delightful cigars.
Don't miss out on these elegant cigars from My Father! Place your order now to be sure you don't get left behind.
My Father Garcia y Garcia Cigars