Posted by Ana Cuenca on May 06, 2019
How important do you feel smoking a cigar with luxurious, sophisticated packaging?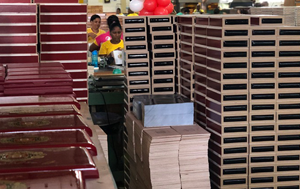 We thought so. That's why cigar manufacturers put extra time and yes, money, into a cigar's packaging. Not only that, but the right packaging can also protect your cigar so that it's perfect when you're ready to smoke.
Read on for the ultimate overview of how and why cigar packaging matters.
Cellophane
Cellophane envelopes or wrappers are great when you want to take a cigar with you somewhere. It's breathable, and the wrapper protects the cigar in your pocket more than it would be flying without a safety net.
Whether you're golfing or celebrating a new baby , the cellophane sleeve keeps the traveling cigar perfect until you're ready to use it.
Some aficionados choose to remove the cellophane when they store cigars. But keep in mind if you store it in the nude, the flavors may marry with the other cigars around it in long-term storage.
Many cigar smokers also prefer to keep the cellophane on to protect the cigars while rummaging around the humidor looking for one to smoke.
Aluminum Tubes
Some cigars come packaged in tubes, usually metal or plastic, although the original tubes were glass. This became too fragile for long-term shipping and storage, not to mention it is more costly. Sometimes the cigar in the tube has a layer of cedar around it.
Tubes provide better protection for the cigar, but they don't always allow it to breathe. Take a cigar out of the tube or take off the cap to give it time to age and humidify before smoking.
Traditional Cigar Packaging: Boxes
A German banker, Herman Upmann, loved cigars. So when he opened a branch in Cuba, he was extra thrilled to be relocating, and he was sure his VIP customers would enjoy the benefits of a Cuban bank branch, too.
He had cedar boxes made to ship cigars back to Germany to his best customers. Upmann didn't know that he would be starting a tradition in cigar packaging that would last to this day.
That's because cedar actually helps preserve the cigars. It keeps away beetles and also helps to stabilize the humidity (the reason why you have a humidor ) and adds that signature cedar flavor to the smoke.
These days, not all cigar boxes are solid cedar. Some manufacturers use cedar plywood, which is cheaper but still effective. Others only include a thin sheet of cedar on top of the cigars. That way, customers who spend less money still reap some of the benefits of the cedar wood without the added price.
Some cigars are actually box-pressed. Originally, Cuban cigars were tightly packed into the boxes, incidentally taking on a squared profile, but nowadays, most box-pressed cigars are molded into that shape intentionally. Many smokers like the way box-pressed cigars fit in the hand and in the mouth, as the contours provide a more natural fit than a rounded profile, especially those that are "soft pressed" with more rounded corners.
One box-pressed cigar is the Partagas Legend cigar, but that isn't the only sophisticated thing about this handcrafted cigar. It comes in newly-designed packaging, with a white lacquered box and elegant matching white embossed bands.
Despite its nod to the future, the blend of historically significant tobaccos honors the favorites of the men who started the brand. It incorporates a Honduran Olanco San Agustin binder and Connecticut broadleaf wrapper, along with filler leaves of Dominican Piloto Cubano.
Now all you need to do is get out a cigar cutter and you're all set.
Luxury and Sophistication
Cigar packaging comes in all kinds, from cellophane or aluminum tubes to traditional cedar boxes. No matter which type of container you order your cigars in, the right blend of flavors is sure to please.
And don't forget, a cigar box has many uses. Long after the product inside is gone. There are many ways to repurpose the box .
For more information about the Partagas Legend cigar, including placing an order for one of their three sizes of the cigar, browse the options on the Cuenca Cigars website.