Posted by Ana Cuenca on Apr 30, 2014
Cuenca Cigars Mobile Application is now fully integrated to Google and Apple Marketplace. The application is Free and is another way to stay in touch with Cuenca Cigars.
After you download the application this is what you see:
Home Page: The home page contains a link to all Cuenca Cigars of Hollywood main Social Links we frequently use as: Facebook, Linked In, Twitter, our website and also the ability to email us right there.
Photos: Our Facebook and Instagram Feeds. No need to be part of any social media no more. You have now full access to the photos from the latests event.
Videos: Our YouTube Channel feed is also available to you. After every major event at our store we create a video to animate the event. We post this videos in several online resources and now we have compiled them to allow you to watch and enjoy once again the Cuenca Lifestyle.
Events: It is a list of everything that will be happening on the upcoming months. You can check the events tabs and actually add a reminder for any event you which to come.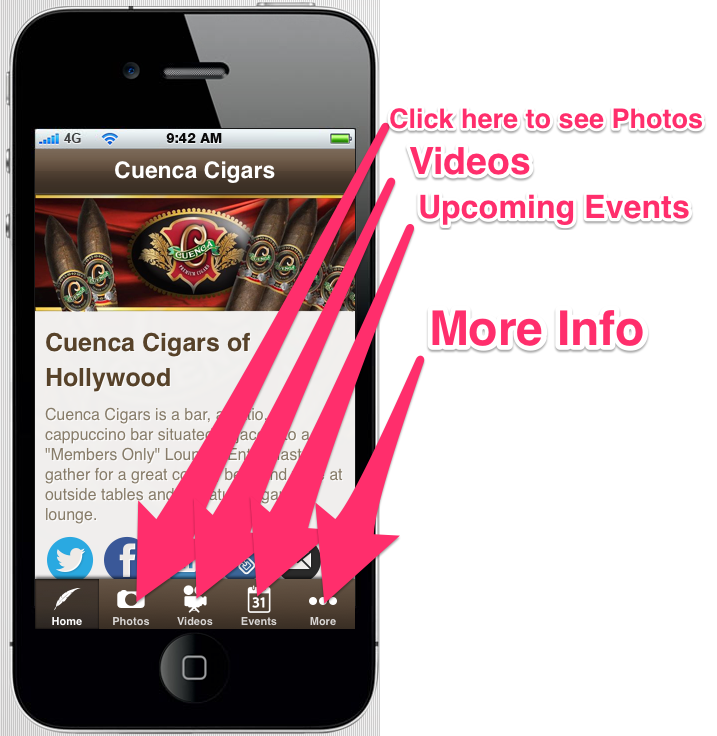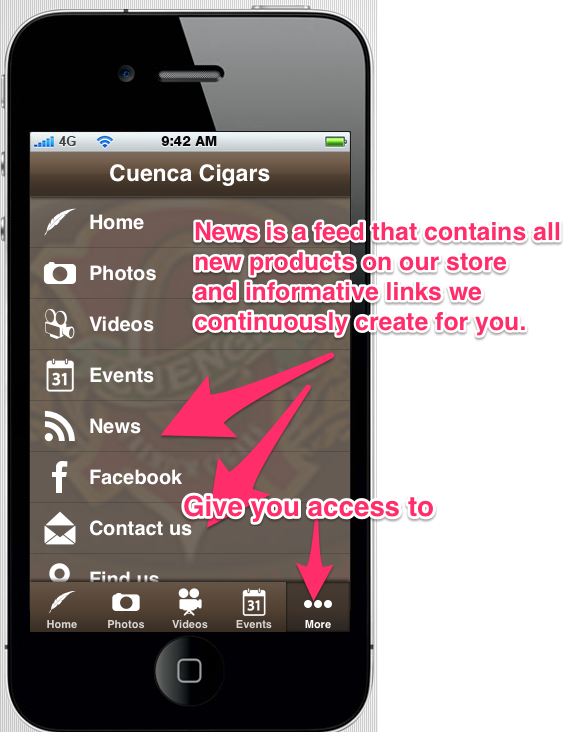 What to expect:
You will receive notifications telling you about specials, new products and HOT stuff. Example: you will be the first to know when we receive a Shipment of the hard to find Liga Privada, Opus X, Arturo Fuente Anejo Cigars among others.
You will receive special offers that no one can't get. Specially tailored for our Mobile Followers.
Stay in touch with us. It's a Win Win situation.
Tell your friends.
Here is the link they need to download the application. You can actually send a text message to them with the instructions to download.
We are very exited to be Mobile now and look forward to have you in our network!
This is where we are now! Get in and help us to feel the Map!

Ana Cuenca