Posted by Ana Cuenca on Mar 24, 2014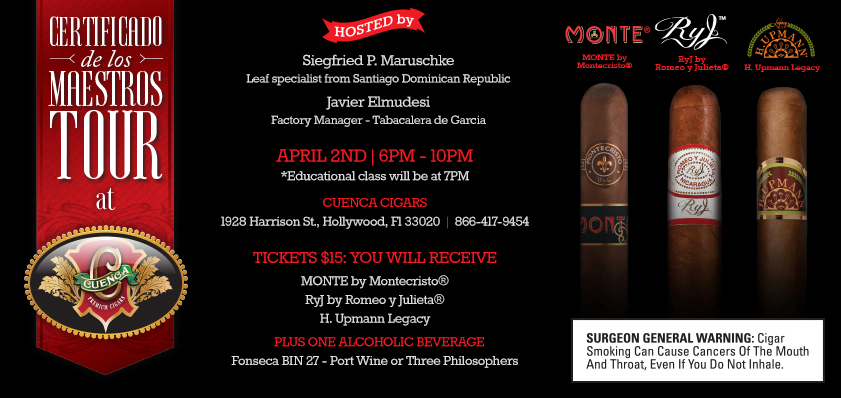 Certificado de los Maestros Tour at Cuenca Cigars of Hollywood.
Hosted by Siegfried P. Maruschke, Leaf Specialist from Santiago Dominican Republic and Javier Elmudesi, Factory Manager - Tabacalera de Garcia.
Event will take place at Cuenca Cigars "Montecristo Lounge" this coming April 2nd, 2014 between 6 pm to 10 pm. Educational Class will start at 7:00 pm.
Tickets $15: You will receive:
MONTE by Montecristo
RYJ by Romeo y Julieta
H. Upmann Legacy
Plus one alcoholic beverage: Fonseca BIN 27 Port Wine or Three Philosopher Beer.
Certificado de los Maestros Tour is a very unique learning event experience where you will be relaxing, smoking a Puro and pairing 'it' with an exquisite drink of our choice. Customers will have the opportunity to chat with industry proficient, knowledgable and experienced masters. Q&A sessions and much more. At the end of the event you'll receive a Certificate de los Maestros signed by the Maestros from Tabacalera de Garcia.
Come to Cuenca Cigars to celebrate this coming April 2nd, 2014. This is a one time opportunity you don't want to miss.
At the end of the night we'll have and extra 25% Discount on Boxes plus Free Cigars and Raffles Tickets. We'll Raffling amount other things A Romeo Y Julieta Humidor, Cigar, Ashtrays and many other surprises. Its that time of the year when your presence at Cuenca Cigar is required.