Bugatti Lighters
SCROLL TO PRODUCTS
Bugatti Lighters: A Guide to Finding the Perfect Torch Lighter for You
When you think of lighters, you probably think of something simple and functional. But what if you could hold in your hand a lighter that combines functionality with the elegance and craftsmanship of a luxury car? Enter the Bugatti Lighter Collection, a perfect blend of performance, design, and convenience that makes lighting anything feel like a luxury experience with Bugatti lighters.
Short Summary
Discover the Bugatti Lighter Collection for stylish and reliable lighters with butane gas technology.

Choose a lighter based on quality, reliability, ease of use, warranty & flame type.

Regular maintenance and cleaning are essential to ensure optimum condition for your Bugatti lighter.
Discovering the Bugatti Lighter Collection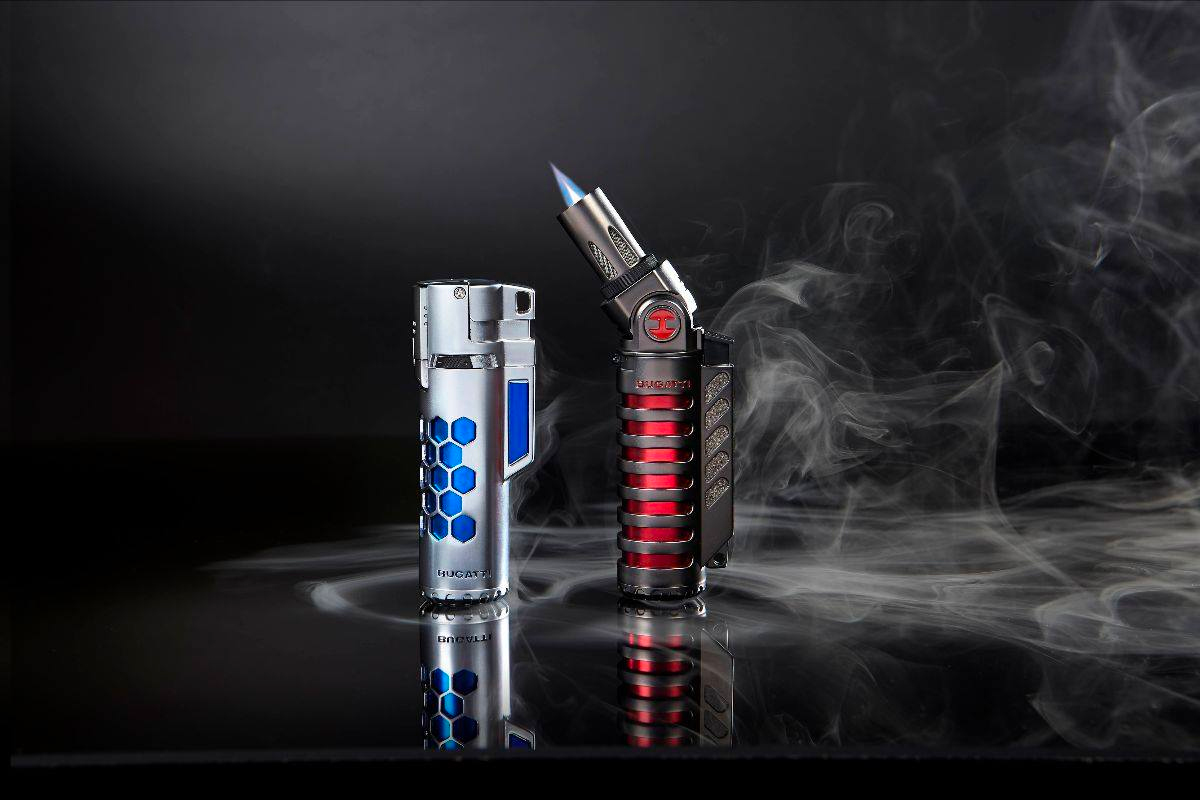 The Bugatti Lighter Collection takes the concept of lighters to a whole new level, shedding light on the world of innovative designs, finishes, and colors. With options like the Vulcan and Mirage dual torch lighters, these are not just tools, they are statement pieces. Each lighter in the collection incorporates butane gas technology and robust designs, offering details that make them not only reliable but also a joy to use.
However, like any product, Bugatti lighters are not without their issues. Some users have reported a malfunction of one of the burners, causing a reduced flame and an angled emission compared to the other two. Additionally, a butane leak from the bottom was detected, which reached the flame, resulting in a ball of fire. These issues, while concerning, are not the norm and should not deter enthusiasts from experiencing the luxury of a Bugatti lighter.
Butane Gas Technology
Butane gas technology plays a central role in the efficiency and reliability of Bugatti lighters. It generates a flame through the release of liquid butane in a concentrated gas flow, creating a consistent and reliable picture of the flame. This technology is not only efficient but also conveniently refillable, making it a practical choice for users.
Refilling a Bugatti lighter with butane gas is a simple process that involves inverting the lighter, depressing the refill valve, and introducing butane gas into the lighter. However, safety should always be paramount when refilling. It's essential to ensure that the lighter is in a well-ventilated area and is not exposed to any open flames.
Durable Design and Construction
The design of the Bugatti lighter is as unique as it is durable. With a sci-fi look and die-cast metal case, the lighter is not only aesthetically pleasing but built to last. The lighter is composed of a die-cast metal case, a stainless steel flame guard, a fuel window, and a fuel adjustment wheel, all of which contribute to its robust structure.
The durability doesn't end there. Crafted with solid construction and quality materials, the Bugatti lighter is designed for longevity. Further solidifying its durability is a one-year warranty, offering users peace of mind knowing they are covered for any unexpected issues.
How to Choose the Right Bugatti Lighter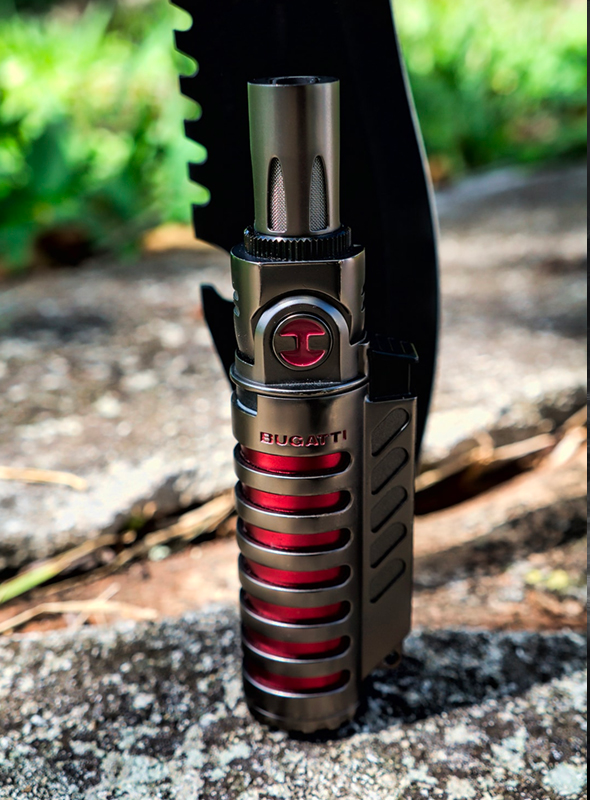 Selecting the right Bugatti lighter requires careful consideration of several factors. Quality, reliability, ease of use, and warranty are among the most critical aspects to evaluate when choosing a lighter that will meet your needs. The flame type also varies depending on the model, with some featuring a single flame, while others feature a double or triple flame. The dimensions, too, vary, with some models being more compact than others.
When it comes to cost, Bugatti lighters offer good value for money. The cost can vary depending on the model, but regardless of the price tag, you are investing in a product that is known for its quality and longevity.
Flame Type and Lowest Setting
The flame type and lowest setting of a Bugatti lighter are crucial factors to consider during your selection process. They will impact the size and intensity of the flame, as well as the amount of fuel consumed. Bugatti lighters are equipped with a Single Pinpoint Flame, which provides a consistent and reliable flame.
The lowest setting of the lighter is equally important. This setting dictates the amount of fuel consumed and the strength of the flame, making it a critical factor in the overall performance and efficiency of the lighter.
Price and Value for Money
The price of a Bugatti lighter can range from approximately $30 to over $100, depending on the model. Factors such as the model, size, and features influence the cost of these lighters. Despite the price variance, Bugatti lighters are perceived to provide excellent value for money. They are crafted from superior materials and are designed to last for an extended period, making them a worthy investment.
It's essential to remember that when purchasing a Bugatti lighter, you're not just paying for an item, but for an experience. The craftsmanship, performance, and durability of these lighters are a testament to the brand's commitment to excellence.
Refilling Your Bugatti Lighter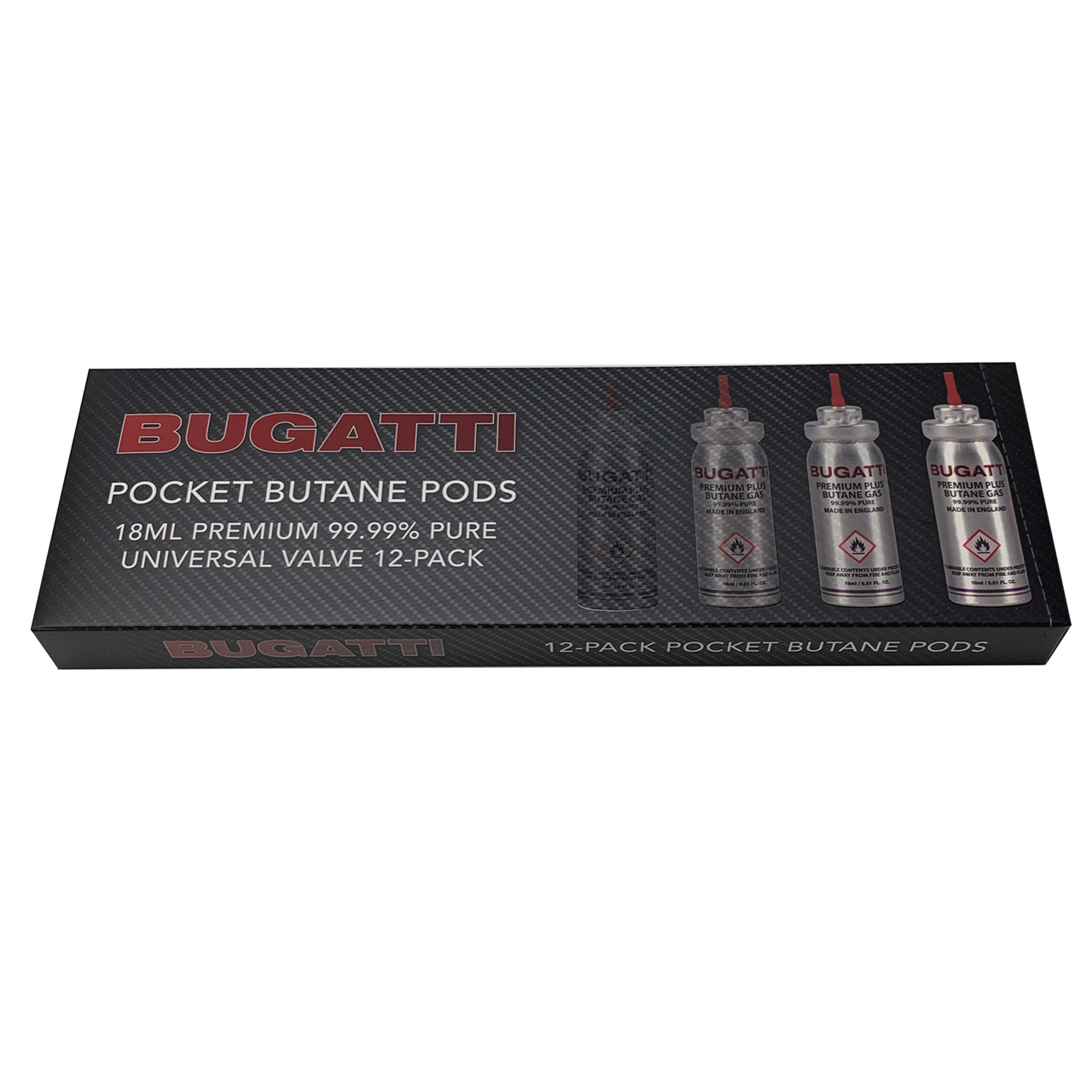 Keeping your Bugatti lighter-fueled and ready to go is a simple process. All you need is a Phillips head screwdriver to remove the screw on the bottom of the lighter, unscrew the fuel tank cap, and carefully remove the tank.
Once these steps are completed, you can proceed to refill with a new Bugatti Premium Fuel Pod. The process of refilling your lighter not only ensures its optimal performance but also extends its lifespan. It's a small task that goes a long way in maintaining the quality and functionality of your Bugatti lighter.
Preparing Your Lighter for Refill
Preparing your Bugatti lighter for a refill is a straightforward process. First, you'll need a Phillips head screwdriver to remove the screw at the base of the lighter. Next, unscrew the fuel tank cap. Finally, remove the tank with care. These steps ensure that your lighter is ready for a fresh refill.
Remember, preparation is key. Following these steps accurately will not only make the refill process smoother, but also prevent any potential damage to your lighter.
Filling the Lighter with Butane Gas
Once your lighter is prepared, it's time to refill it with butane gas. For this process, only genuine Bugatti Premium Fuel Pods should be used. To fill your lighter, grasp the can near the top, invert it, and press the valve stem (with adaptor) into the lighter's filling recess. Ensure the flame height is set to its lowest setting (-) before you start.
After refilling, it's suggested to wait for a few minutes for your lighter to warm back up before igniting it. This ensures an even flame and optimal performance.
Shipping and Purchasing Options
Purchasing a Bugatti lighter is an easy and convenient process. They can be purchased on Amazon with complimentary delivery on orders over $25. Moreover, Bugatti lighters are available in several countries, including the US, Canada, UK, and Australia.
For those who prefer physical stores, Bugatti lighters are readily available for purchase from retailers such as Walmart, Target, and Bed Bath & Beyond. So, whether you prefer shopping online or in-store, Bugatti has made it easy for you to own one of their exquisite lighters.
Country Availability
Bugatti lighters are available in several countries, such as the United States, Canada, Australia, New Zealand, and the United Kingdom. Currently, they are not available in any countries outside of these.
The lighters can be shipped to the same countries where they are available. This wide availability ensures that Bugatti lighters can reach a broad range of customers, offering everyone the opportunity to experience the luxury and quality of these products.
Online Shopping and In-Store Retailers
Purchasing options for Bugatti lighters are numerous. They can be bought online from the official Bugatti website or from Cigars International. Online shopping offers benefits such as convenience, a greater variety of products, and often reduced prices. However, it's also important to consider potential drawbacks like the inability to inspect the product before purchase, the risk of fraud, and possible delivery delays.
If you prefer to examine the product before purchase, Bugatti lighters are also available from in-store retailers including tobacco shops, cigar stores, and specialty stores. This option allows you to evaluate the product, ask questions, and take the product home immediately. However, keep in mind potential drawbacks like limited selection, higher prices, and possible crowding.
Accessories and Other Items Sold by Bugatti
Bugatti is not just about lighters. The brand offers a range of premium apparel and practical accessories, including power banks, key chains, notebook bags, credit card wallets, and leather wallets. These items, like the lighters, reflect Bugatti's commitment to quality and style.
Whether you're in search of a functional accessory or stylish apparel, Bugatti offers a variety of items to suit your needs. From the practicality of power banks to the elegance of leather wallets, Bugatti has something for everyone.
Butane Gas Refill Canisters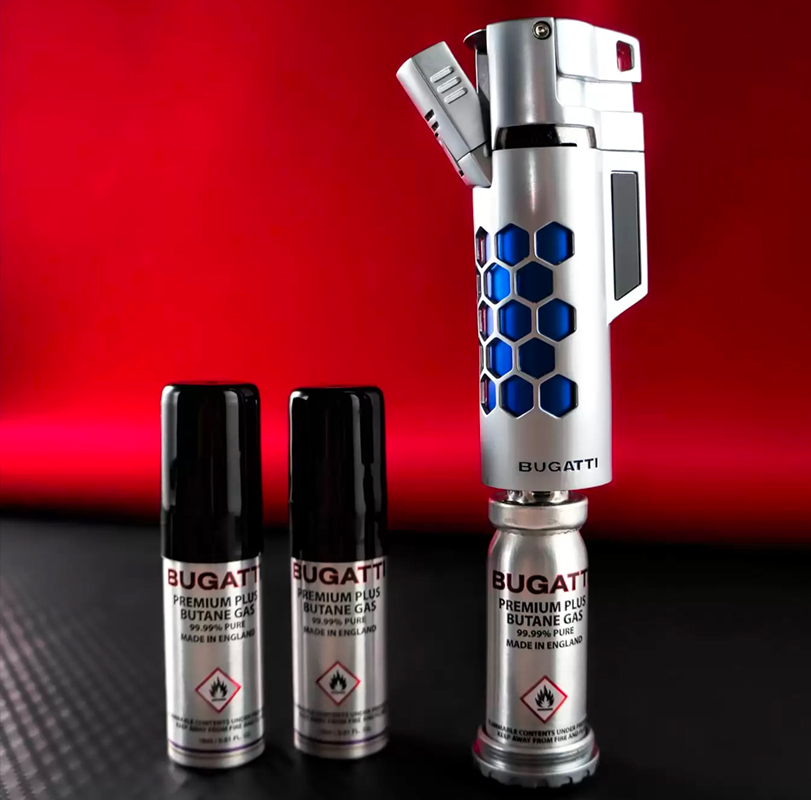 Bugatti's butane gas refill canisters are quintuple refined, meaning they are virtually free of impurities. These canisters are designed to help clear the jets on lighters and feature a universal fueling tip for easy filling.
Using these refill canisters is simple. Just insert the universal fueling tip into the lighter and press down on the canister to fill the lighter with butane gas. This ensures that your lighter is filled with superior-grade butane gas that is free of contaminants, ensuring your lighter functions optimally and produces a uniform flame.
Lighter Cases and Pouches
In addition to the lighters and refill canisters, Bugatti also offers a variety of lighter cases and pouches. These cases and pouches serve a dual purpose – they not only protect your lighter but also add a touch of style.
Whether you prefer leather, metal, or plastic, Bugatti provides a selection to suit your preference. Utilizing these cases and pouches can safeguard your lighter from harm and impart a hint of elegance.
Troubleshooting Common Issues
Despite the quality and reliability of Bugatti lighters, users may encounter some common issues. These could include ignition system malfunctions, difficulty igniting at higher elevations, and the requirement of high-quality butane to avoid clogged nozzles. But don't worry, with a 2-year limited warranty, Bugatti has you covered.
When adjusting the flame on a Bugatti lighter, it's important to ensure that the flame is not too high or too low. An excessively high flame can result in overheating and malfunctioning, while a low flame can lead to the lighter failing to ignite correctly. Regular cleaning and maintenance, such as cleaning the nozzle, replacing the fuse, and refilling the lighter with butane gas, are key to ensuring optimal performance.
Flame Adjustment Issues
Flame adjustment issues are a common occurrence with Bugatti lighters. These could include the flame being too low or too high, a low fuel level, or using butane of a low quality. But these issues can be easily resolved.
To adjust the flame height, simply turn the adjustment wheel located on the side of the lighter. If you're still facing issues, try cleaning the lighter and refilling it with high-quality butane. Small adjustments can often solve these problems and ensure your lighter is working optimally.
Maintenance and Cleaning Tips
To ensure your Bugatti lighter remains in optimal condition, regular maintenance and cleaning are essential. For cleaning, you can use a cotton swab and rubbing alcohol to remove any dirt or debris that may have accumulated on the jets.
Butane lighters might also benefit from a good blow-out with compressed air. This involves holding the lighter upside down and using compressed air to blow out any dirt or debris that has accumulated. These simple steps can go a long way in maintaining the quality and performance of your Bugatti lighter.
Summary
In conclusion, Bugatti lighters are more than just tools to light your favorite cigar. They are a statement of style, craftsmanship, and performance. With a variety of designs, efficient butane gas technology, and durable construction, they offer users a unique and luxurious experience. Whether you're buying one for yourself or as a gift, a Bugatti lighter is a worthy investment. And with the right care and maintenance, it's an investment that will serve you well for a long time.
PRODUCTS
Frequently Asked Questions
Bugatti lighter comes with a 2-year limited warranty. However, if the receipt is not dated within two years, repair service will need to be purchased.
A jet lighter is a type of lighter that utilizes an inner and outer flame, creating a long and partially invisible flame which allows it to light candles from a distance.
This type of lighter is especially useful for lighting candles in hard-to-reach places, such as in a chandelier or on a high shelf. It is also useful for lighting candles in windy conditions, as the flame is less likely to burn.
Bugatti lighters are renowned for their striking designs, efficient butane gas technology and robust construction, providing users with a luxurious experience.
To refill your Bugatti lighter, remove the screw at the base, unscrew the fuel tank cap, and remove the tank.
Then fill it with Bugatti Premium Fuel Pods.
Looking for a Bugatti lighter? You can purchase one from the official Bugatti website or from Cuenca Cigars, as well as at physical Cigar Stores across America.
These stores offer a variety of styles and colors to choose from, so you can find the perfect lighter to suit your needs.