Posted by Ana Cuenca on Nov 01, 2014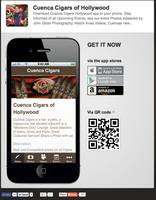 Enter to Win a Free Box of #Cuenca5Anniversary
1. Download our new App Here: http://ow.ly/D0oH1. You can also look on the app store of your smart phone for: Cuenca Cigars Hollywood and download our app.
2. Once the app is on your phone, open it up and go to the Contact Us page. Then write us an email including hashtag #Cuenca5 on the subject line.
3. Contest Winners to be Announced Early January 2015.
4. Not Purchase Necessary.
Why you should have this app? You'll be the first to know when exclusive cigars as #OpusX, #Anejos, #LigaPrivada, #Padron 50 Anniversary among others, arrive to our store. When you get the update on your phone all you need to do is call us to reserve your cigars. You'll also will receive special discounts true updates and more fun stuff. Been in contact with us will be a lot of fun. I promise!
If you have the app already, just do step 2. Just email us from the app with Subject line: #cuenca5