Posted by Ana Cuenca on Jan 08, 2019
Who Needs Cuban? 10 of the Best Nicaraguan Cigars Part 1
Are nicaraguan cigars good? Nicaraguan cigars provide a classic smoking experience that often exceeds that provided by their Cuban counterparts. Here is some highlights of cuban vs nicaraguan cigars.
While we are seeing a global reduction in cigarette usage, the cigar industry is thriving. Did you know that it is growing at a rate of around 4% per year?
For many people, when they think of cigars, the first thing that comes to mind are Cubans. Yet there are a great many other cigar producing nations that produce a product of a much higher quality--cigars that deserve far more recognition than they get.
In my personal opinion, Cuban Cigars comes from a single region and the variety is lesser. When you combine tobaccos from fertile lands as Nicaraguan, Dominican Republic, and other areas, and also age the cigars properly, you can make cigars that have a perfect draw due to an impeccable construction and are more properly stored and maintained in an ideal environment. As well, the resulting flavor profiles are more diverse and will appeal to a wider consumer base.
Another negative regarding Cuban cigars is the proliferation of counterfeit copies, even when bought in Cuba, that can make acquiring and identifying legitimate Cubans a chore and a sometimes risky proposition.
When you come to realize that for a top-tier Cuban you have to pay somewhere between $30-$50 or more depending in the country you live in (if you can get them), and you can get quality and flavor for much lesser money, you can understand why so many experienced cigar smokers show more than just an acceptance of cigars from other areas; many prefer to turn to them and seek them out.
Nicaraguan cigars brands are an example of such a product. Did you know Nicaragua makes some of the most widely acclaimed cigars?
Keep reading for the definitive list of the best Nicaraguan cigars 0f 2019 on the market today. Also find best nicaraguan cigars for the money.
1. LA AROMA DE CUBA MI AMORE

This cigar comes from the hands of Don Pepin Garcia, a masterpiece created for the house of Ashton Cigars and nonetheless one of the most exotic blends from this traditional line. Rated with a 95 perfect score and named No. 2 Cigar Aficionado Cigar of the year in 2011, it is arguably one of the best Nicaraguan cigars with its rich blend of almonds, dark cocoa, spices, and black pepper make this award-winning cigar something special. See more about this brand here.
2. PADRON 1964 ANNIVERSARY

The Padrons are traditional Nicaraguan smokes. It's a very peculiar one with a tasting profile like no other cigar in the market. They follow a simple concept of Natural and Maduro smokes and only offer a few lines, including a Padron Family Blend, Padron 1964, Padron 1926 and the great old timers Padron Series . The Padron family can be an acquired taste, but once you get into it, it will be hard to leave it alone. Another strong contender for Nicaragua's best cigar, the Padron is a flavor explosion that will titillate any cigar enthusiast's palette. Its combination of cinnamon, nutmeg, cedar and pepper spices make for a winning combination every time. To check the Padron 1964 Line, click here.
3. SAN CRISTOBAL REVELATION

Another blend from the Ashton Family made at the My Father Cigar Factory in Esteli, Nicaragua is the San Cristobal Revelation line of cigars. These are medium bodied cigars in a box-pressed format with an enticing flavor array boasting caramel, leather, cedar, and almonds. It is sure to become a favorite of anybody that appreciates fine cigars. Cigar Aficionado's rating includes 92 points in the 2018 April's issue. Shop now for San Cristobal Cigars.
4. MY FATHER LE BIJOU 1922

The Garcia family is renowned for their cigar craftsmanship, and Le Bijou is no exception. Going beyond being just one of the excellent cigar brands, Le Bijou is an utterly stunning smoke with its infusion of semi-sweet cocoa, butter, and peppery spice. My Father Le Bijou 1922 Torpedo received a No 1 Cigar of the year award from Cigar Aficionado back in 2015. I must add this is not a "Beginner Cigar", so be ready to break some rules with this marvelous Box Pressed smoke!
5. FLOR DE LAS ANTILLAS

Another Garcia family product with a fruity profile and one of the smoothest draws around, Flor de las Antillas is a medium edged, full-bodied smoke that combines spice and cedar to produce a smoke profile that is unparalleled by anything else on the market. Cigar Aficionado's Cigar of the Year is certainly a cigar that will please anybody. It is a solid medium smoke with plenty of flavor. Towards the end, the amazingly tasty flavors come to remind you how a cigar can equal or surpass the best of a Cuban Cigar!
6. TATUAJE
Simply put, Tatuaje produces smokes that don't rely on a bombastic marketing blitz, rather, putting emphasis on the quality behind the brand. Pete Johnson continues to roll out an extraordinary mix of cigars that rarely disappoint. Perfectly blended, the combination of nutty spices, wood, and leather gives his full-bodied Tatuaje cigar its distinctive flavor and a well deserved position on the list of best Nicaraguan cigars.
7. OLIVA SERIE V

Oliva Cigar is one of the oldest tobacco companies. They go from seed to cigars, all in one continuous process. The Serie V is surely one of the best creations of this family of cigars. It is an intense and full-bodied cigar for the serious fan. Dark chocolate and heavy spices give this cigar a spectacular and robust finish.
8. LIGA PRIVADa #9

If you are seeking luxury and uniqueness, then we are talking Liga Privada with the face of Jonathan Drew somewhere in the painting. This cigar is an unparalleled definition of triumph. When a cigar company decides to stay true to itself, the magic then happens. A non-infused blend of deep flavors makes this cigar something special. The combination of coffee beans and black pepper delivers a compelling product that is worth saving for an extraordinary occasion.
9. DAVIDOFF NICARAGUA

Davidoff is well known as part of the Cuban generation of tobaccos. Yet Davidoff cigars are normally Dominican blends. A few years back they decided to tweak the blend and become part of the worldwide tobacco blenders' circle. From that decision, the Davidoff Nicaraguan was born. A deftly spicy, medium-bodied cigar that offers a slightly more pungent variant to the usual creamy finish commonly associated to the Davidoff brand of cigars.
10. PERDOMO 10TH ANNIVERSARY CHAMPAGNE

Perdomo has long been known for being a cigar blended for the working class; a cigar that besides being priced right, smokes deliciously. The Champagne line of cigars is the crème de la crème. The 10 th Anniversary Champagne is smooth and tasty with subtle peppery notes. When you mix coffee and cream with white pepper and leather, you get an exceptional cigar that offers the ultimate satisfaction with every draw.
Get Your Hands on the Best Nicaraguan Cigars Today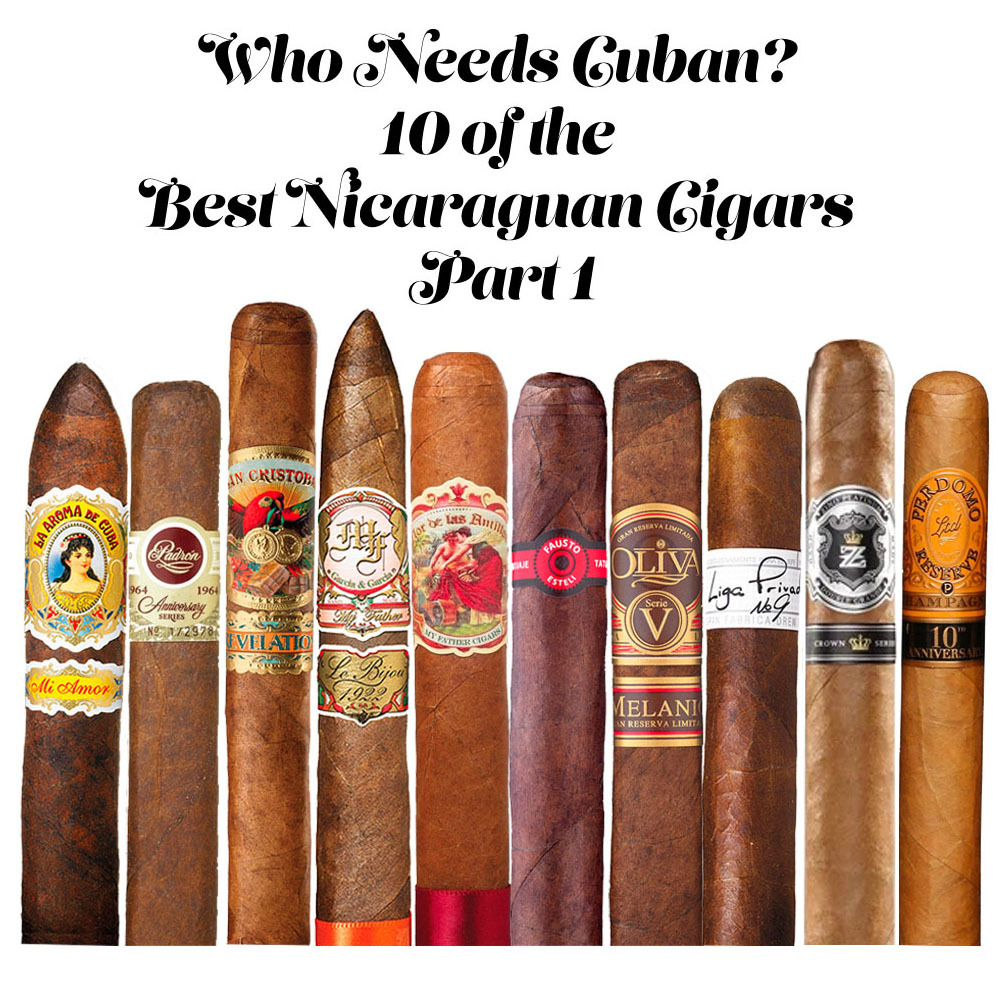 For those new to the world of good cigars, it can be easy to get misled down the road that boasts Cubans as being the only way to go. Yet, Nicaragua is a country with a long-term passion for cigars and a history for producing some of the best smoking experiences money can buy.
Why wait any longer? Check out our site , and get your hands on some of the best Nicaraguan cigars today.