Posted by Ana Cuenca on May 18, 2015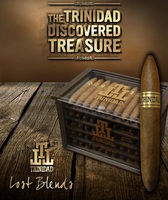 Altadis USA has recently announced the release of a small batch of Trinidad Cigars. Trinidad cigars are a historic Cuban Heritage brand and these particular cigars have been hidden in the depths of its vintage cedar room for nearly a decade. After years of perfect aging, the cigars are ready to be release to the public under the moniker: Trinidad Lost Blends. Available in two unique vitals: 6 1/8 X 54 Belicoso and 5 3/4 X 52 Elegant Salomon, this super limited edition cigars are to be released to you as a brick & mortar only.
Perfectly constructed cigars featuring a dark and oily wrapper, rich and flavorful cigar. Reminiscent to the original Trinidad blend. The cigars are been released in rustic wooden 50-count boxes featuring 5 rows of 10 cigars each.
Tasting Notes: sweet spice, roasted nuts, rich tobaccos, molasses and caramel.
These cigars use a Vintage 2011 Java Island shade grown wrapper; Vintage 2010 Dominican Olor Binder and Vintage 2010 Dominican Olor, Vintage 2009 Dominican Piloto plus Vintage 2011 Connecticut Broadleaf as filer tobaccos.
CA: "Though Lost Blends is only a small release, its availability suggests something of a revival for the mostly dormant Trinidad brand—its most recent new release was the Trinidad Paradox, which debuted in 2012. And, Altadis confirmed that the brand's core line as well as the Trinidad Reserve line are no longer being manufactured. Compared to some of the more vigorous brands in Altadis's portfolio (Montecristo, Romeo y Julieta), which continually see new launch titles every year, Trinidad has some catching up to do."
Stay Tuned we will be posting online as soon as Cuenca Cigars receive this cigars!