Posted by Ana Cuenca on Apr 01, 2011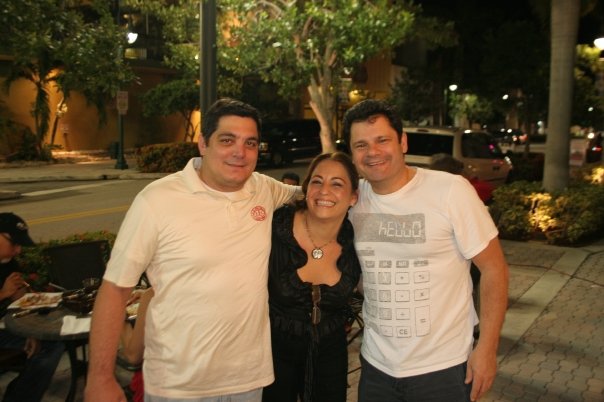 Business background: The collective strength of CharterCruiseConsultants™ LLC (CCC) comes in the form of its key members, who possess 50 years experience in the cruise ship chartering and cruise travel industry. Their individual strengths cover a wide range of facets including travel sales and marketing, cruise charter contract negotiating as well as planning, promoting and producing over 25 full ship chartered cruises.
"With our full range of specialists and hands-on approach the CCC team will not only create and Plan your partial or full ship charter, we will take it all the way to fruition by producing the event onboard."
Mr. Van Embden (www.chartercruiseconsultants.com) was Group Marketing Director for the largest direct marketing group (MAS Holdings) from 1980 through 1985. During his tenure he also fulfilled an eighteen (18) month stint at Grey Direct while completing an MBA program in 1983 in New York.
Miguel, Ana and Sylvain during Miguel Birthday Celabration. Sylvain has founded several successful businesses in retail as well as the travel industries over a span of twenty (20) years. He is a founding member of Timeless Destinations LLC, a cruise travel company, Mr. Van Embden also serves as its Chief Executive Officer.
On the personal side:
Almost three years ago, we got an internet order at our online store www.CuencaCigars.Com for the Romeo and Julieta Museum Edition Cigars. Our customer ordered a humidor with thirty-six (36) cigars, to only realize a short time after how close our store was to him. Given such proximity, he decided to place a phone call to our store and after we spoke, he came by.
This was the beginning of a mutually beautiful professional relationship that has lasted ever since, and continues to grow even stronger everyday. From our point of view; he is not only a successful business man but he is also a dedicated family man and an extremely humble and loving individual.
Besides his extensive business experience, he is a close confidant to the Cuenca Cigars owners.
On the community level:
Sylvain can be considered a "visionary", as it relates to growing his community. He dedicates time and effort to assist local level business like ours create positive social environment. He helps the local business community come together to solve problems and share ideas.
He is a leader who possesses the knowledge and skills, networks and partnerships that will further make our small business community stronger.
He shares his wealth of knowledge to equip small business people with the tools and understanding of the decision making process and allows their views to be expressed and incorporated into future development and planning. By doing so, he enhances the effectiveness of small businesses in addressing issues affecting their communities. He always looks to strengthen the community's capacity to identify opportunities in innovative ways