Posted by Ana Cuenca on Jan 16, 2023
PLASENCIA YEAR OF THE RABBIT LIMITE EDITION TO CELEBRATE THE CHINESE ZODIAC IS HERE
Welcome the Chinese New Year with Plasencia's special limited edition 'Year of the Rabbit' cigar; a unique and flavorful experience perfect for this significant occasion!
For a truly memorable way to celebrate the Chinese New Year, you must try Plasencia's full line of exclusive and SUPER limited-edition cigars Year of the Rabbit cigars. Crafted with 100% Nicaraguan tobacco from Jalapa Valley for an ideal mild to medium-bodied flavor, the taste of these limited and special stogies will be something that your friends won't soon forget!
Later this month, the Chinese New Year will commence-- ushering in a new lunar year on the Chinese Zodiac calendar, and with lunar new year with it comes a new animal: The Rabbit! Plasencia proudly joins other esteemed tobacco companies and brands like Davidoff, Drew Estate, Maya Selva, Scandinavian Tobacco Group, and Tabacalera S.L.U., all of whom have created cigars to commemorate this special occasion.
For the second third the consecutive year, Plasencia 1865 has launched a Chinese Zodiac calendar box release with cigars for the year of the rabbit, Ox and Tiger. Plasencia Year of the Rabbit
Plasencia Year of the Rabbit
FROM WHERE DID THESE CIGARS ORIGINATE?
The Plasencia Year of the Rabbit showcases Nicaragua's finest tobaccos, boasting a Nicaraguan wrapper, binder, and filler. Produced in world renowned fashion at the esteemed Plasencia S.A., this all-Nicaraguan puro is crafted with unparalleled expertise from select tobacco regions throughout Nicaragua – delivering an exquisite experience for each puff!
WHAT IS THE VITOLA PLASENCIA YEAR OF THE RABBIT LIMITED EDITION AVAILABLE?
The specific vitola of the Plasencia Year of the Rabbit limited edition release —a Toro measuring 6 1/2 x 54—is ideal for anytime you wish to celebrate! Enjoy a balanced smoke with an even burn while tasting its intricate flavors. Perfectly proportioned, a cigar this size will make sure your celebration lasts without missing any flavor notes.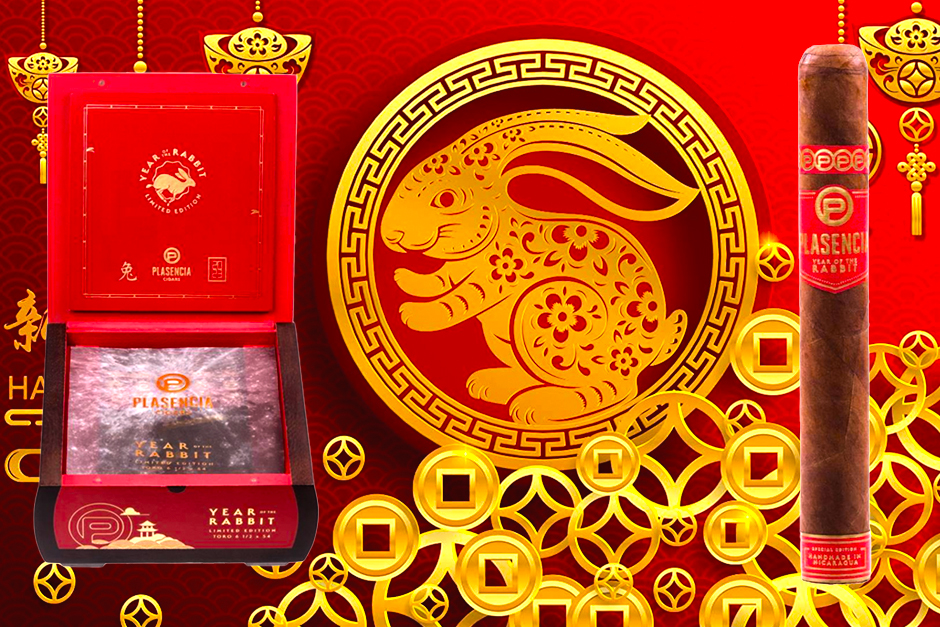 WHAT UNIQUE QUALITIES CAN BE DISCOVERED IN THESE EXCLUSIVE CIGARS?
Plasencia Cigars proudly offers a unique collection of 10 cigars, with the lid of each box topped off by an eye-catching image each year of the rabbit of a rabbit. To add to the special occasion, the box of every three cigar box contains both an English and Mandarin Chinese greeting card wishing smokers luck in their celebrations! With its distinctive packaging, Plasencia's three rabbit cigar boxes are unmistakable - making them perfect for any festive gathering.
Rabbit Limited Edition cigars are more than just a delectable delight for cigar connoisseurs—they're also highly collectible! These smokes have been only produced and released in incredibly limited quantities, making them a truly special and desirable commodity.
The Plasencia Year of the Rabbit is an exquisite toro extra cigar crafted entirely with Nicaraguan tobaccos produced, particularly in the Jalapa region. Its one-of-a-kind blend will be released exclusively packaged in 10 cigar boxes and only 6,000 boxes are available worldwide, half of which will make their way to the US market on third release. Each unique cigar box is priced at an MSRP of $52.
WHAT IS THE SIGNIFICANCE OF THESE LIMITED EDITION CIGARS?
Nestor Andrés Plasencia, the CEO of Plasencia 1865, declared in a press release: "The year of the Rabbit, is an ideal symbol for these ever-changing market times due to its capacity to adjust with poise and refinement. Moreover, as the year of the rabbit also signifies longevity, our cigars are created to mature gradually over time to deliver those superb flavors. We are sure that 'The Year of The Rabbit' cigar brand will be an apt representation of Chinese New Year."
WHAT TANTALIZING NOTES CAN BE FOUND IN THE PLASENCIA RABBIT LIMITED EDITION CIGAR?
The taste is described as a mild-to-medium body, bringing forth earthy tobacco character, pepper notes and hints of sweetness along with subtle spices. Each puff leaves a pleasant aftertaste that will captivate your palate, body and senses, making you want more! It's no surprise these cigars are selling out rapidly; once people learn about them, they won't be able to resist!
PLASENCIA YEAR OF THE RABBIT 2023 FROM PLASENCIA CIGARS
Treat yourself to something special, a limited box of 10 first-edition cigar! Our selection of brands can't be beaten for cigar prices, and we offer the rarest cigars at prices you won't believe. Keep your savings or purchase a box of even more cigars with them - either way, YOU come out ahead! We're a company devoted to providing the ultimate shopping experience by ensuring our customers get access to the widest range of high-quality products available on market.
Year of the Rabbit Cigar by Plasencia 1865 - Blend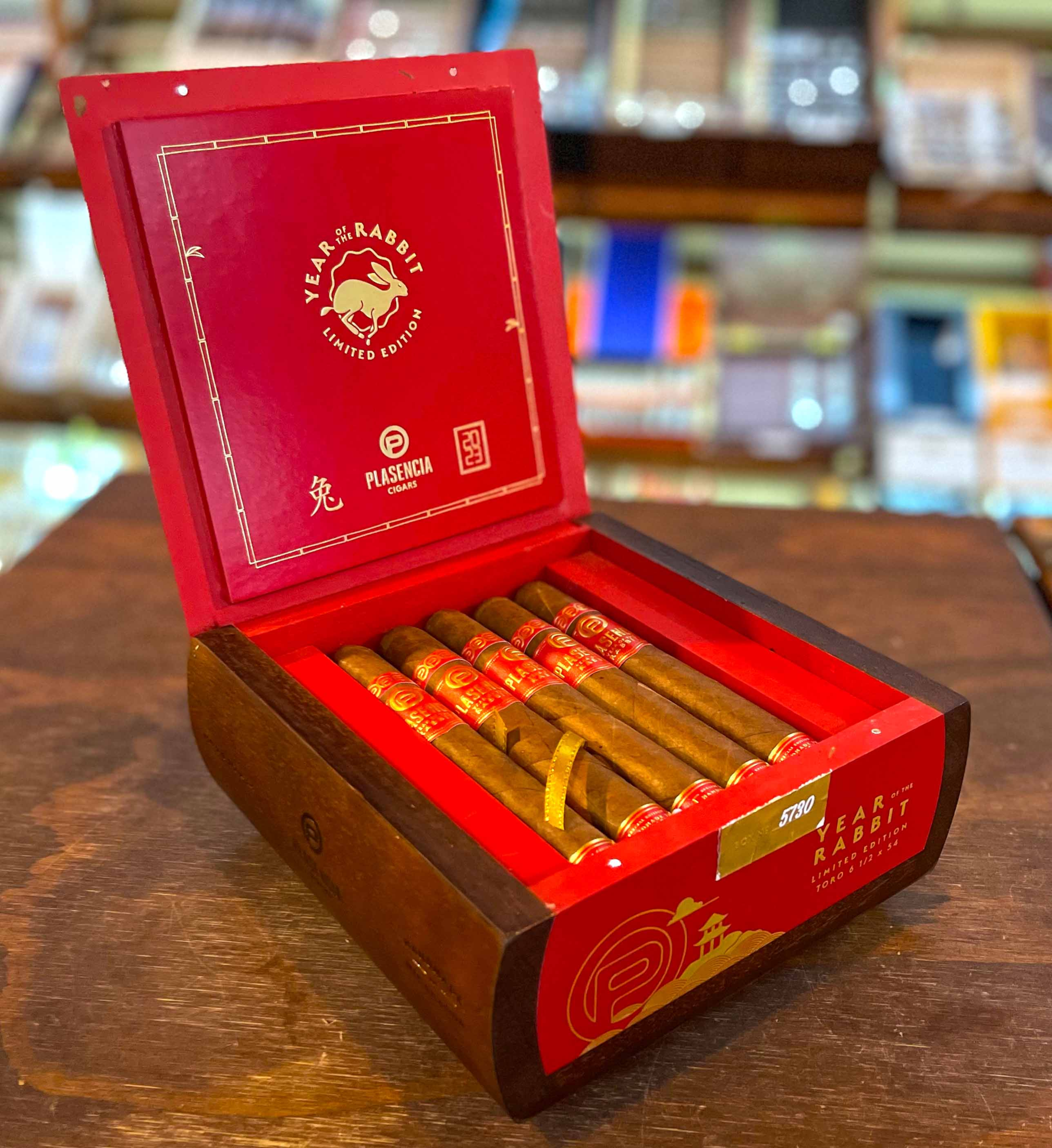 All things considered, the Plasencia Year of the Rabbit, also known by the Rabbit Limited Edition, should be your go-to choice if you're looking for something special to ring in the Chinese New Year. Its Nicaraguan tobacco blend gives off rich and complex flavors that will surely impress even the most discerning cigar and coffee aficionado. With its unique designs, it's perfect as a gift or simply to treat yourself - don't miss out on this opportunity! So make sure you grab one before they're gone—order yours today!
Cuenca Cigars is proud to offer a limited edition selection of cigars for World Cup 2022, including Plasencia Ehtëfal from Plasencia Cigars, Flor de Selva El Ano del Conejo from Maya Selva Cigars and Vegafina Year of the Rabbit. Another release to celebrate the Cinese Calendar was AURA E.P Carrillo, Get yours today!