Posted by Ana Cuenca on Jul 18, 2022
The PCA 2022 Trade Show took place in Las Vegas last week, with many cigar brands showcasing new releases. The highly-rated Tatuaje brand has some significant standouts we will soon carry for you.
Named in honor of its tattooed founder Pete Johnson, Tatuaje cigars are designed to stand out and cater to cigar enthusiasts. Crafted with Nicaraguan Cuban-seed tobacco, these cigars cater to the refined palates of genuine aficionados.
Johnson demonstrated at PCA 2022 that his brand would live up to its strong reputation with its new releases. And Cuenca Cigars is will have many of them available to you soon. Here are some new products this brand of Nicaraguan cigars will deliver in 2022.
Tatuaje Havana VI Verocú Blue
Tatuaje Havana VI Verocú Blue is being unveiled at the PCA 2022 by Tatuaje Cigars. Pete Johnson has revealed that this handmade cigar will be a Nicaraguan puro. using a Corojo 99 shade grown Rosado wrapper.
Tobacco grown in the Garcia family of My Father Cigars Farms in different regions of Nicaraguan. They called a tobacco "100% family grown". Only two vitolas or cigar shapes are released this year: a Toro measuring 6 1/4 x 52 toro, and a Robusto Gordo 5 1/2 x 54 robusto gordo. Click the enter to the Notify Me List.
L'Atelier Surrogates Big Ten Britanicas
This cigar is being released to celebrate the 10th anniversary of Tatuaje's Surrogates brand. The blend derives from blends in the Surrogates events packs. It will feature what is referred to as a "medium-plus-plus" flavor profile.
The Surrogates Big Ten Britanicas is expected to be released in the Fall.
L'Atelier Racine ERB
ERB stands for "Edición Racine Britanicas," referring to the use of the Britanica cigar shapes that Johnson incorporates across many of his new releases. This blend is a replica of the L'Atelier Racine brand from 2015, using the Sancti Spiritus varietal as both a binder and filler.
The L'Atelier Racine ERB will hit the market in the Fall.
Cabaiguan Connecticut Britanicas Extra Perfecto
Johnson has been teasing this one for quite some time. This limited edition cigar uses a Connecticut wrapper from Ecuador, and the binder and filler are from Nicaragua. The flavor is medium to full-bodied.
Initially planned for summer, you'll be able to enjoy the Cabaiguan Connecticut Britanicas Extra Perfecto in early Fall.
Cabaiguan No.752
Another release from the Cabaiguan line, this Churchill-style cigar is the longest one from the line. With the same blend as the Cabaiguan mentioned above, you can also expect a medium to full-bodied flavor with this cigar.
Look for the Cabaiguan No.752 in the early Fall.
Tatuaje Nicaragua Cojonu 2015 Nicaraguan Habano Wrapper
When Tatuaje launched the Conoju brand, they expected to release a new version every three years. However, 2015 and 2018 were notably skipped.
Tatuaje is going back to 2015 for this cigar. It will feature full strength with a Habano wrapper and a Nicaraguan binder and filler. This will be one to look out for those who love strong cigars.
You can enjoy the Tatuaje Conoju 2015 in the early Fall.
Tatuaje PCA 2022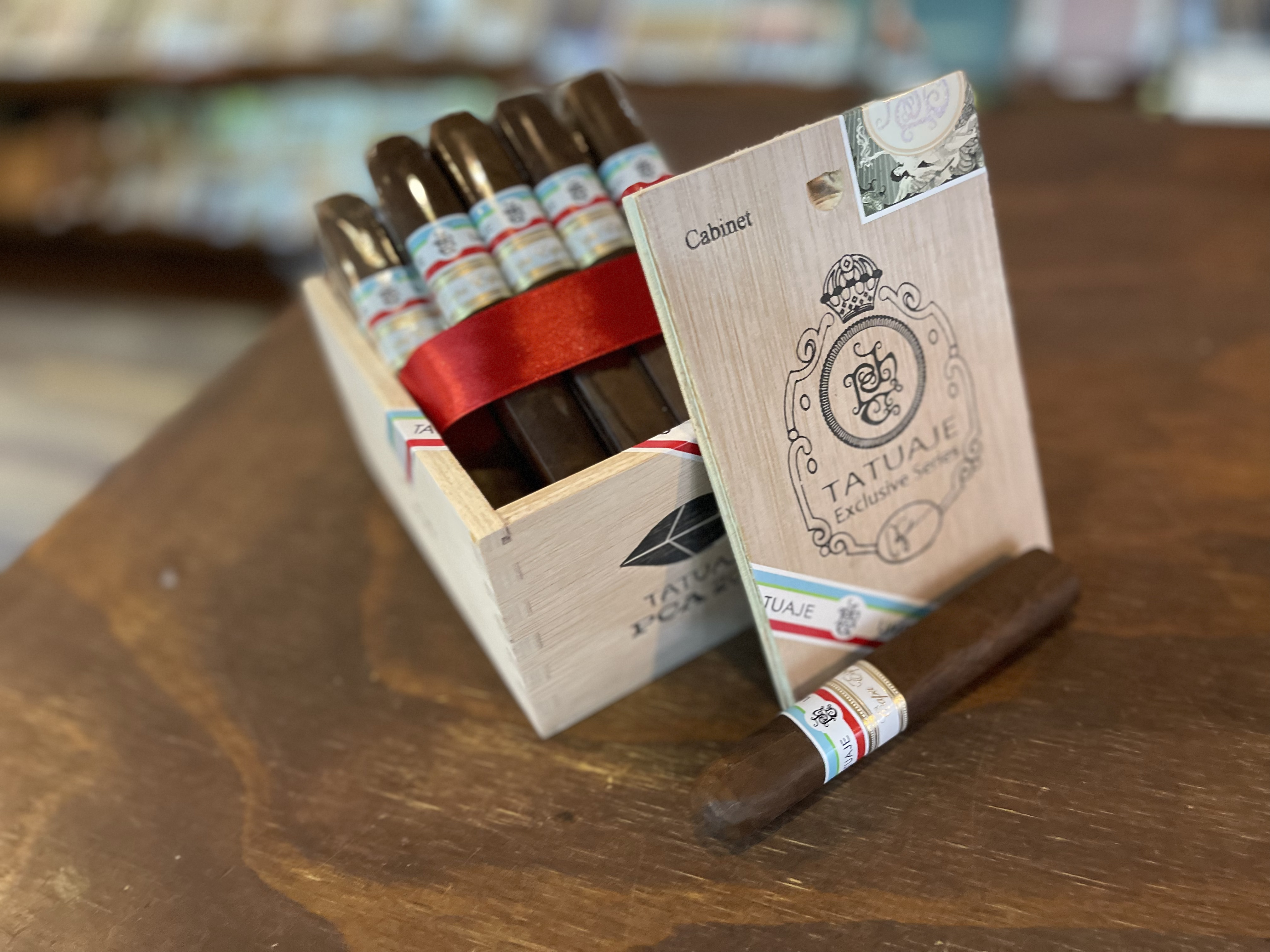 Tatuaje created this brand exclusively for retailers who attended PCA 2022. And the good news for you this that we hopped aboard that train and will be carrying this beauty soon.
This blend uses a Sumatra "capa especial" wrapper. Available as a double Robusto, it has medium to full strength. This one sold out fast at PCA, and we expect it will sell out fast on our site.
You can look forward to the Tatuaje PCA 2022 line's release in November.
Tatuaje Lomo de Cerdo
Johnson has been experimenting with Mexican San Andres tobacco more often in recent years. This full-bodied double Robusto is one of the resulting products.
Unfortunately, you'll have to wait a bit for the Lomo de Cerdo, as it is not expected to release until March of 2023.
Pete Johnson is known for his Limited Editions and rare cigars. The Tatuaje Lomo de Cerdo has already been reserved by many of the most fervent followers of Tatuaje Cigars. Please Subscribe to the Notify me asap!
Get These 2022 Tatuaje Cigars Online For Sale
We have included links to all of these upcoming Tatuaje cigars. Simply click the "Notify Me" button on each cigars page, and we will let you know when they are in stock.
And while you are there, check out our wide selection of premium handmade cigars from several notable brands. We have plenty of options on hand, including options from Tatuaje. Pick some up today and enjoy kicking back with a drink and premium smoke.