Posted by Ana Cuenca on Jan 14, 2013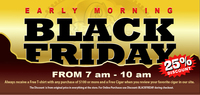 Shop our Lowest Prices on Black Friday Morning from 7AM - 10AM!
Get Black Friday 2012 deals at Cuenca Cigars, you'll find an enormous selection of Black Friday specials on the season most-wanted Christmas Gifts. Find unbeatable Black Friday Deals on the stuff every cigar smoker would always want. Our Black Friday deals are some of the year best shopping values, so be sure to shop and save at Cuenca Cigars that day, during the special Black Friday Hours.
The best way is to come to the store personally between 7 am till 10 am or call us at 954-364-7660 and place the order over the phone.
We have a tremendous amount of unlisted items, including a vast selection of Port Wines, Wines and Beers that will sure please anyone on your list. You can also get this offer online but only on the qualified brands listed below.
Use code BLACKFRIDAY2012 during checkout to received the 25% off and make sure to shop during the features hours for the Discount Code to work.
Let's make of this Holiday Season a great one. Count on us for everything. Questions?, call or email us. Want to buy something that is not online, call us.....
we are here for you!
25% Discount is good for everything at Cuenca Cigars store only. Online Shoppers, only qualified brands will enjoy the discount but you can call us and place the order over the phone during those hours.