Posted by Ana Cuenca on May 18, 2015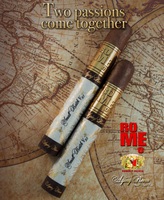 Cigar Aficionado's Cigar Insider in their last issue released the news about the collaboration between Boutique Blends and Altadis USA to release a ROMEO by Romeo y Julieta Aging Room F25 cigar line. This small batch is being made at Tabacalera Palma, the same factory where all the Aging Room brands are being crafted and will be distributed to brick & mortar stores only by Altadis USA.
The Romeo by Aging Room is a Small Batch of only 250,000 cigars and will be available in 3 sizes only, in a collectable box of 20 cigars,
Rafael Nodal added: "It is unbelievable that I can work with one of the biggest brands in the word," said Nodal to Cigar Aficionado. "When I created the blend for this cigar, I really had to consider the history of the Romeo y Julieta brand and appeal to its classic elements by making it as refined as possible."
CA: In this experimental, limited-edition project, Altadis has given Boutique Blends owner Rafael Nodal the opportunity to create his own small-batch interpretation of the very large Romeo y Julieta brand. Nodal has done so by drawing upon the libraries of aged and distinctive Dominican tobaccos grown and archived by José "Jochy" Blanco, tobacco grower and owner of Tabacalera La Palma in the Dominican Republic.
The Romeo by Romeo y Julieta's Aging Room is a rich, savory, medium to full bodied cigar. Perfectly balanced and highlighted by subtle and complex menaces of flavor, it is handcrafted with 100% Habano Dominican tobaccos. These rare leaves are carefully grown in the Cibao Valley, one of the most fertile tobacco growing regions on earth, and patiently aged.
We at Cuenca Cigars are extremely excited to see the result. From our experience Rafael Nodal has proven to create exotics blends and, of course, with all this romance behind, this, we expect to be, a legendary one.
The new Romeos will come in three sizes: Copla, which measures 5 inches by 48 ring gauge; Capriccio, 6 by 54; and Cantaor, a 6 by 52 belicoso. Like Nodal's previous Aging Room brands, the sizes are named for musical terms. Packaged in boxes of 20, these smokes are set to retail between $11.50 to $12.50 per cigar.
Stay Tuned! Get it at Cuenca Cigars first.