Posted by Ana Cuenca on Feb 10, 2016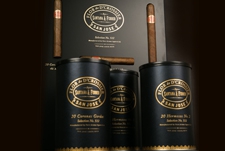 With the Flor de D'Crossier Selection 512 cigar, Pure Aroma Cigars has done it yet again. The cigar was created to honor the birthplace of D'Crossier cigars in Costa Rica. It's a cigar that really showcases what D'Crossier cigars are all about.
D'Crossier cigars are named for Francisco Crossier, the grandfather of Pure Aroma Cigars owner Isaias Santana Diaz. Crossier moved from France to Cuba, where he developed a passion for cigars and passed it on to his grandson.
The Flor de D'Crossier Selection 512 cigar is produced in Costa Rica, along with the other D'Crossier cigars. The cigars were first produced in 2008, and the brand has been going strong since then.
With filler tobaccos from the Dominican Republic and Costa Rica, the Flor de D'Crossier Selection 512 offers a great experience. It's enveloped in a Habano wrapper from Ecuador. Just as impressive as the blend is the packaging of the cigars; they come in tins lined with cedar.
This cigar comes in 6 different sizes and is surprisingly affordable. You can get them for the best online prices when you shop online with Cuenca Cigars.