Posted by Ana Cuenca on Nov 21, 2022
People have been using the tobacco plant to smoke tobacco for around 8,000 years. Today, the tobacco industry is more refined than ever, especially regarding cigars like Plasencia Ehtëfal. This is a limited edition cigar from Plasencia Cigars, you won't have the chance to buy ever again once it leaves the shelves forever.
But what is so special about this particular cigar, and how is it different from any other? Should you spend your money on this product, or is it just wasting time? Keep reading and learn more about the unique benefits that this Plasencia Ehtëfal cigar has to offer.
IS PLASENCIA EHTËFAL A GOOD CIGAR?
Plasencia Cigars, as a brand, has been around for a very long time, since 1865. For that reason alone, it only makes sense that this brand has been producing some of the highest-quality cigars in the world for quite a long time. This is not to mention that this brand is responsible for growing only the best tobacco for their cigars.
Plasencia Ehtëfal cigars will soon debut to correlate with the 2022 FIFA World Cup, which is being held in Qatar this year. Even the name Ehtëfal is an Arabic word that translates to the English word "celebration." The interesting thing about these cigars is that only 2,500 boxes of them will ever be produced to commemorate the World Cup.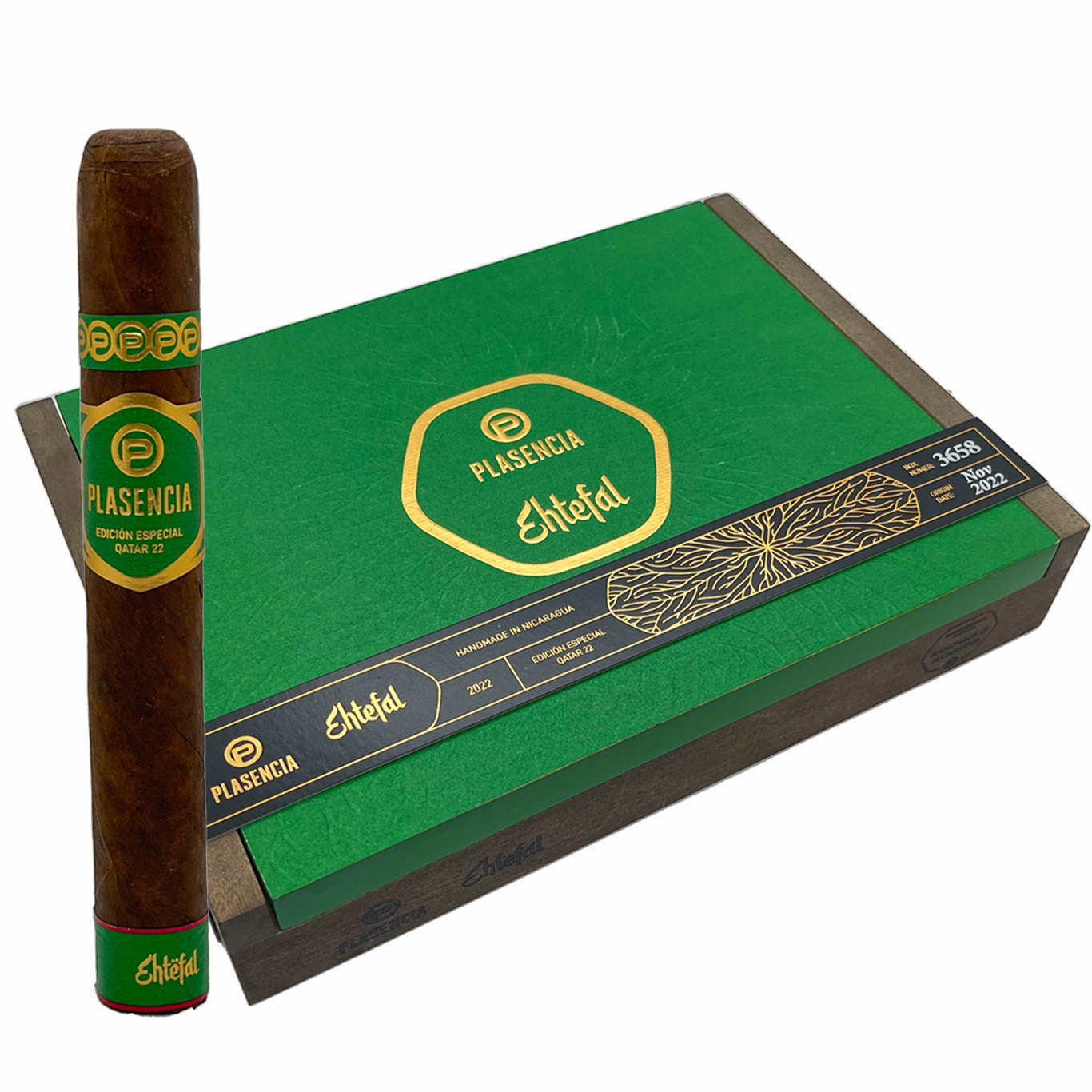 Plasencia World Cup Cigar, 2,500 boxes may sound like a lot, but it isn't, especially when many cigar enthusiasts want to get their hands on them immediately. But how can you know if Plasencia Ehtëfal is even a good cigar? If the Plasencia brand produces it, it will surely be good.
But what is it that makes this cigar so special? Firstly, its special blend of tobacco will be hard to find anywhere else in the market. For example, the sun grown wrapper from Jalapa has been months in the making and imparts an exceptional flavor only the Plasencia Family can achive. Even more fascinating is how each brand cultivates their own secret recipe for a truly exclusive taste!
THE DETAILS of the Limited Edition Cigar 2022 FIFA World Cup!
All this sun exposure left the wrapper full of bold and smoky flavors, yet those interesting flavors do not overpower the more delicate aromas and taste you will find deeper within the cigar. For example, the binder and filler of this cigar are full of tobacco from Nicaragua and Honduras, specifically from the farms of the Plasencia brand.
But the quality of this exclusive cigar doesn't stop there. The tobacco used for the filler and binder has been aged for 10 years. The aging process completely transforms tobacco for the better.
Specifically, it makes the tobacco much more mature and mellow and provides the cigar with many unique flavors you'll never detect in unaged cigars. This is especially true since the tobacco is aged for 10 years rather than a measly 3 or 4 years.
But what kind of flavors can you expect to experience from this cigar, and how strong is it?
THE BODY OF PLASENCIA EHTËFAL CIGARS
These handmade cigars are full-bodied, meaning they aren't great for beginners but ideal for intermediate and expert smokers. Remember that being full-bodied doesn't mean that this cigar will taste harsh or overly smoky. On the contrary, these premium cigars are crafted so that there are still many delicate and exciting flavors to detect, even despite the strength of the aged tobacco.
When you first take a puff of this cigar, you will undoubtedly detect flavors of coffee, caramel, and even woody notes like oak. But the flavors don't stop there. If you continue to smoke, you may even encounter some sweet notes such as cherry and other dried fruits.
The flavors will only evolve across your taste buds as you continue to smoke the cigar, and you'll never get tired of the aromas and notes it offers. Remember that this cigar only comes in one size, a toro which is 6 X 52. Fortunately, this is a good size for most cigars since it isn't too big or small.
WHAT YOU NEED TO KNOW
It is essential to smoke this cigar slowly so that you can savor all of its unique notes. After all, if you smoke it too fast, you'll blow past all it offers. Per box, you will find 10 of these fantastic cigars.
But when can you get your hands on these cigars? These cigars will be available very soon, on November 19th. They will first become available in Doha, Qatar, which is, of course, where the World Cup is being held.
The release of these cigars in Qatar will be quite a premium experience since you can only attend this event via a private invitation. If you ever have the chance to get your hands on one of these cigars, you will indeed find that you can complement its flavors with a savory dinner of grilled steak or something similar.
After all, it only makes sense since this cigar's flavor is both savory and sweet at the same time.
ALL ABOUT PLASENCIA EHTËFAL CIGARS
Plasencia is a brand that has produced high-quality cigars for over 100 years, so it only makes sense that the upcoming Plasencia Ehtëfal cigar will be something to rave about. With its coffee, caramel, and cherries flavors, it's hard to forget a cigar like this.
To learn more about cigars or get some for yourself, click here to see what we offer.
Is Plasencia Ehtfal a celebration Cigar?
It was originally released during the Qatari World Cup. Although not officially a part of any celebrations, its name "Ehtfal" translates to "Celebrations" in Arabic. This cigar is made with sun-cultivated wrappers from Nicaragua's Jalapani Valley and both binder and fillers aged on a Plasencia farm in Nicaragua/Honduras, all condensed into one delectable single toro 6x54 format at an impressive cost of $66 per stick (boxed 10). Let us take time now to appreciate the true value of this special offering!
What's the Body of Plasencia Ehtëfal Cigars?
This cigar is full-bodied so the cigar is not perfect for beginners but ideal for intermediate smokers and professionals. This cigar should not be full-bodied but should not smell bitter. In fact these cigars are designed to have dozens to be able to taste, and are quite attractive. If you start taking puffs of this cigar you may notice coffee and other caramel flavors. The taste is not limited to this. In case you smoke, your smoke may contain hints of sweetness like cherry and dried fruits.