Posted by Ana Cuenca on May 21, 2022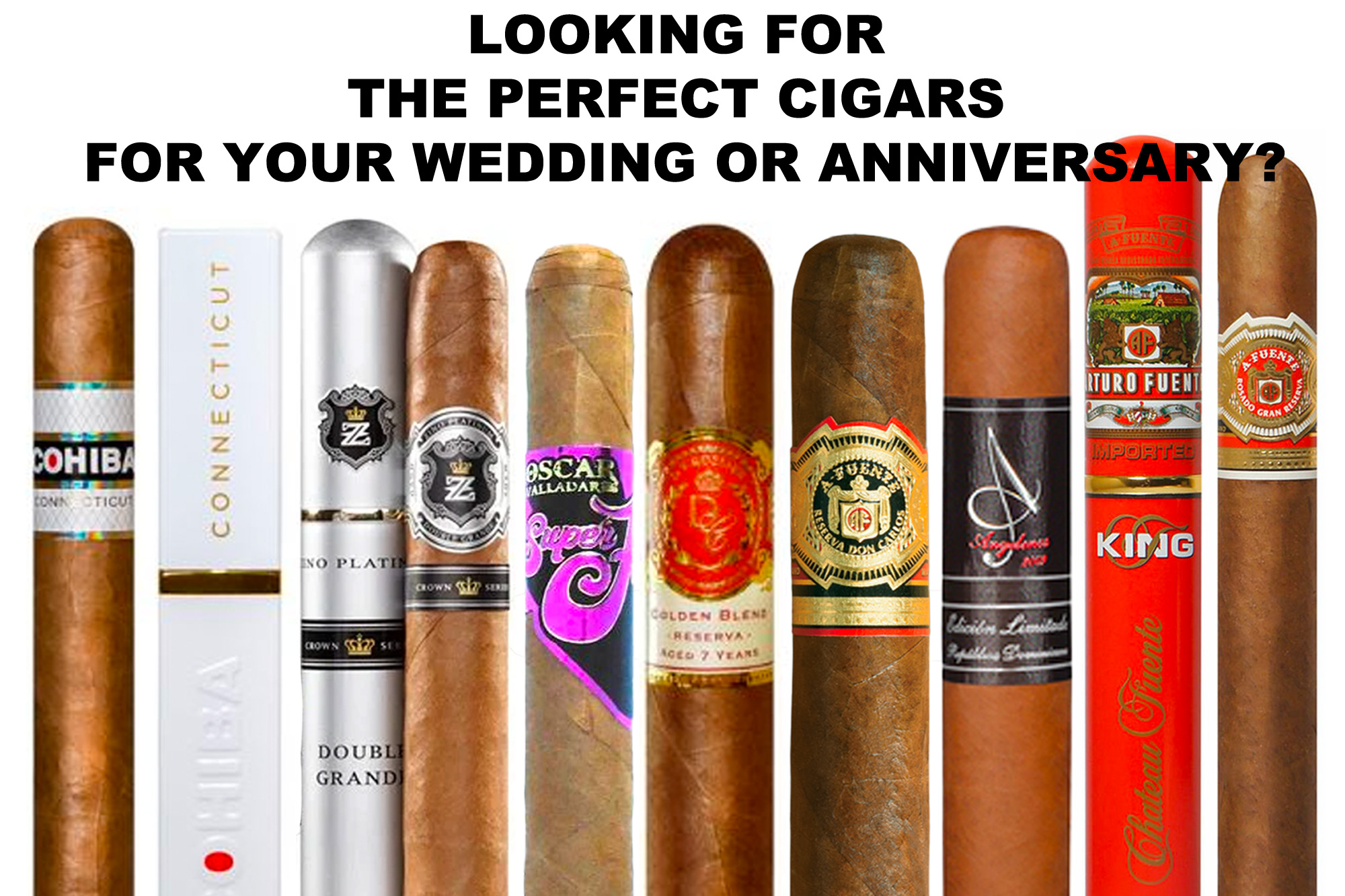 Your wedding day is a day for celebration!
The bride, groom, and all of your guests are sure to make memories that will last a lifetime. Do you have everything you need for your big day?
The wedding planner likely has everything set up and ready to go: the venue, caterer, photographer, DJ, flowers, and every other detail. But there is one more thing you'll need to add to the wedding planner book—cigars!
In this article, we'll tell you everything you need to know about finding the perfect cigars for your wedding.
Your Guide to Wedding Cigars
Cigars have gone hand in hand with milestones and celebrations for a long time. They are traditionally smoked at births, anniversaries, parties, and of course, weddings. Don't forget to include cigars in your wedding planning!
Whom to Give Cigars to at Your Wedding
The answer is—anyone who wants one! The groom and groomsmen are traditionally at the center of the cigar action, but of course, everyone should have the option to celebrate a wedding with a cigar. With one caveat—guests under 21 years of age are out of luck.
Cigars are not reserved for just the wedding day, either. You can pass them out at a bachelor party, pre-wedding dinner, or as groomsman gifts.
How Many Cigars for a Wedding?
Cigars are typically sold in boxes of 20 or 25 cigars, so the first thing you'll have to do is calculate how many boxes you'll need.
Are you passing them out to all of your guests? Reserving them only for the wedding party and immediate family? That should give you a good number to aim for. If you are not sure who would enjoy a celebratory cigar, a good estimate is 50% of your guests.
Once you have calculated, if you need more than one box, you can even buy different kinds of cigars. Or, stick with one brand that offers the quality and sophistication you want for your wedding.
Where Should You Store Them?
It's important to place your order with the cigar shop a month or two before the wedding to make sure you will have them for the special day. However, once you receive them, they must be stored in a place where the humidity is around 70%. If not, they will dry up and crack, making them less enjoyable.
One way to do this is to ask your cigar supplier for a specific ship date closer to the wedding. You can also ask the reception hall or reception hall if they have a special cigar storage area. If none of these options work, you can purchase a humidor that will hold them until the big day.
How to Choose the Right Cigars
For size, stick to robustos. Robustos are 5x50 meaning they are 5 inches long with a 50 ring gauge. This cigar size will offer a smoking experience of about an hour, which is perfect for a wedding. Also, buying cigars that comes in Tubes help to preserve them.
You want to choose a cigar that will appeal to all of your guests. For a sure bet, stick with premium cigars that are mild to medium in strength.
Cigar Presentation
A designated "cigar bar" is one way of presenting your wedding cigars. This allows your guest to choose the cigar they want, whenever they want it. A cigar bar should be set up away from the under-21 crowd and can even be set up in a discreet location if you prefer.
You can also display your cigars on a bar or other table. You can stand them upright in elegant glass jars or place them in luxurious humidors. Keep the cigars in their protective tubes for the best experience—they retain their quality and are easier to carry around.
Make sure to keep cigar cutters and lighters in easy reach as well.
The Best Cigars for Your Wedding
When choosing the best cigars for your wedding, you want them to have a special quality. And despite what some people say, you don't need overpriced Cuban cigars to enjoy a great cigar experience at your wedding!
Below are some of the cigars that are sure to be a hit.
Cohiba Connecticut Robusto Tube
A premium top-shelf cigar wrapped in a creamy, blond-colored wrapper, it has an aroma and flavor of vanilla, almonds, and cocoa. Made from long-filler tobacco from Brazil and the Dominican Republic, it comes in a cedar-lined tube for added protection.
Zino Platinum Crown Series Double Grande Tubos
A wonderful choice for a wedding, the Zino Platinum Crown Series Double is filled with a unique blend of Dominican and Peruvian filler. It is a zesty, medium-bodied cigar with a woodsy flavor and hints of vanilla and cinnamon.
Oscar Valladares Super Fly Connecticut
Featuring soulful, retro wrappers, the light brown cigar is made with Nicaraguan, Honduran, and Dominican filler. It has aromas of wood and cedar, along with hints of cream and black pepper.
D'Crossier Golden Blend Reserva
Made with chocolate brown habano claro wrappers, these cigars feature fillers grown in the Dominican and Nicaragua that are aged for seven years. These premium cigars have a flavor of cedar, almonds, and cloves with hints of cocoa and cinnamon.
Arturo Fuente Don Carlos
This Dominican-made cigar is sophisticated and refined. It's medium-bodied and robust, with flavors of cedar, coffee, and oak, and it has a slightly sweet finish.
Arturo Fuente God of Fire Angelenos
These cigars, favorites with cigar aficionados around the world, feature long-fillers and binders from the Dominican Republic. It's a medium body cigar that has aromas of anise, cinnamon, and pepper.
Arturo Fuente Chateau Fuente King T (

Sun Grown

or

Natural

)
These cedar-wrapped cigars are handmade in the Dominican Republic and come in either Sun Grown or Natural varieties. Both of them are quality options that have slight variations in flavor. The Natural has a woodsy flavor with undertones of pepper and cocoa, while the Sun Grown has creamy flavors with hints of cinnamon and citrus.
The Right Cigars for Your Wedding
Cigars are a sure way to add some fun, class, and excitement to your wedding! Whether your guests smoke a cigar at your wedding for the first time or they are cigar aficionados, they will always remember enjoying a cigar on your special day.
To find the perfect cigars for your wedding day, feel free to browse our online store. We are here to answer every question about how to choose the best cigars for your big day! Or simply shop this sampler now.