Posted by Ana Cuenca on Sep 09, 2012
NEWS: Ashton announces La Aroma de Cuba "El Jefe" and a new packaging "Marquis" in Tube.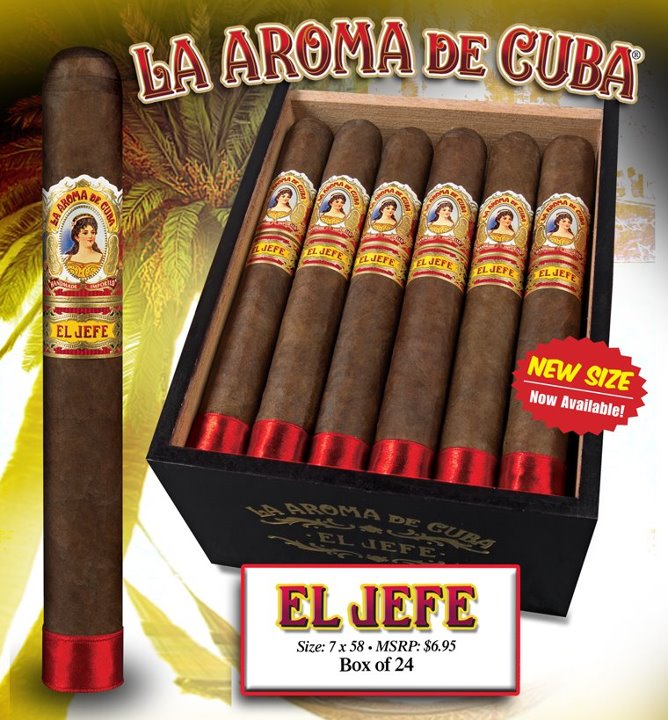 Team Ashton in a grand collaboration with Jose "Pepin" Garcia, have raised the hurdle yet again with the newest and largest La Aroma de Cuba to date. The 7 x 58 "El Jefe" is an impeccably-constructed, majestic masterpiece that's destined to be a game-changer to the already iconic La Aroma de Cuba brand. Large cigars are the hottest, most in-demand trend in the cigar industry. Their plus-size stature rewards the consumer with a greater smoking duration for a very modest price increase. In the case of the "El Jefe", it's a sublime smoking experience that showcases the masterful blending of Jose "Pepin" Garcia. Highlights of black-currant and cocoa evolve into a rich, creamy mélange of spice and charred oak. Consistently perfect and pleasurable in every respect, "El Jefe" is also extremely affordable with an eye-popping MSRP of only $6.95 per cigar! The time is now to savor "A Taste from Another Time."
The new size: "El Jefe" was released during the IPCPR 2012 at the Orlando Convention Center and is now available in our online store. Follow the link: LADC "El Jefe"
Ashton announced a new size addition to its popular "La Aroma de Cuba" New Blend line. This one is called the "Marquis". The new LADC New Blend Marquis that was initially improved when Pepin Garcia started to blend it a few years ago featuring a gorgeous chocolaty Connecticut Broadleaf wrappers and a rich, spicy blend of Nicaraguan tobaccos, has been released now in the Marquis Size packaged in beautiful tubes. The tubes are usually very demanding and even when the production cost go usually a little up, cigar aficionados fell in love with this type of packaging. And there is a reason for this. Cigars in tubes usually reach the top maturity faster than the others. The dark environment were this cigars are kept and the cedar that usually is packed within make the tubes cigars richer and flavor full than the traditional packaging.
Another size was also released during the same event. La Aroma de Cuba New Blend Marquis in Tube. The packaging is truly extraordinary and the Tubes are intended to intensify the cigar flavor profile. This new size is now available at our online store. Follow this link to buy: LADC New Blend Marquis Tube.
Other sizes, original released by Ashton after the blend changed are also available now at CuencaCigars.com