Posted by Ana Cuenca on Jun 19, 2015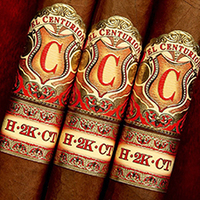 June 19th, 2015. The Garcia Family, owners of My Father Cigars Company with their Factory located in Esteli Nicaragua; has recently issue the upcoming release of El Centurion Dons Connecticut during the IPCPR 83rd Annual Convention & International Trade Show 2015 in New Orleans.
The Hybrid wrapper H-2K-CT acquired by My Father Cigars is a grown in Connecticut and will be branded as El Centurion Dons Connecticut H-2K-CT line of cigars. The new creation is a team effort between father Don Jose Pepin Garcia and Jaime Garcia and will form part of the My Father Cigars Portfolio. The Connecticut wrapper is considered a non traditional connecticut because is not either shade grown nor broadleaf, but a Cuban Seed strain of tobacco grown in the open sunlight and cultivated in the Connecticut River Valley.
With Binders and Fillers compounded of pure Nicaraguan Tobaccos this Connecticut wrapper blend won't be the traditional milder profile yet smooth and complex. The line will come originally in two box pressed sizes:
Corona 5 1/2 X 48
Toro 6 X 52
The new H-2K-CT line is the first release but is planed to be a regular-production of the El Centurion brand as well.
Stay Tuned!