Posted by Ana Cuenca on May 28, 2023
Are you ready to embark on a unique cigar journey? The Drew Estate ACID Blondie Belicoso shape, with its one-of-a-kind blend of sweet, spicy, and herbal notes, and shape, is an experience you won't forget. In this article, we'll explore the fascinating world of Drew Estate ACID cigars, learn about the creators, and discover why the ACID Blondie Belicoso shape has become a fan favorite. We'll also share customer experiences, guide you through purchasing online, and offer tips to enhance your smoking experience. Prepare to be amazed!
SHORT SUMMARY
Discover the unique taste, size, and appearance of no other than the Drew Estate's ACID Blondie Belicoso for an exquisite smoking experience. This blend uses a Connecticut wrapper.
Customers have had overwhelmingly positive experiences with this mild to medium-bodied smoke.
Enhance your enjoyment by experimenting with pairings & proper storage in a humidor or sealed container.
DISCOVERING THE ACID BLONDIE BELICOSO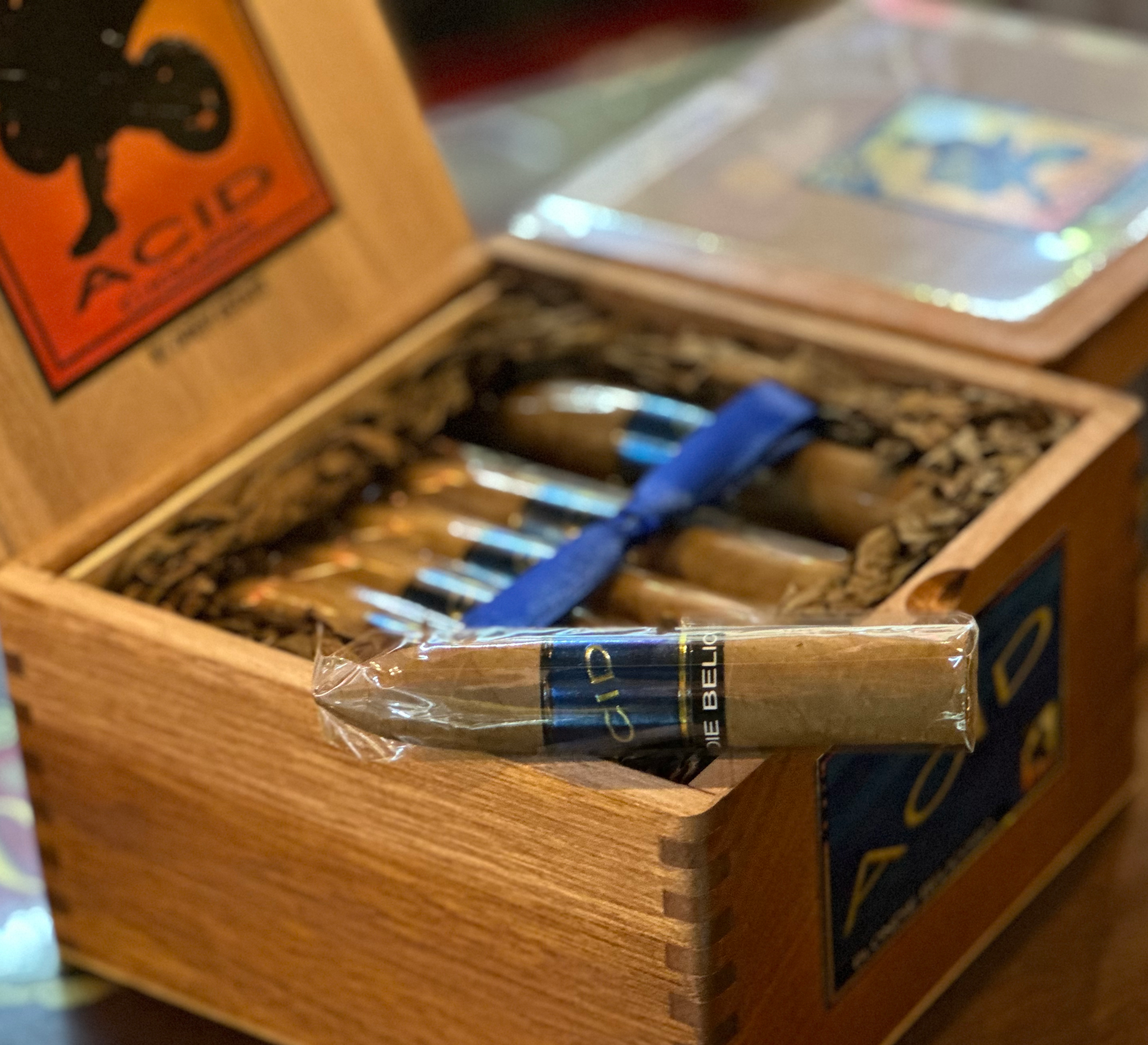 The ACID Blondie Belicoso is a torpedo-shaped stogie that offers the same fantastic taste profiles as its smaller sibling, the ACID Blondie, but in a larger 5-inch by 54-ring box alone. With a smooth to medium body only possible after the sophisticated infusion process that Drew Estate does and a pigtail head, this smoke is without question an exquisite choice designed for fans of flavored handmade.
But what makes it stand out from other Acid smokes? It's all about the unique taste profile, strength, size, and appearance, along with the creative minds behind it – Drew Estate.
TASTE PROFILE AND STRENGTH
The ACID Blondie Belicoso is truly a treat for your taste buds. Its mild to medium-bodied flavor combines hints of cinnamon, coffee, vanilla, and floral botanicals, creating a symphony of tastes that will leave you craving more. The light, woodsy smoke and light-brown Sumatra wrapper only add to the cigar's allure.
This unique flavor results from Drew Estate's innovative blending and using various herbs and essential oils, making the ACID Blondie Belicoso a standout among infused cigars and tobacco. So, if you're tired of the same old smoke experience and are ready to explore new horizons, the ACID Blondie Belicoso shape is a must-try.
For an Acid Smoker who wants a full-sized stogie that can be enjoyed quickly, the Acid Blondie is a great option. It has the same endearing taste and floral aroma as other Acid smokes, making it a popular choice among fans. Plus, it only takes 20 minutes to smoke, making it perfect for those short on time.
SIZE AND APPEARANCE
The ACID Blondie Belicoso is not your average stick. Its 5-inch length, 54-ring gauge, smooth top and torpedo body shape set it apart from other premiums. The pigtail head adds a touch of elegance and sophistication, while its size and body provide a longer, more enjoyable smoking experience.
With its full body and distinctive look, the ACID Blondie Belicoso will turn heads and spark conversation among fellow enthusiasts. It's a smoke that tastes exceptional and looks the part.
DREW ESTATE'S: THE CREATOR OF ACID CIGARS
The creative minds behind the ACID Blondie Belicoso are none other than the trailblazers at Drew Estate. Founded by Jonathan Drew and Marvin Samel in 1998, Drew Estate has revolutionized the cigar industry for over two decades with brands like ACID, Java, and Herrera Esteli. Their unique and inventive flavors and aromas have transformed the industry, making it more diverse and inclusive. Adding a flavor strength profile for beginners or intermediate smokers who love morning smoke.
Drew Estate's dedication to innovation and creativity is evident in the ACID Blondie Belicoso, which offers a one-of-a-kind smoking experience. The company's distinctive combination of tobacco curing, blending, and flavoring techniques allows the ACID Blondie Belicoso shape to stand out in a crowded market, making it a top choice for those seeking a unique experience.
LIKE A FAMILY RECIPE, DREW ESTATE'S INFUSION PROCESS IS A SECRET.
While Drew Estate shares much information on various subjects, they remain secretive about the infusion process used in their infused Acid line. According to Samel, only four people worldwide know the entire process. Drew Estate does not disclose much about how they extract flavors for their infused Acid Cigars, but they mention that they use high-quality ingredients, starting with good tobacco.
Drew Estate believes that Acids, which he notes are different from typical fruit-flavored smokes, would not be affected by any potential ban on flavored. Drew emphasized that doing things properly takes time, unlike the common association of flavored as quick and short-filled.
CUSTOMER EXPERIENCES WITH ACID BLONDIE BELICOSO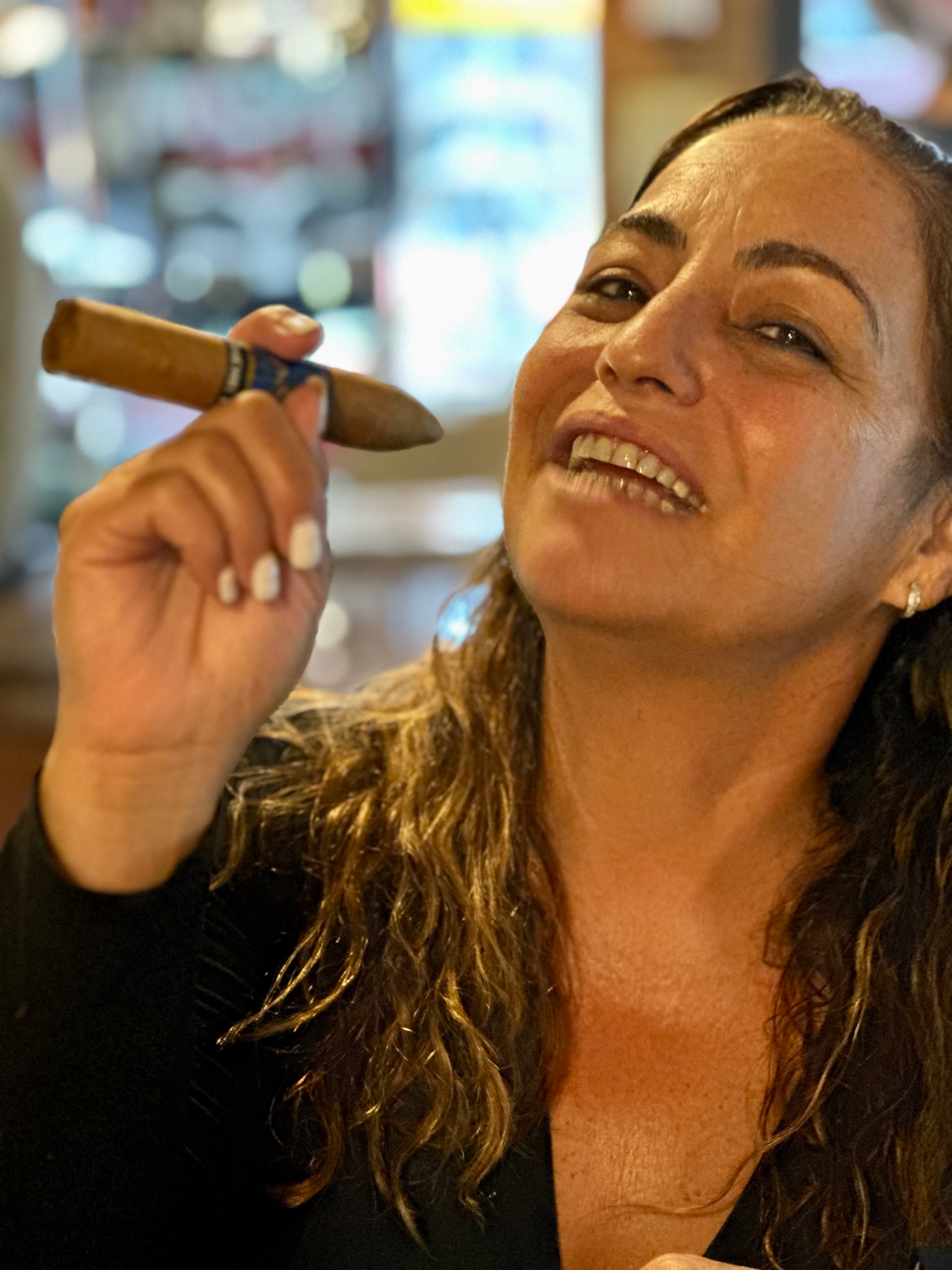 This a shoot-out to Acid Smoker fans. The ACID Blondie Belicoso has obtained rave customer reviews from satisfied smokers, earning a 4.9 rating from 95 customers. Its smoke strength is particularly velvety, and its construction is well-built, with even burn lines and a flawless draw. These features have gained much appreciation.
But, like this review or any product review, there's no question, always room for review and improvement. Let's delve into the review and the review experiences of satisfied and critical customers to better understand what makes this stogie a top box hit and where it could be better.
SATISFIED SMOKERS
One customer review posted on April 26th, 2023, stated, "It was a great smoke."
Susan V., another satisfied customer review, highly recommends the ACID Blondie Belicoso. These positive reviews showcase the smooth and incredible smoking experience the ACID Blondie Belicoso provides and why it continues to be a favorite among infused cigars and cigar aficionados lovers.
CONSTRUCTIVE CRITICISM
While most reviews are overwhelmingly positive, some customers have expressed concerns about the ACID Blondie Belicoso. A few have mentioned a loose draw and a bittersweetness that tastes like artificial sweetener.
Despite these criticisms, most customers still rave about the cigar's delicious flavor and smooth smoke.
Please remember that we are dealing with a natural product, and while the flavor profiles should remain consistent, some tobaccos may mature differently than others. If you encounter any problems with the order received, please get in touch or contact us as soon as possible. Including pictures in the body of an email can be helpful. However, please be aware that you have a 30-day window from the purchase date received to exchange.
PURCHASING A BOX OF ACID BLONDIE BELICOSO ONLINE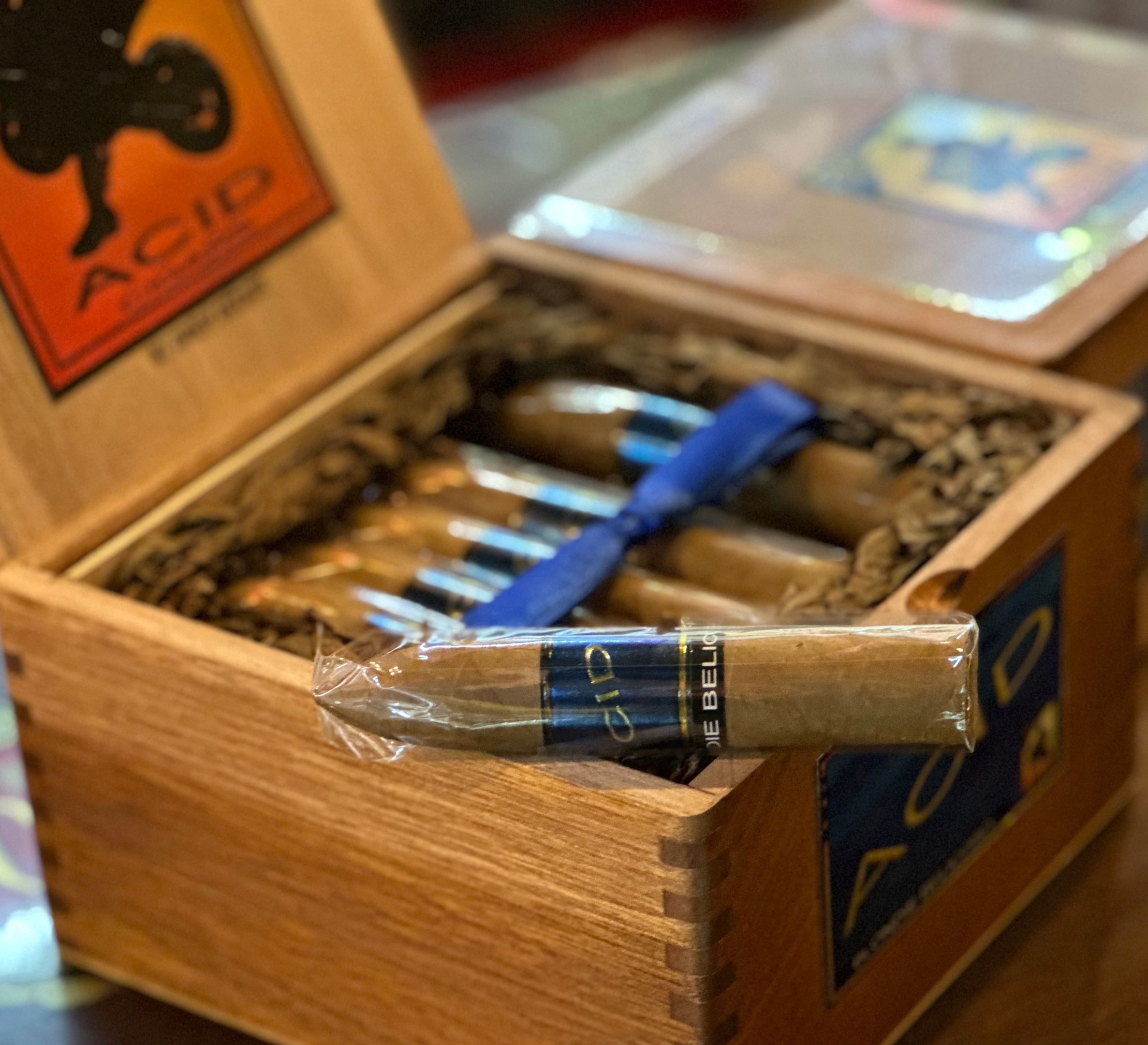 Now that you understand the ACID Blondie Belicoso better, you're probably eager to try one for yourself. Luckily, purchasing this exceptional stick online is easy and convenient. You can purchase a Single One before committing to a box!
This section guides you through comparing prices, finding trusted retailers, and learning about shipping and delivery options.
COMPARING PRICES
The price for the ACID Blondie Belicoso varies depending on the retailer and the quantity you choose to purchase. A single cigar can cost as low as $9.75, while a box of 24 can set you back $196.95. You can find the best deal for your budget by comparing prices among various online cigar shops.
As a limited-time offer, Cuenca presents a free ACID Sling traveling bag for checkout for a limited time at checkout. To qualify, you must purchase a box of at least 24 premiums, which will be automatically added to your cart at checkout. However, please note that supplies for each box and the free gift at checkout are limited, so act fast.
If your stick is unavailable, please subscribe to the Notify Me List or contact us!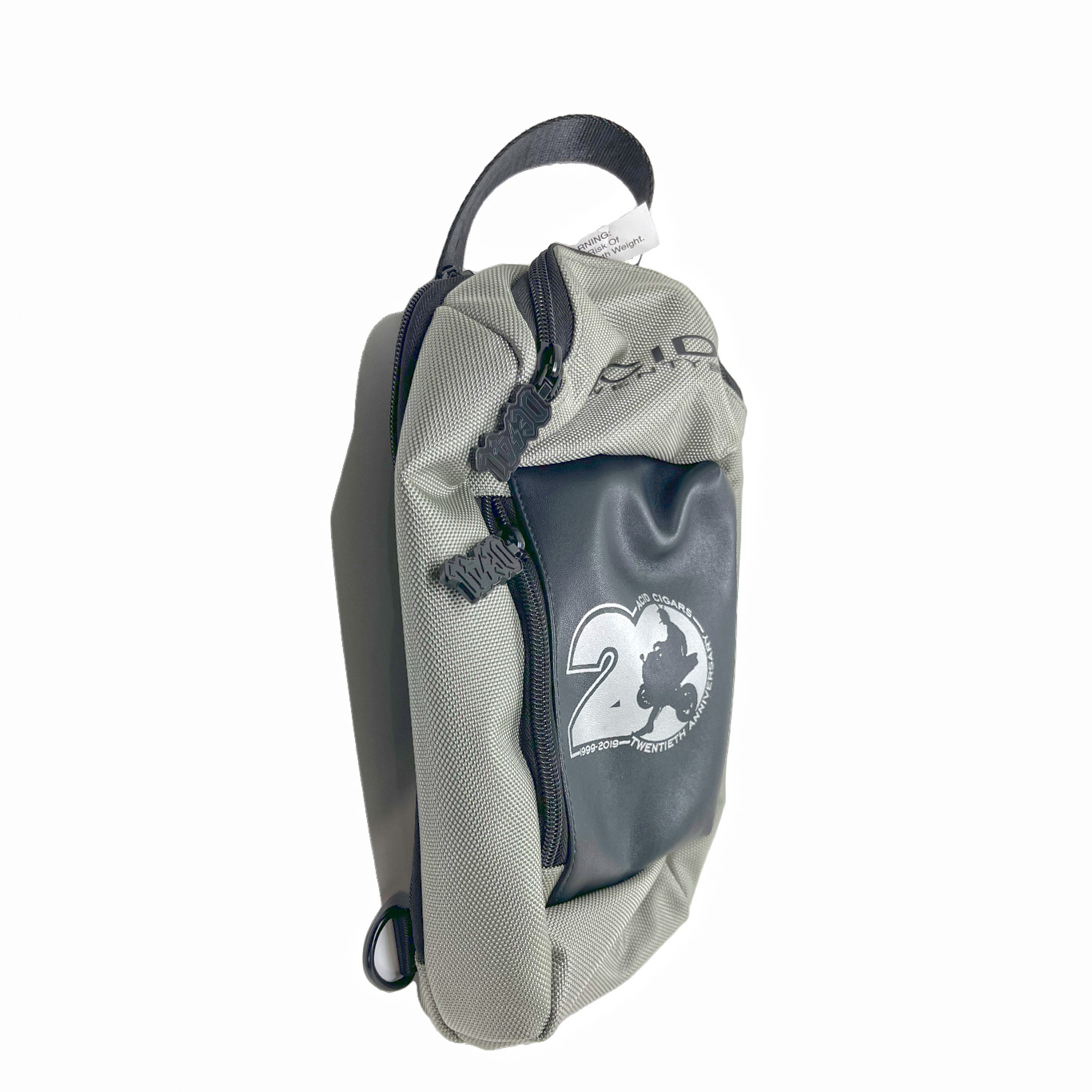 It's worth noting that prices may fluctuate due to factors such as promotions, sales, or limited availability. So, shopping around and staying up-to-date on the latest offers and discounts is always a good idea.
TRUSTED RETAILERS FOR ACID CIGARS
When purchasing the ACID Blondie Belicoso online, choosing a trusted retailer or site that provides quality products and services is essential. Cuenca Shop has a solid track record of delivering quality products and services, ensuring a hassle-free shopping experience.
Before purchasing, read customer and website reviews and check the retailer or website's return policy and shipping options. This will ensure you're making an informed decision and selecting the best retailer or website for your needs.
SHIPPING AND DELIVERY
Shipping and delivery options for the ACID Blondie Belicoso vary depending on your chosen retailer. Some online cigar shops offer free shipping, while others may charge additional fees. Estimated delivery times can also range from same-day delivery to a week or more, depending on the shop and your location.
When purchasing the ACID Blondie Belicoso online, it's essential to consider shipping and delivery options that align with your needs and preferences. Review the retailer's shipping policy and associated costs before finalizing your cart purchase.
ENHANCING YOUR ACID BLONDIE BELICOSO EXPERIENCE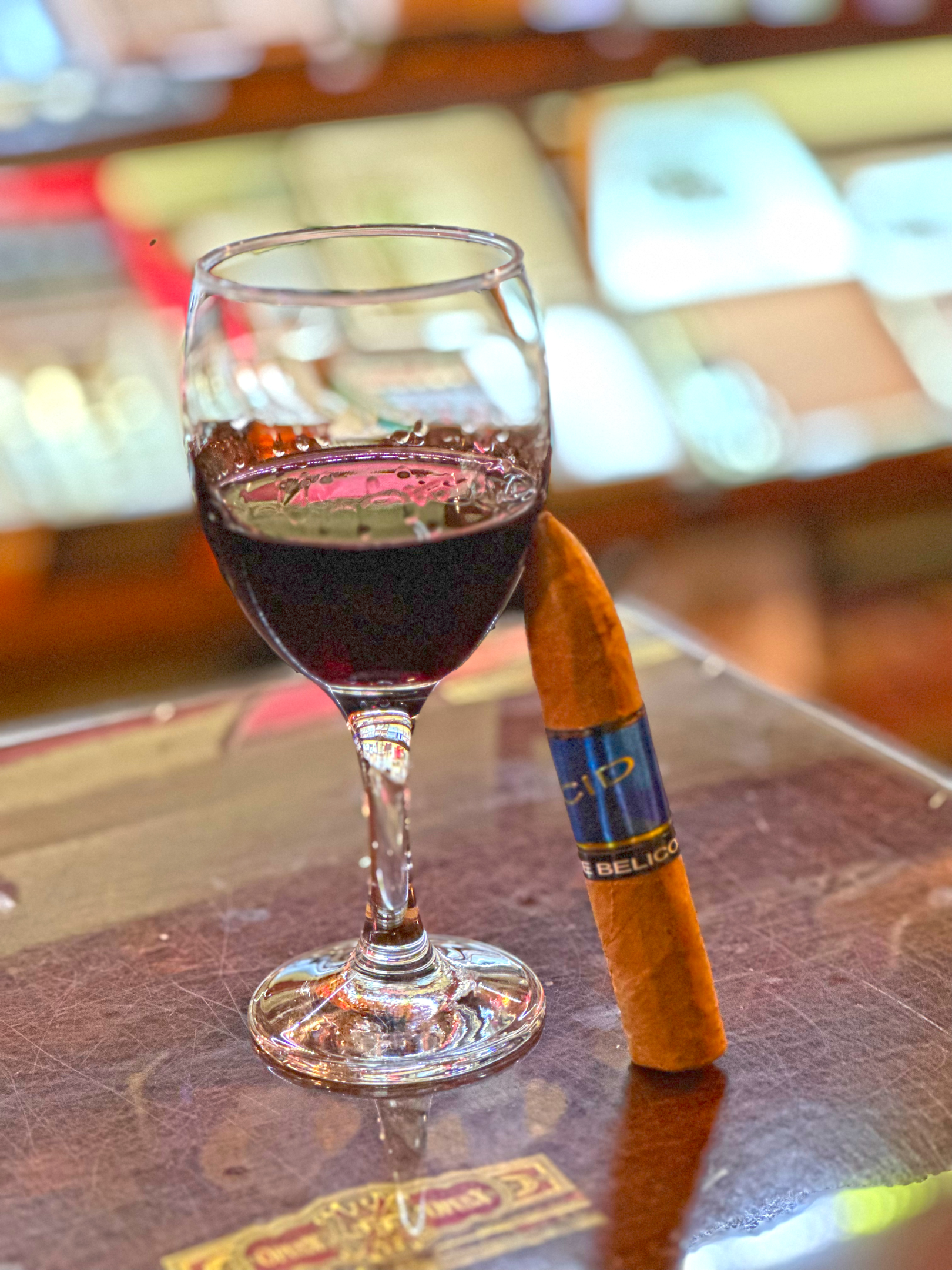 To fully enjoy the unique array of flavor notes and aroma notes of the ACID Blondie Belicoso, the essential notes, herbs, burn, herbs and botanicals infused with oils of this smoke, you will find you'll want to enhance your smoking adventure with the perfect pairings and proper storage techniques.
In this section, we'll provide recommendations for complementary smoke, food, and smoke and drink pairings and tips for storing your smokes to maintain their freshness and flavor.
PAIRING RECOMMENDATIONS
The ACID Blondie Belicoso pairs beautifully with various drinks, including rum, mead, beer, and bourbon. These beverages complement the cigar's sweet cream and mild honey flavor profile, creating an unforgettable sensory experience while blending in your palate.
In addition to drinks, the ACID Blondie Belicoso also pairs well with cheeses, fruits, and nuts. Experimenting with different pairings can help you discover new flavor combinations and enhance your enjoyment of the ACID Blondie Belicoso.
Don't be afraid to get creative and try new pairings – you might find your new favorite combination! Grab a box while they are available on our site!
PROPER STORAGE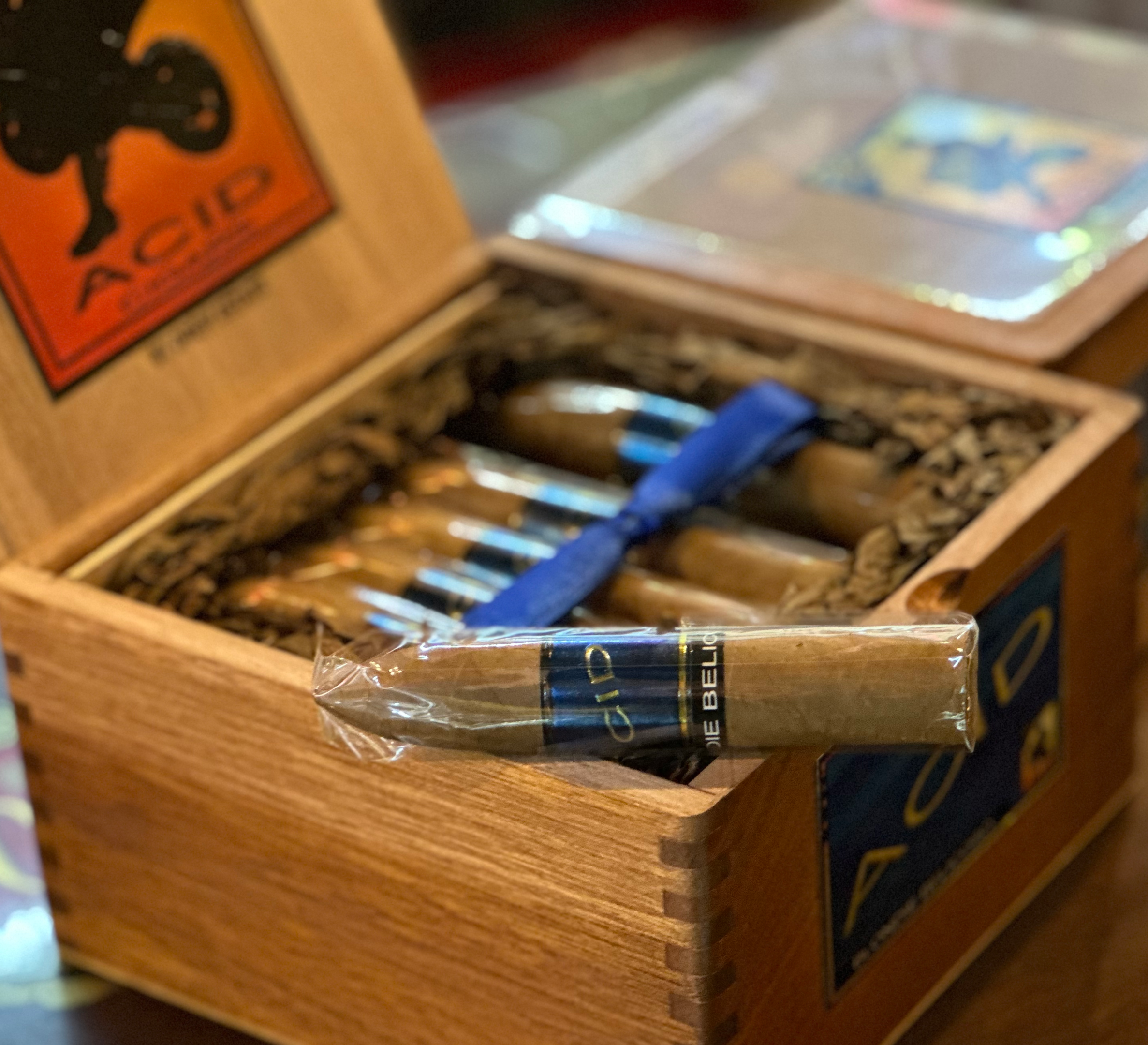 Proper storage is crucial for maintaining the freshness and savor of your ACID Blondie Belicoso. Ideally, stogies should be stored in a humidor, a container to maintain consistent humidity and temperature. The ideal storage conditions for cigars are around 70% humidity and 68°F.
If you smoke herbs and don't have a humidor or don't want to purchase one, you can still take herbs and store them by keeping them in a sealed container with a damp sponge or cloth to maintain the humidity.
Regardless of your storage method, monitor humidity and temperature levels with a humidifier and thermometer to ensure your cigars stay fresh and flavorful.
HERE ARE THE DETAILS OF THE OTHER ACID LINEUP:
Acid Earthiness: This one has a Sumatra wrapper and is very full-bodied stogie of strength. It comes in a corona size with a perfect draw.
Acid Extra Ordinary Larry: This smoke has a Connecticut Broadleaf Maduro wrapper and is huge in size. The tastes are sweet and spicy.
Acid Kuba Deluxe Tubo: This stick has a Sumatra wrapper and is toro-sized. It has a smooth and mellow taste. Fantastic Draw.
Acid Kuba Kuba: It has a fat robusto size and a Sumatra wrapper. It is medium-bodied.
Acid Kuba Grande: This is a bigger version with the same wrapper as the Kuba Kuba, with a 6x60 size.
Acid Kuba Kuba Maduro: This is a rich twist on the ACID favorite with a Connecticut Broadleaf Maduro wrapper.
You can purchase a single cigar, so don't hesitate to add any cigars you want to try to your cart. If your order is 99$ plus, you will also receive Free Shipping!
SUMMARY ON ACID CIGARS
The ACID Blondie Belicoso is truly an exceptional cigar, offering a unique savor profile, essential oils, elegant appearance, and high-quality construction. With rave reviews from satisfied customers and a solid reputation from the creators at Drew Estate, this infused is a must-try for both seasoned aficionados and those new to the world of infused cigars. Following our purchasing tips, pairing recommendations, and proper storage techniques, you can make the most of your ACID Blondie Belicoso experience and embark on a taste journey like no other. Shop a box of these blondies from Cuenca Cigars now. Happy smoking!
What flavor is Acid Blondie Cigar?
The Acid Blondie cigar has a unique smooth, mellow sweet cream and mild honey taste. It's an infused cream cigar designed with the finest tobaccos, cream, and honey infusions for a pleasant experience. It preserves the essential oils of the tobacco!
This smooth blend and array of savors make the Acid Blondie one of ACID's best-loved smokes.
Who makes Acid Blondie Cigars?
Drew Estate is the company responsible for bringing Acid Blondie-infused cigars back to the market, and their dedication to creating top-quality handmade cigars has put them on the map as one of the industry's most trusted brands.
Their commitment to quality and innovation has made them a leader in the cigar industry, and smokers worldwide enjoy their cigars. They have many cigars, including the popular Acid Blondie line. Whether you're looking for a mild, medium, or full-bodied drink, we've got you covered.
Which Acid Cigar is the Sweetest?
If you're looking for a sweet ACID cigar, look no further than the highly popular Kuba Kuba and Blondie. Both are mild to medium in strength, making them an ideal option for beginners and experienced smokers.
These two cigars have the widest array of wrapper options and will bring you the sweetest experience single cigar as possible.
What is the difference between Acid Blondie and Acid Blondie Belicoso?
ACID Blondie and ACID Blondie Belicoso cigars both have the same great flavor. However, the size and shape of the Blondie Belicoso are different. The Belicoso measures 5 inches by 54 ring and has a torpedo shape, while the Blondie is smaller with a 4 14-inch length and 50-ring gauge.
Both cigars will provide an exciting smoking affair full of unique flavor explorations.
What strength are Acid Blondie Cigars?
ACID Blonde cigars are medium to mild-bodied. With cedar, honey, coffee, and spice, each ACID cigar has a unique flavor that smokers love.