Posted by Ana Cuenca on Oct 14, 2013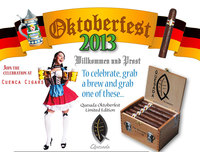 This month we are celebrating the "Destination Cuenca", by Cuenca Cigars this coming October 19, 2013 starting at 7 pm. An extremely unique event poised to take place every third Saturday of the month during Art Walk in Downtown Hollywood, Florida. The event will feature live music, including Jazz and Latin genre, all the amazing sounds from the "Oriente Band" and Quesada Cigars Company as our October Cigar Manufacturer sponsor.
There is something for everyone. Cigar, Wine, Coffee, and Music lovers will be able to have an All of this in Fun filled Night.
Oktoberfest is one of the most famous festivals around the world. This yearly celebration attracts millions of people to Munich to partake in the festival, with millions more enjoying the famous beer produced for the occasion.
Traditionally, there is a cigar tent for Aficionados to enjoy a great smoke with their brew. This year, the Quesada family has blended a cigar specifically to be paired with the flavorful Marzen-style beer produced for Oktoberfest.
Blended with a variety of flavorful Dominican tobaccos, the Quesada Oktoberfest is available in very limited quantities.
Enjoy them with your favorite Oktoberfest beer.
This cigar is only released during as it gets closer to October.
Wrapper: Dominican Cibao Valley
Binder: Dominican Republic
Filler: DR Cuban Seed Criollo & Olor Viso & Ligero
Model Size Packed
The Bavarian 5 ½ x 52 20
The Uber 6 x 65 20
Das Boot 6 x 52 Belicoso 20
Kurz 4 x 50 20
Kaiser Ludwig (Box Press) 6 x 49 20
Even if you live far away, you can be part of the festivities. Buy the cigars from us online. Simply click on the like to view and PPurchase Here
We look forward to seeing everyone on October 19 at Cuenca Cigars in Downtown Hollywood