Posted by Ana Cuenca on Feb 10, 2016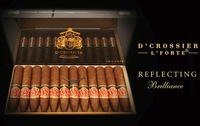 With the announcement of the D'Crossier L'Forte Cigar at the 2014 IPCPR, Puro Aroma Cigars added a second incredible cigar to the D'Crossier line. The cigar is an "exclusive premium", and it lives up to all the hype that comes with the description. It's exclusive because there are only 2,000 boxes available each year, and it's premium because the cigar features tobacco of such a high quality.
When cigars are manufactured in a limited amount, the quality of each cigar skyrockets. The D'Crossier L'Forte cigar is made in a very detailed process, with quite a bit of attention going into each cigar. Puro Aroma Cigars claims that it is "the most demanding and comprehensive sorting process that we have ever developed."
The L'Forte cigar features a Cuban seed Dominican and Nicaraguan filler. The premium tobacco is wrapped in an aged Costa Rican wrapper. The production process takes place in a Costa Rican factory, where the cigars are packaged in aged Spanish cedar boxes. They are available in four vitolas: Robusto, Genio, Bullet, and Trabuco.
Try these exclusive premium cigars, and find out the difference that comes with a detailed production process. Get your D'Crossier L'Forte cigars for the best online prices from Cuenca Cigars.