Posted by Ana Cuenca on Jan 11, 2018
Top of page!

Cuenca Cigars has put together a list of Cigar Aficionado's 2017 Top 25 cigars that are available to you, minus of course, those of Cuban origin as well as a few that are not currently available to us. Some of them are on order, and some are in extremely short supply, so get them while you can! We have created a 2017 Cigar Aficionado Top 25 Sampler that you can buy now!
An smaller sampler was created with the Top 10 Cigars of the year by Cigar Aficionado.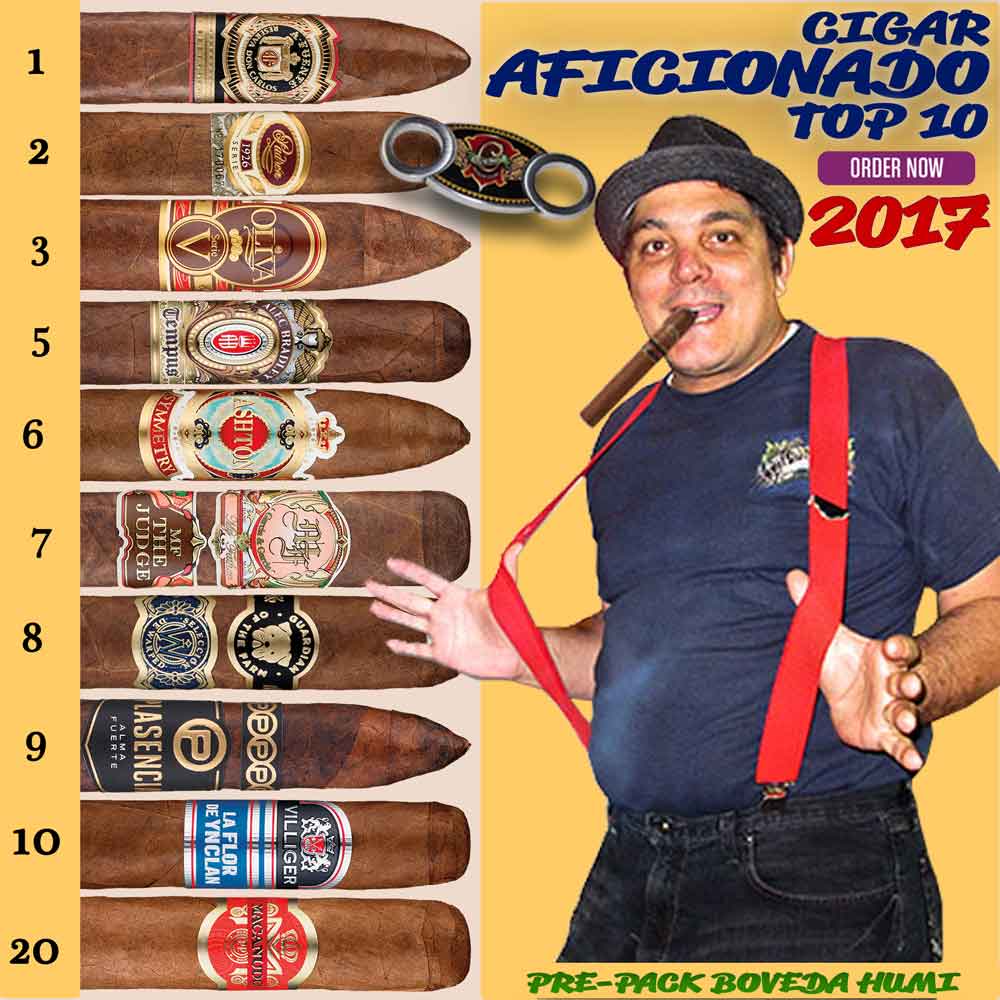 No. 4

Cuban Cigar Replaced

No. 11 Cuban Cigar Replaced

No. 13 Archetype Axis Mundi Toro. Coming Soon

No. 19 Cuban Cigar Replaced
Ever since Pete Johnson burst upon the cigar scene in 2003 with his Tatuaje brand, his cigars have garnered a reputation for strong, rich flavors with top-notch quality. The Tatuaje Cabinet Noellas are part of the Miami line, also known as the brown label. Boasting well-aged Nicaraguan fillers, surrounded by a Nicaraguan binder, this 5⅛ x 42 cigar is topped off with an Ecuadorian Habano wrapper, resulting in a densely flavored experience that is sure to please lovers of medium-full to full-bodied cigars.
Litto Gomez has long been known to produce powerful smokes out of the Dominican Republic, and the Double Ligero is one of his signature blends. But this 7 x 30 lancero concentrates that even more. Expect this Ecuadorian Habano wrapped cigar to pump out full-bodied flavors of coffee and leather with a touch of sweetness. The lancero vitola is a limited edition, so don't expect it to last too long on the shelves.
Macanudo has long been associated with mild neophyte-type cigars, but they have been striving to make inroads into the area of bolder flavored smokes, although those endeavors have been met with relative ambivalence until now. The Inspirado line has been a hit in Europe, and is now making its way to the states, with the intent of bringing a richer and more economically consumer friendly blend to the American market. This three nation 7 x 50 blend with a Honduras grown natural wrapper should make consumers take notice of Macanudo's aspirations to change the way we view the brand here in the states.
Ernesto Perez-Carrillo is one of the most highly respected cigar makers around, and the Dusk addition to his line of Classic cigars is another example of why that is. "Dusk" refers to the time of day when EPC most enjoys sitting back to have a smoke, and the experience of smoking this cigar should show why. This 6 x 60 features an Ecuadorian bound Nicaraguan filler with a US Connecticut Broadleaf wrapper, and exudes medium to medium-plus bodied flavors of mocha, wood, and dried fruits.
After moving on from his family's former brand Camacho, Christian Eiroa dove right in to create the CLE brand of cigars. The Prieto line name refers to a dark-skinned person, reflecting the deep brown color of the US Connecticut Broadleaf wrapper which surrounds its Nicaraguan innards. The 5 x 50 box pressed Prieto boasts flavors of coffee/cocoa, pepper, and a bit of char with solid construction, making for an enjoyable smoking experience.
Introduced back in 2011, the Rocky Patel Vintage 2003 Cameroon is one of the oldest lines on this list. With its Cameroon wrapper, Nicaraguan binder, and fillers from Nicaragua and the Dominican Republic, expect this 7 x 48 stick to exhibit a medium bodied smoke with notes of coffee, caramel, light pepper, and a touch of sweet/sour citrus.
Like other Altadis brands such as Montecristo, Romeo Y Julieta has been updating and upgrading their portfolio to reflect the changing palate of American consumers. The ROMEO by Romeo Y Julieta in collaboration with Aging Room's Raphael Nodal represents a significant change in direction for the venerable brand. Made at Jochy Blanco's Tabacalera Palma in the Dominican Republic, the F25 Cantaor is a 6 x 52 Belicoso shape made entirely of Cuban seed tobaccos from the Dominican Cibao Valley. The result is a smooth blend of flavors including cedar, coffee, and citrus making for a thoroughly enjoyable smoking experience.
601 has had a long and sinuous journey in its existence. Originally created by EO Brands (co-owned by Erik Espinosa and Eddie Ortega), it was initially blended and produced by Don Pepin Garcia, but was then sold – along with all the EO lines – to Rocky Patel and moved to the RP factory, only to be bought back a few years later. EO was then split up between Espinosa and Ortega, with 601 winding up with Espinosa. Now produced at San Lotano Cigars in Nicaragua, the 601 Red Label 6⅛ x 52 Nicaraguan puro retains its smooth earthy and woody core, enhanced by a touch of sweetness.
The newest addition to AJ Fernandez' popular New World line has garnered a lot of positive chatter on the cigar blogs, and for good reason. This 6½ x 52 Nicaraguan Esteli puro with a Criollo '98 wrapper displays a complex blend of medium-full flavors, excellent construction, and a great price, making for a must-try cigar.
Long time European giant Villiger continues to make inroads into the American market with increasingly high-end lines and La Flor de Ynclan is the latest to make a splash on these shores and culminating in Villiger's first ever inclusion in CA's top ten. With a core of Nicaraguan and Dominican fillers, Indonesian binder, and Ecuadorian wrapper, this 5 x 50 robusto shows full flavors of wood, citrus, and spiciness on a medium-plus body.
Anyone who knows cigars should know the name Plasencia. Although they have not made a ton of cigars in their own name, they have produced a number of cigars for, and provided top-notch tobacco to, a slew of highly regarded cigar makers and brands. Comprised of carefully chosen, well-aged tobaccos from Plasencia's own stores, expect this 7 x 58 Salomon shape to deliver full flavors on a full body. From the Plasencia website: " Plasencia Alma Fuerte, a unique blend of our best-aged tobaccos, grown in our highest quality soil, accentuating their bold, vibrant and intense flavors. Laced with hints of dark chocolate, plum, and cinnamon, the taste is rounded out with finishing notes of oak and molasses."
On top of that, they have incorporated a very cool full sized ashtray into the box design.
What do you get when you combine the minds of two of the cigar sector's most forward young thinkers? Guardian of the Farm is the brainchild of Warped Cigars owner Kyle Gellis and Max Fernandez, scion of the family that owns the Aganorsa tobacco enterprise. If you have not experienced the unique qualities of Aganorsa tobacco, now is the time to get a hold of this 6 x 44 Lonsdale Nicaraguan puro to see what you have been missing.
No, it's not like "My Mother the Car". It's "The Judge" made by My Father. An extension of the My Father core line, The Judge was made in tribute to a family friend who happens to be a judge. This 5 x 60 box pressed cigar boasts an Ecuadorian Sumatran seed wrapper over a double binder of Nicaraguan Corojo and Criollo, and fillers from the Garcia's farms in Nicaragua. Expect full flavors of cocoa on top of spice and nuts on a medium to medium-full body with a corresponding strength.
Ashton is synonymous with high-end cigars and the Symmetry does not change that viewpoint. The first Ashton blend to incorporate Nicaraguan tobacco, the Symmetry displays the traditional upfront flavor of cedar, along with spices, honey, and nuts in a well-rounded package. Produced at the Fuente factory, this is a cigar that is sure to please veteran palates, as well as those of newer smokers who are looking to take a step up .
While we are used to seeing the Alec Bradley Prensado on this list, this year it's the Tempus' turn. This is a 7 x 49 cigar, utilizing a wrapper from the Trojés region of Honduras, with a Honduran binder and fillers from Nicaragua and Honduras. The Tempus presents smooth, medium to medium-full bodied flavors of sweet wood, cocoa, and leather, and is at its best when smoked at a leisurely pace.
Ten years into its existence, the Oliva Serie V remains a venerable example of the powerful full bodied, ligero-laden style of cigar. Comprised of a sun grown Habano wrapper surrounding a Nicaraguan binder and Nicaraguan ligero filler from Jalapa, the stubby 5 x 54 Belicoso delivers rich flavors of coffee, cocoa, cedar, and lightly sweet spices with a definite nicotine kick, yet the experience is well rounded and satisfying.
Named to honor the birth year of company founder José Orlando Padrón who unfortunately passed away last year, the Serie 1926 is regarded as a touchstone for all other cigars in its class. While this 5½ 52 box pressed Nicaraguan puro will never be the prettiest stick in the humidor, they are nevertheless expertly constructed and boast full flavors of sweet cedar, coffee, and spice with a beautiful balance.
The cigar at the top of Cigar Aficionado's 2017 list is the one that will no doubt be the hardest to find. Named for company patriarch Carlos Fuente Sr., the 5¾ x 52 Don Carlos Eye of the Shark is rolled in the famously unique shape where it starts out with a box press at the foot and tapers to a standard Belicoso shape in the upper half. However, that's not all that is unique, as the blend is a tweaked version of the regular Don Carlos recipe, but the particulars are a very closely guarded secret. All we know is that it uses a wrapper from Cameroon, with meticulously selected and aged vintage tobaccos from the Dominican Republic comprising the binder and filler. The Don Carlos Eye of the Shark will deliver complex notes of baking spices, nuts, citrus, and cedar on a smooth medium body. Sadly, Carlos Fuente Sr. passed away in 2016, but his son Carlos Jr. "Carlito" has crafted a fitting tribute to his father
The Don Carlos Eye of the Shark is very limited and in short supply.