Posted by Jeff Oda on Apr 14, 2017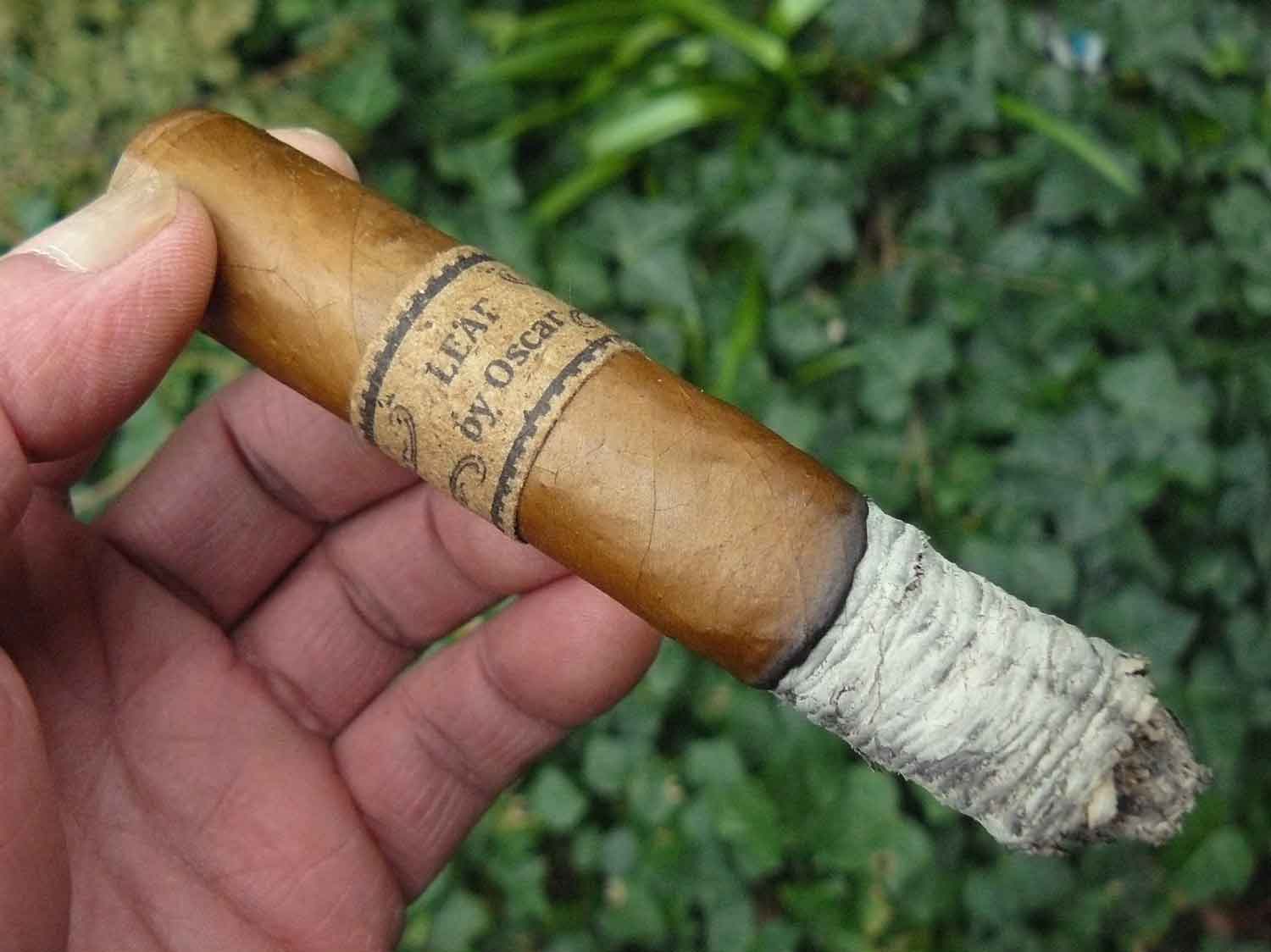 The Leaf by Oscar series is a collaborative effort from Pittsburgh, PA retailer 'Island Jim' Robinson and cigar maker Oscar Valladares that has made waves in cigar circles over the past few years. The unusual method of wrapping the final product in a separate outer leaf of tobacco rather than the normal cellophane sleeve is what distinguishes it from other smokes, and is said to bring out more of the oils in the cigars wrapper. The Leaf comes in four distinct wrappers – Connecticut, Corojo, Sumatra, and Maduro. My curiosity about this cigar prompted me to pick up a couple from my good friend Ana Cuenca at Cuenca Cigars so that I could see what this is all about.
Wrapper: Ecuadorian Sumatra
Binder: Honduras
Filler: Honduras
Size smoked for review: Toro 6 x 50
Price: MSRP $10
Smoking time: One hour, thirty-five minutes
The Leaf by Oscar Sumatra Toro gives a striking presentation in its rustic leaf wrapped form. When unwrapped, it shows itself to be a nicely rolled cigar, sporting a thin and delicate wrapper shiny with oils, and showing very minimal veins and a solid pack. The scent off of the wrapper and foot doesn't stand out much, giving just a light amount of barnyard/hay and grassy tobacco. After an easy clip of the cap, the cold draw also is very light in flavor.
The Smoking Experience:
The Leaf by Oscar Sumatra starts out very mild, with cedary, lightly earthy, tobacco, and a small amount of pepper, then gains in sweetness and smoothness as it progresses. A touch of salt appears here and there, but soon disappears, as a powdery talc-like sweetness comes in on the finish of the retrohale.
The second third brings a greater intensity of flavor, as the cedar turns to more of an oaky wood and the pepper moves up and down, but the cigar still finishes this section at no more than a low-medium body.
The final third of the Leaf by Oscar Sumatra brings in a citrusy sweetness and a small touch of char. That char doesn't hang around for long, however, and a sweeter feel gains the upper hand. The oaky tobacco continues to drive the cigar, backed by the citrus, while the pepper continues to move to and fro. The Leaf Sumatra smokes cool down to the nub, finishing up medium-bodied and mild in strength.
Conclusion:
I'll admit, I have no idea whether or not the outer leaf wrapper has anything to do with how the cigar ultimately performs and tastes, but suffice to say that I enjoyed the Leaf by Oscar Sumatra quite a bit. It's a cigar that would make for a nice earlier in the day smoke with a cup of lightly sweetened coffee, or in the afternoon with a beer that doesn't carry a lot of bitterness in its profile. A sweeter style of rum would also be a great match for this cigar.
You can get the Leaf by Oscar Sumatra (or any of the other wrappers) as singles, in discounted boxes of 20, or in samplers of four or ten from Cuenca Cigars by following this link.
I did a slightly more in-depth review for Casas Fumando. To read it, click here.
Jeff Oda lives in Seattle, WA and is a frequent, if erratic, guest contributor to the Casas Fumando cigar review blog.