Posted by Jeff Oda on May 10, 2017
If you happen to be unfamiliar with the name Flor de Gonzalez, you may know of their very popular lines under the 90 Miles brand. Released in 2015 to commemorate the 20 th anniversary of the establishment of Flor de Gonzalez' factory in Hialeah, FL, the FDG 20 Aniversario comes in two different wrappers: An Ecuadorian Connecticut and a US grown Connecticut Broadleaf Maduro. The wrappers were chosen because they were both utilized in FDG's original blends, but these are well-aged leaves. The Connecticut is 8 years-old, while the Broadleaf is 5 years-old. Both wrappers come in three box pressed sizes: Robusto 5 ½ x 50, Toro 6 ½ x 54, and Torpedo 6 ½ x 52. Prices range from $9.60 for the Connecticut Robusto to $10.80 for the Broadleaf Torpedo. 1,500 boxes of each wrapper and size were made available.
• Wrapper: 5 year-old US Connecticut Broadleaf Maduro
• Binder: Nicaraguan
• Filler: Nicaraguan
• Size smoked for review: 5 ½ x 50 box pressed
• Price: $9.80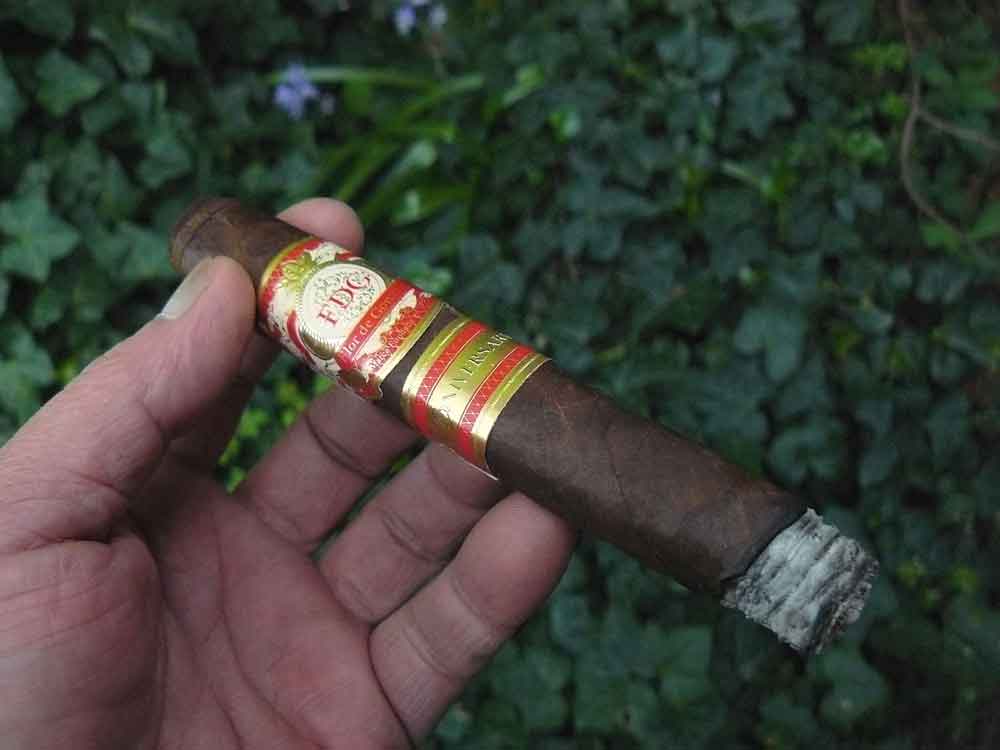 Smoking time: One hour, twenty minutes
The Flor de Gonzalez 20 Aniversario Maduro comes draped in a mottled medium to very dark brown wrapper with a few small to medium veins and a rather lumpy roll. The double bands in red, gold, and beige coordinate well with the color of the wrapper. The wrapper shows a scent of tangy barnyard, while the foot gives up an additional aroma of mossy earth. While the draw after clipping the cap is pretty tight, sweet spices come through on top of natural tobacco.
The smoking experience:
Despite the snug draw, the Flor de Gonzalez 20 Aniversario Maduro has no problem in producing a copious mouthful of earthy, oaky smoke, augmented by sweet spice and pungent black pepper. The pepper soon drops back, as leather, light coffee, and a little savoriness come in.
The second third of the cigar brings in a little bread and a mineral zing, while the texture smoothes out. Further down, the coffee turns to more of a bittersweet mocha, as the cigar maintains a solid medium to medium-plus body.
The final third of the Flor de Gonzalez 20 Aniversario Maduro continues to be led by the earthy tobacco, oak, and sweet spices, while coffee and a tiny bit of wood char linger in the background along with occasional hints of cream. Pepper comes back into the picture, and the cigar smokes absolutely cool and firm down to the nub.
Conclusion:
The Flor de Gonzalez 20 Aniversario turned out to be a much smoother and more refined example of a Broadleaf wrapped cigar than I anticipated, eschewing the expected big sweet chocolate, pepper, and earth, while showing more nuanced flavors. Even with the snug draw, which didn't impact its ability to produce a great volume of smoke and loosened up a bit as it went, the construction of this cigar was superb, burning evenly and with not a thought of having to correct or re-light it. I would definitely recommend giving the FDG 20 Aniversario Maduro a shot. You can pick it up from Cuenca Cigars here.
For pairing suggestions, I would go with a dark Belgian ale, a Scotch ale, sweet rum, or fruity bourbon. Of course, you can't go wrong with a good cup of coffee.
Jeff Oda lives in Seattle, WA and is a frequent, if erratic, guest contributor to the Casas Fumando cigar review blog.