Posted by Jeff Oda on Jun 04, 2017
Cigar Review by Jeff Oda
Since 2012, Camacho Cigars has teamed up with NFL Hall of Famer Mike Ditka to produce a line of cigars bearing his name. One of those lines, the Ditka Signature, was introduced in 2014. The cigar features a Honduran Criollo wrapper, but differs from Camacho's core line Criollo by utilizing a different blend, which includes a Nicaraguan grown Corojo binder. The Ditka Signature comes in five sizes – Robusto 5 x 50, Toro 6 x 50, Churchill 7 x 48, Figurado 6 1/8 x 42 x 54, and Gordo 6 x 60 – with prices running from $8 to $10 per cigar, in boxes of 20.
• Wrapper: Honduran Criollo
• Binder: Nicaraguan Corojo '99
• Filler: Dominican Republic
• Size smoked for review: Toro 6 x50
• Price: $8.50
Smoking time: One hour, forty minutes
The Camacho Ditka Signature comes draped in a uniform dark milk chocolate brown wrapper mottled with darker spots throughout, showing only a small vein or two. The band, with its silver background and dark metallic blue lettering (so dark that it appears nearly black in lower light settings) is finished off with Mike Ditka's "autograph" in white, and goes quite well with the color of the wrapper.
Clipping the cap gives an airy draw that showcases sweet cedar and spice.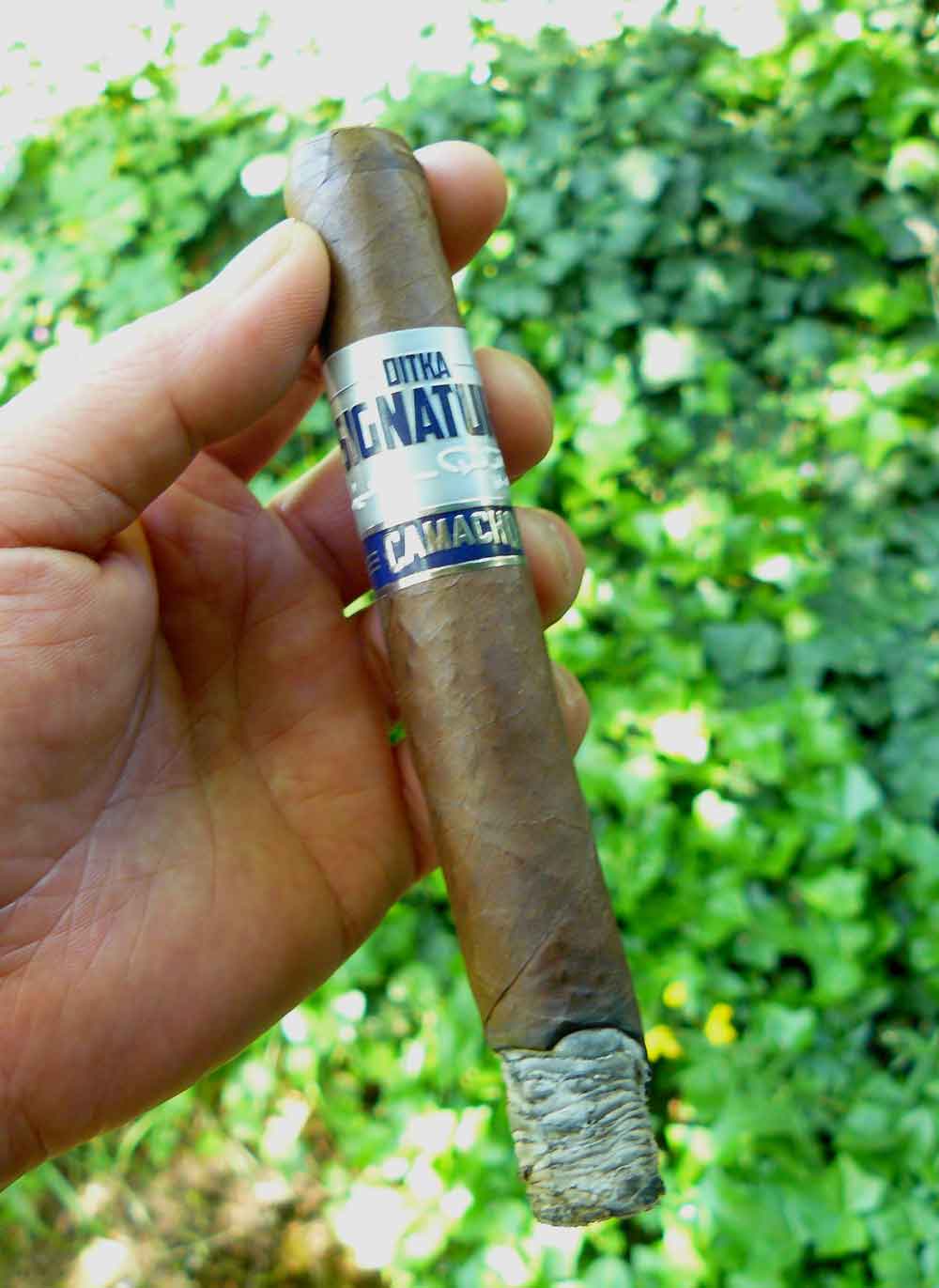 The smoking experience:
The first third of the Camacho Ditka Signature brings forth sweet cedar and cooking spices, along with natural tobacco, light earth, and a moderate amount of pepper that fades back after a while. Further down, the sweetness backs off, while the tobacco, earthiness, and wood all deepen. By the end of the first third, the sweetness again moves to the front as the smoke texture becomes much smoother in a low/medium body.
The middle third moves in with a slight uptick in intensity and pepper, with all of the other flavors continuing along. The sweetness moves forward and back, occasionally bringing in a powdery feel, and near the end of this portion, a bit of astringency shows up, with the Ditka Signature winding up at a solid medium body and low strength.
The final third continues to present the same base flavor profile, while ramping up the intensity a little more. The lack of overt complexity is not a negative, though, as the flavors are all quite enjoyable. By the end, the Camacho Ditka Signature has moved just to the plus side of medium, with a subtle amount of nicotine strength.
Conclusion:
While the Camacho Ditka Signature is not the most complex cigar around, the flavors it presents to the smoker are all very enjoyable and meld well with each other. The construction was very good, even though the burn required a few touch-ups, which were not much of a problem and didn't detract from the flavors. Overall, this cigar was relaxing and tasty and is reasonably priced. I have no problem in recommending picking some up to try.
You can get the Camacho Ditka Signature from Cuenca Cigars here.
For a beverage pairing, I had this with an Undercover Investigation Shut-down strong ale, and found it to be a great match, but a fruity Belgian ale or nice sweetly malty Imperial IPA, a Highland single malt Scotch, smooth bourbon, or an aged rum would also pair well with the Ditka Signature.
Jeff Oda lives in Seattle, WA and is a frequent, if erratic, guest contributor to the Casas Fumando cigar review blog .