Posted by Ana Cuenca on Nov 18, 2013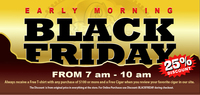 Shop our Lowest Prices on Black Friday Morning from 7:00 AM - 11:59 AM
Black Friday Cuenca Style! Lets do it again!
Come and take advantage of our LOWEST PRICES OF THE YEAR 25% this Black Friday. This event will take place from 7:00 am to 11:59 AM only on Friday, November 29rd.
Get your Black Friday super discounts at Cuenca Cigars on all of our products! You will be blown away with our enormous selection of the finest cigars and accessories. So, get your best Holiday gifts at the lowest prices of the year.
THIS SUPER SALE IS ONLY AVAILABLE ON BLACK FRIDAY FROM 7:00 AM TO 11:59 AM ONLY!!! Don't miss out!!! We have add an extra hour but at noon: Prices will go up again...so be there or be square! or you can also call us and place a phone order!
STORE ONLY PROMOTION BUT YOU CAN CALL US at 954-364-7660 OR VIDEO SKYPE WITH US at (954) 378-9364, make the purchase with us and we will ship to you that day.
This includes our vast selection of beers and wines (to go only) as well as all of our finest accessories. This is a deal you can't beat and don't want to miss! Remember, this sale is only going on from 7:00 am to 11:59 AM am that day. Discount will be available at that time only, so mark your calendar and wake up early that day! It's going to be a lot of fun, I promise!
Ana Cuenca
Your Friend!
Cuenca Cigars | 9543647660 | sales@cuencacigars.com | %%GLOBAL_ShopPath%%/
1928 Harrison Street
Hollywood, FL 33020