Posted by Jeff Oda on Sep 28, 2018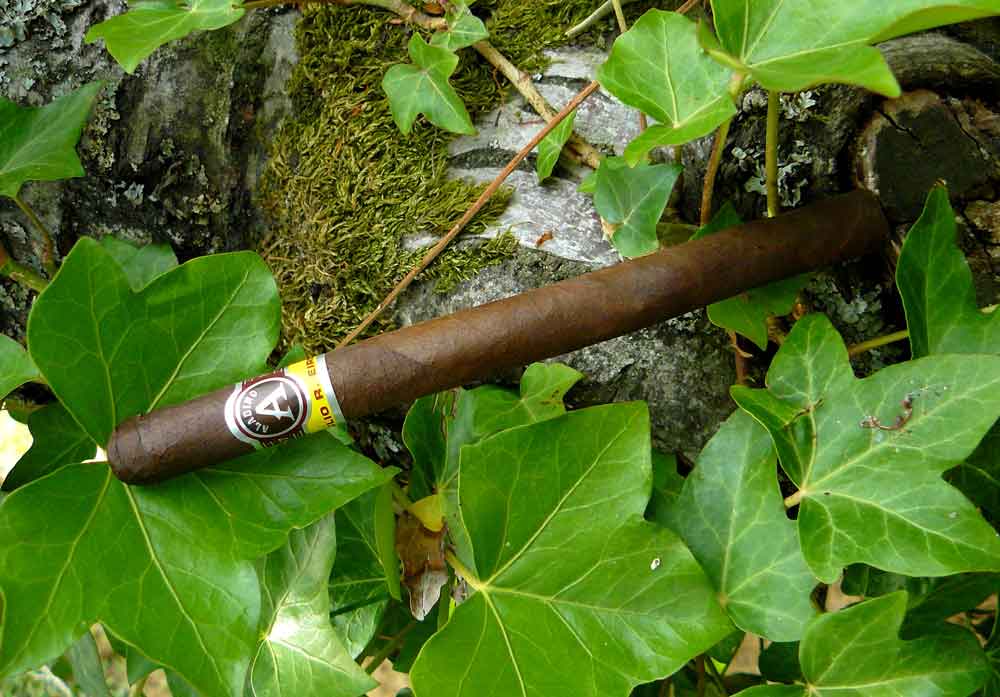 After last year's launch of the all-Corojo Aladino from JRE Cigars, the company has followed up by releasing a Maduro line. JRE is headed up by former Camacho brand owner Julio R. Eiroa and his son Justo. This version is wrapped in a Mexican San Andrés leaf and comes in four sizes: Robusto 5x50, Toro 6x50, Cazador 6x46, and Elegante 7x38. I am reviewing the lancero sized Elegante, which is surprisingly the least expensive of the vitolas.
• Wrapper: Mexican San Andrés maduro
• Binder: Honduras Corojo
• Filler: Honduras Corojo
• Size smoked for review: Elegante lancero 7x38
• Price: $7.50
Smoking time: One hour, forty minutes
The Aladino Maduro sports an oily dark brown wrapper with a noticeable toothiness and a very firm roll. The scent off of the wrapper is of earthy barnyard and the foot displays earthy, woody, and mossy notes. Despite the firmness of the cigar, the unlit draw is fine and shows sweet tobacco notes and leaves some saltiness on my lips.
The smoking experience:
Once lit, the Elegante gives out a full mouthful of smoke, showing earthy tobacco, oak, coffee, and leather, as well as spicy pepper on a medium body. A mineral-like edginess is rather prominent in the finish. The cigar burns razor sharp, and produces an ash that falls after ¾". The pepper and leather fade a bit, but the pepper especially, continues to be a major flavor component. Farther in, a light yeasty bread note moves in, while the earth falls back. The pepper becomes stronger along with the wood, and the strength moves up into the medium-plus range as the body reaches nearly medium-full.
Conclusion:
I found the Aladino Maduro Elegante to be a quite enjoyable smoke. It showed a fair amount of complexity, even if it didn't carry much in the way of transitions other than a move up in intensity and strength. The construction and burn qualities were excellent, and the price for a lancero is hard to beat. It's definitely worth picking up a few to give a try. Interestingly enough, although I am a huge fan of the lancero size, I might have enjoyed the Robusto I had even more.
You can get the Aladino Maduro here at Cuenca Cigars.
Suggested beverage pairings: I matched up the Aladino Maduro with Arlington, WA brewer Skookum Brewery's Murder of Crows Imperial Stout, which is aged on Old Crow whiskey oak cubes. The lightly sweet coffee/cocoa flavors, along with dark fruit and smoky oak went very well with the cigar. Just about any porter or stout would be a good pairing, and a nice tawny port would also make for a good match.
Jeff Oda lives in Seattle, WA and is a frequent, if erratic, guest contributor to the Casas Fumando cigar review blog.