Posted by Ana Cuenca on Mar 26, 2018

7 OF THE BEST CIGARS FOR BEGINNERS
Are you just learning to appreciate and enjoy cigars? Here are 7 of the best cigars for beginners to help develop your palate and fill your humidor to allow you to become a savvy and experienced cigar smoker.
To make your cigar-smoking initiation as delightful as possible, we have curated an exquisite selection of high-quality cigars with a thorough flavor description. These robust treats will be perfect for your first cigar!
Whether you are sampling a new brew, sipping some wine, or exploring the world of cigars for the first time - there can be an intimidating plethora of information and options.
Understandably, you may not wish to make any incorrect decisions when selecting your cigar. With millions upon millions of choices at hand, where do you begin?
See Cigar Aficionado Chart about Tobacco Imports for 2018. The U.S. Imported 315 Million Premium Cigars In 2015, Up 2.3 Percent.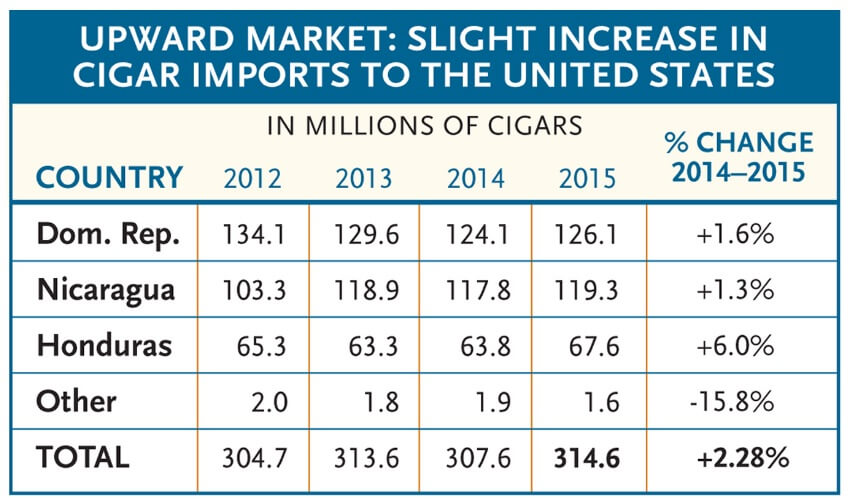 If you're new to cigar smoking, it makes sense that you want to start slow. Diving into the more experimental options isn't usually a good idea like, beer or wine. We wouldn't suggest a hoppy IPA for someone starting their beer journey, and we don't typically recommend full-bodied cigars for newcomers, either.
Understanding how to identify a mild cigar is an integral part of the journey for a beginner cigar smoker.
Mild cigars offer an enjoyable experience for those with delicate palates and are generally best suited for beginner smokers. However, there are specific criteria you should look out for when selecting your mild premium cigar that will ensure you get the most out of it
OPT FOR CIGARS THAT POSSESS A GOLDEN-HUED WRAPPER
Delightfully sweet floral aromas often define mild cigars. The wrapper, the outermost leaf of a cigar, gives it its distinct fragrance and flavor in this case. Connecticut wrapper is harvested from shade-grown plants, giving them a striking creamy hue. This is why they were named after the state that initially cultivated them - Connecticut, USA!
But there is also an Ecuadorian Connecticut wrapper that is exceptionally well known for providing an exquisite experience to any avid smoker, making it one of the most sought-after varieties among connoisseurs around the globe!
NOVICE TO CIGAR SMOKING, SEARCH FOR FLAVORED CIGARS SPECIFICALLY DESIGNED WITH YOU IN MIND.
The perfect morning cigar for those just starting, flavored cigars are the ideal choice. From coffee to vanilla and even sweet cream flavors, these treats offer a pleasant smoking experience tailored to casual cigar smokers everywhere. In this case, we have flavored Nicaraguan Cigar that is great for the new cigar smoker.
A great cigar doesn't have to be overpowering - it's about the flavor profile. The wrapper varietals, the origin of production, and tasting notes like creamy smoothness or sweetness are expertly blended to produce a top-notch product.
Only when Ligero or Connecticut Broadleaf, among other tobaccos, is added is the blend of the cigars become fuller and stronger-bodied.
No matter your choice, one thing remains constant: an exceptional cigar offers an excellent flavor experience.
Your first cigar experience will define the rest of your life as a cigar smoker.
Satisfy your appetite with a hearty feast before indulging in the medium-bodied strength of cigars!
A medium-bodied blend is suitable for all experience levels, showcasing citrus and earth notes alongside a robust spiciness that adds intrigue. Nuttiness provides the perfect finishing touch.
Corojo is a Cuban hybrid leaf that has been bred to be disease resistant, as the original "pure" strain had almost become extinct by 1997 due to its fragility. The varietal of this plant carries an unmistakable spiciness, making it ideal for any smoker with a more adventurous palate!
FOR ALL YOUR CIGAR QUESTIONS, ASK THE CIGAR ENTHUSIASTS AT OUR CIGAR SHOP.
Don't be fooled by the packaging - always ask for fillers and binders of tobacco! Surprisingly, some of the most robust cigars are wrapped in Connecticut wrappers. These cigars provide great smoke but may not be ideal to begin your cigar journey.
With many cigars, finding a beginner cigar that is good for you could be challenging. You may be taken aback, but Maduro Cigars are often misinterpreted. The outer appearance might appear to have a strong flavor profile.
However, the Maduro label conveys ripe tobacco, which implies sweetness and exquisite flavors.
By varying the fillers and binders in your tobacco blend, you can control the strength of each smoke — from mild to medium to fuller-bodied cigar. You can also create a rich flavor by adding fillers tobaccos.
Peruvian tobacco is known to add sweetness to the blend. And Dobleling the Ligero creates full-bodied smokes.
Dominican tobacco is renowned for its flavorful aroma, while the Nicaraguan leaves provide a delightful peppery kick and robustness.
Honduran Tobaccos have an exquisite roasted-nuts taste that will tantalize your palate. Remember, it's not just about where one cigar comes from - what truly matters is how all components combine to create a unique strength profile ranging from mild to medium or firm!
What cigar shape is best for beginners?
Cigar Shape holds great significance. Common classic shapes include Robusto, Belicoso or Torpedo, Toro, Churchill, and Rothschilds, whereas more intricate styles encompass Panetelas, Lanceros, and Figurados.
Don't forget that the shape also impacts flavor! If you're a novice smoker, we suggest going with the 5-inch by 50-gauge-sized Robustos to ensure an enjoyable experience without worrying about it being too long of a smoke.
Is 1 or 2 cigars a week OK?
Indulging in smoking cigars is an individual decision and doesn't cause addiction. The only thing that binds us to a cigar is the relaxation we experience while smoking it.
It would be best not to smoke them daily - only when you have time to sit back, relax, and appreciate all its nuances. Personally speaking, 1-2 cigars per week seems reasonable.
Cigar Smoking vs. Wine Testing.
Good cigar tasting is akin to wine tasting; it depends on your taste buds. What you eat and drink typically dictates the level of intensity that you are willing to experience from a cigar. When smoking a cigar in social settings or after meals, the company and conversation will not only define your smoking habits, but it can also be an exciting, emotional journey. After enjoying such an exquisite stogie, one may even change their outlook on life! So remember: cigars aren't just about flavor - it's all about the people around you too.
Do not Retrohale in your first smoke.
Retrohale, also known as 'Retro Inhalation' or 'Puff-cough, is a technique cigar aficionados use to bring out a premium cigar's full flavor and complexity. By inhaling through the nose instead of the mouth, the smoke passes over taste buds more sensitive to certain flavors. When done correctly, this can heighten the aroma and taste of any cigar.
In this article, you've been given the tools to begin your journey into cigar smoking. You are now aware of which cigars would be best for a novice and what precautions should be taken regarding cigar etiquette.
However, as time progresses in your world of cigars, remember that habits will change and evolve based on personal research and experimentation with different blends. Enjoy trying various flavors until you discover something that resonates with you.
After all, only YOU can define whether or not a specific cigar is "great" according to YOUR taste profile!
The Complete List of Cigars.
If you're ready to get into cigars, look no further! Below is a comprehensive list of the best beginner's cigars currently available. Regardless of your taste and preferences, something will be specially tailored here.
Cuenca Cigars has put together a comprehensive list of the highest-quality cigars at a reasonable price to ease you into your cigar-smoking experience.
Whether you're just starting out or looking for an upgrade, our selection will surely have something perfect for you.
Oliva Serie G

The Oliva Serie G Nicaraguan tobacco is an excellent choice for a novice cigar smoker. Not only do they have a delightful mix of sweetness, chocolate, and tartness in their mild-medium body, but these handcrafted Nicaraguan cigars also boast ratings up to 90/100 by CA Magazine!
All this high-quality cigar comes at a low cost – at just over $7+ per cigar, you won't break your wallet for luxury—an easy-draw smoke, recession-proof.
Perla Del Mar Natural

The Perla Del Mar is ideal for those seeking a mild-to-medium body cigar from Nicaragua. With its 87/100 rating from Cigar Aficionado's Magazine, this Connecticut Shade wrapper series offers an even draw and ends with a delightful almond-nougat finish that will leave you wanting more! Comparable to Oliva's in price point at just over $7+ per single stick - after trying one of these cigars, it won't be long before you purchase a whole box! This is the right cigar for you!
Permodo Reserve Champagne (Connecticut Shade)

This exquisite cigar is packed with premium Nicaraguan tobacco, then wrapped in a Connecticut Shade wrapper from Nicaragua's well-known region of bright and golden-colored leaves. This delightfully combines to create an incomparably full yet smooth flavor that will linger in your mouth long after you've finished smoking. As one of the most sought-after Nicaraguan puro in the industry, it's no surprise that this Connecticut Shade leaf adds such rich flavors - but at just over $8 per stick, its quality doesn't come with a hefty price tag!
Ashton Classic

The Ashton Classic stands out among its peers due to its exquisite flavor. It's a new smoker's cigar. A Connecticut Shade wrapper encases a Dominican cigar with a complex, smoky relish with notes of herbal and coffee for an added zest. If you want something savory rather than sweet, this cigar is for you! Arturo Fuente Cigar Company manufactures Ashton Cigars in the Dominican Republic.
To reassure your decision to purchase it at slightly over $12+, Cigar's experts gave it an 86 rating - ensuring that what you pay is worth every penny!
Montecristo White

Montecristo White stands at the top of this list with a rating of 91/100 and an accompanying price tag between $14-$16. It's worth every penny - coming from the Dominican Republic, these milder cigars have a delightful mix of savory and sweet flavors and woodsy notes that lead into their rich vanilla finish. Its veinless Ecuador Connecticut wrapper will be calling your name. This is genuinely one for beginners who want to treat themselves!
Angelenos by God of Fire

If you desire to find the perfect harmony between quality and price, then Angelenos are your ideal choice. For only up $12 a pop, yet with an astounding 90/100 rating, this cigar offers remarkable value for money! Meticulously hand-crafted by Arturo Fuente – renowned in the cigar world – it features an Ecuadorian Connecticut Shade wrapper that creates a delightful play of salty flavors matched with floral notes.
Ashton Estate Sun Grown (ESG)

On rare occasions, a cigar appears, and it's truly remarkable. You may question why you've been deprived of its excellence until now; one puff is all it takes to be sent off on an intense flavor journey! The tang is genuine and authentic - this isn't simply your regular smoke. Treat yourself to the luxuriously flavorful and smooth Ashton Estate 22-Year Salute cigars grown in the sun-kissed El Caribe of the Dominican Republic. Despite its $20+/cigar price tag, this cigar is truly one of a kind - with supple, oily tobacco leaves that impart bold nuttiness throughout and creamy flavor upon finishing. Don't miss out on experiencing this remarkable cigar! Beginner's palate is the first choice.
Equipped with an impressive 94/100 rating, this cigar is only one point away from the prestigious 'Perfect' status. In addition, it was named 8th-best by CA in 2014 - a remarkable distinction!
That's why this premium smoke makes for the perfect choice for everyone: regardless if you're starting out or already considered a connoisseur of fine cigars.
These cigars for beginners are composed of a rare blend of tobacco and, because of this, are released in minimal quantities, so you'll want to get them where you can.
Now that you've seen the perfect cigars for your beginner palate, it's time to indulge in their exquisite flavor.
If you want to make an impression on your friends or enjoy a luxurious smoke, choose one of these best cigars for beginners and join the 5% of U.S. adults who appreciate their unique flavor.
Whether it's Oliva's Serie G or Ashton Estate's by Arturo Fuente, you can't go wrong! But if that doesn't satisfy your appetite for flavor and elegance, try out 2018's best cigar - an experience sure to transport you down the rabbit hole!
This guide is perfect if you are merely beginning your journey in the cigar world. With so many cigars to choose from with tantalizing flavors, it can be overwhelming - that's why getting advice on which type of smoke would suit your taste best is essential.
Start by avoiding fuller-bodied and medium-bodied cigars, as they might disagree with you immediately; one stick at a time should do the trick!
When enjoying the delicious flavors of cigars, remember to take it slow and enjoy it in moderation for the best experience. If you need more advice or have questions, our team is always here to help. Ready to purchase? Check out the Sampler we've put together specifically for you!


WHAT IS THE BEST CIGAR FOR BEGINNERS?
We must consider how much we want to spend to answer this question. Cigars are a luxury hobby that can be expensive if you don't know where to look. It would help if you searched for the best budget cigars plus the best smoothest cigars. Start with a milder cigar. You must check the cigar wrappers but also the binder and fillers. Avoid blends with names that include the word Ligero or double Ligero. That means they are not the Best cigar for beginners. Some Connecticut shade, Cameroon, or Habano wrappers tend to be perfect to start. Cigar Brands such as Arturo Fuente, Brick House, Ashton, and Perdomo are excellent starting places. Here are a few recommendations:
To buy your first cigar, always depend on a trusted cigar retailer to help you select mild cigars. A great retailer such as Cuenca Cigars will assist you in choosing a cigar that matches your taste and price range., better ask for inexpensive.
If you are looking for the best low-price cigars, this cannot be easy if you don't know. You want to get the best quality cigar but on a budget. Look for brands like:
WHAT ARE THE BEST REASONABLY PRICED CIGARS?
That depends on one's perception of "reasonably priced." For some, it can be as low as $3-4 or as high as $8-9. You should spend in the $6-7 range for good best, Brick House and Arturo Fuente Gran Reserva have enjoyable cigars that fit in this price range, and for something more substantial, Illusione Rothchildes is one of the best reasonably priced cigars.
But it all depends on your flavor profile and smoking preferences. So asking your Brick and Mortar for the best-tasting cheap cigars would be best.
Montecristo White is the first cigar on this list to have a Cigar Aficionado rating of over 90 points. It's sitting pretty with a score of 91/100, cigars that taste good. A single one of these boys costs around $12-13, but it's well worth the price, and it is still an affordable cigar.
Hailing again from the Dominican Republic, the flavor of this cigar is a tender mix of savory and sweet, with an earthy, woodsy start and a big, lush vanilla finish. Montecristo White is itself a little extra luxury. Try Montecristo White Court Tube Cigars,
For those of you that don't want to sacrifice quality for price or price for excellence, the Angelenos are the best cigar for the price. At just up to $10 a pop but with a 90/100 rating from Cigar Aficionado, this cigar might, dollar-for-dollar, pack the most flavorful punch. Meticulously hand-crafted by the best cigars brands, Arturo Fuente, this cigar, also from the Dominican Republic, and wrapped with Ecuadorian Connecticut Shade, has a salty taste, only to be balanced by pungent floral notes.
? ARE THE ASHTON ESTATE SUNGROWN GOOD BEGINNING SMOKES?
Every so often, cigars brands come along that truly blow you away, the best quality cigars. One that makes you wonder where it's been hiding for your whole life. This is not a good inexpensive cigar, but it is indeed unique! One that takes one puff before you get transported to a different dimension.
A cigar that makes flavor feel visceral. The sun-grown Ashton Estate 22-Year Salute cigars did this for me. Don't the $20/cigar price tag deter you; you will want to experience this cigar. Grown in the small town of El Caribe in the Dominican Republic, these cigars are made with a supple, oily tobacco leaf that imparts a bold nuttiness throughout and a smooth, creamy taste at the finish.
This cigar is truly one of a kind. It has a 94/100 on Cigar Aficionado, just one point away from CA's legendary "Classic" status. It was also named the 8th-best cigar released in 2014. For these reasons, this cigar is among the best for beginners, intermediates, and experts. These cigars are composed of a rare blend of tobacco and, because of this, are released in minimal quantities, so you'll want to get them where you can.