Posted by Ana Cuenca on Mar 26, 2018

7 Of the Best Cigars For Beginners
Are you just learning to appreciate and enjoy cigars? Here are 7 of the best cigars for beginners to help develop your palate and fill your humidor.
Whenever you try something new - whether it be coffee, wine, beer, or if you're reading this, cigars - there's always that initial barrier to entry.
Where do you start? There are always so many options and contradictory advice.
With cigars, there are literally millions of options to choose from, and you don't want to pick wrong.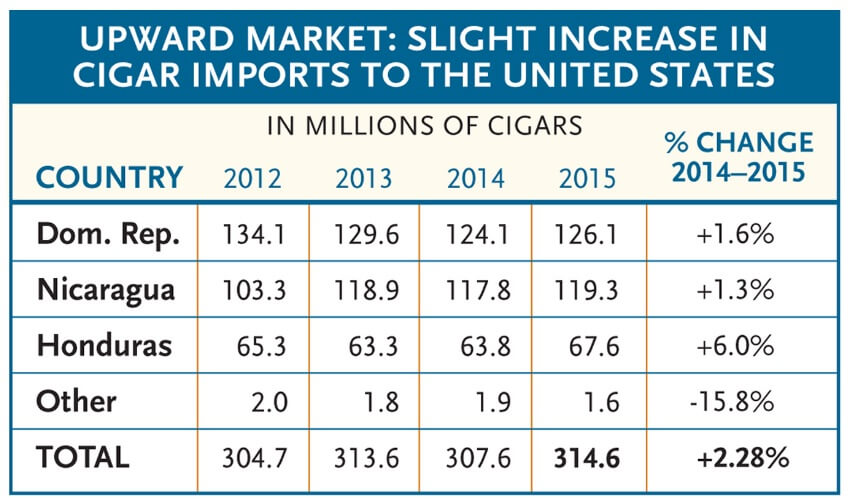 See Cigar Aficionado Chart about Tobacco Imports for 2018. U.S. Imported 315 Million Premium Cigars In 2015; Up 2.3 Percent
This is a good impulse to have because, like with beer or wine, you don't want to be thrown directly into the experimental deep end. You wouldn't want to suggest a hoppy IPA to a beer novice and I don't want to suggest a really dark, full-bodied cigar to a newbie.
Check out the list below to learn the best cigars for beginners, so you can pick one that suits your fancy.
Oliva Serie G
I can think of few cigars better suited to a beginner than the Oliva Serie G cigars.
With a mild-medium body and pleasant sweet-and-sour taste, these handmade Nicaraguan cigars won't be too much to hand for a novice palate. They also have ratings in the 80-90/100 range by Cigar Aficionado Magazine, so they have pedigree.
For just over $6 a pop, though, you won't have to break the bank for the superior quality these cigars provide.
Perla Del Mar Natural
Also from Nicaragua (though the wrapper is from Ecuador), the Perla Del Mar is another good choice in the mild-to-medium body range.
Rated an 87/100 by Cigar Aficionado, the Perla Del Mar G's are a particularly good choice. With a nice full even draw and an almond-nougat finish, these cigars are sure to leave you satisfied.
Also similar to the Oliva's, the Perla's come in at just over $5 for a single cigar. But after trying one, I'm positive you'll want to buy a whole box.
Permodo Reserve Champagne (Connecticut Shade)
This fantastic cigar is filled with premium tobacco from Nicaragua but is wrapped with a tobacco leaf from Connecticut, a region famous for its bright, golden colored-tobacco.
This combination brings out a full, but smooth, creamy flavor that will pleasantly linger on the palate well after you've finished. Famous for its silky texture, the Connecticut Shade tobacco wrapper is also one of the most highly sought after tobacco leaves in the industry, but at just over $6 a pop, you don't have to pay a premium price.
This is truly one of the best cigars for beginners, and just one will leave you wanting more.
Ashton Classic
The Ashton Classic is a bit more pricey than the previous cigars at a little over $11 a pop, but what you get in return is a more complex, full-bodied flavor.
This Dominican cigar, wrapped in Connecticut Shade (like the aforementioned Permodo's) has a beautiful herbal, smoky flavor with a peppery finish.
This is definitely the cigar for those of you that prefer savory over sweet.
Just to assure you that what this cigar is well worth its slightly-more-than-modest price tag, it also has a 86 rating from Cigar Aficionado Magazine.
Montecristo White
The Montecristo White is the first cigar on this list to have a CA rating over 90. It's sitting pretty with a rating of 91/100 and for that reason, it is also the most expensive so far.
A single one of these boys costs around $12-$13 dollars, but it's well worth the price. Hailing again from the Dominican Republic, this flavor of this cigar is a tender mix of savory and sweet, with an earthy, woodsy start and a big, lush vanilla finish.
This is one of the best cigars for beginners that feel like treating themselves to a little extra luxury.
Angelenos by God of Fire
For those of you that don't want to sacrifice quality for price or price for quality, the Angelenos are for you.
At just up $10 a pop but with a 90/100 rating from Cigar Aficionado, this cigar might, dollar-for-dollar, pack the most flavorful punch.
Meticulously hand-crafted by Arturo Fuente (a big name in the cigar world), this cigar, also from the Dominican Republic, and wrapped with Ecuadorian Connecticut Shade has a salty taste, only to be balanced by pungent floral notes.
The intermingling of sweet and savory on this cigar is to die for.
Ashton Estate Sun Grown (ESG)
Every so often, a cigar comes along that truly blows you away. One that makes you wonder where it's been hiding for your whole life. One that just takes one puff before you get transported to a different dimension.
A cigar that makes flavor feel visceral.
The sun grown, Ashton Estate 22 Year Salute cigars did this for me.
Don't the $20/cigar price tag deter you, you're going to want to experience this cigar.
Grown in the small town of El Caribe in the Dominican Republic, these cigars are made with a supple, oily tobacco leaf that imparts a bold nuttiness throughout and a smooth, creamy taste at the finish.
This cigar is truly one of a kind.
It has a 94/100 on Cigar Aficionado, just one point away from CA's legendary "Classic" status. Cigar Aficionado also named it the 8th best cigar released in 2014, a most honorable distinction.
For these reasons, this cigar is among the best cigars for beginners, intermediates, and experts alike.
These cigars are composed of a rare blend of tobacco and because of this are released in very limited quantities, so you'll want to get 'em where you can.
Now That You've Seen The Best Cigars For Beginners...
All you have to do is pick one that you think you'll like (or impress your friends at the poker table) and join the 5% of U.S. adults taking pleasure in this smoky, rarefied air.
Whether you decide upon the Serie G Oliva's or the Ashton Estate's, you can't go wrong. If, after you've had one of these cigars, you want to fall further down the rabbit hole, I'd consider trying one of 2018's best cigars.
Just remember, as with anything else, cigars are best smoked slowly, and in moderation.
And if you need more recommendations, or have any more questions, get in touch with us.
Ready to buy? Here is the Sampler we have created for you!