Posted by Ana Cuenca on Jan 07, 2015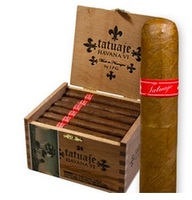 CA Review: "Cigars sold under the name Tatuaje have been embraced by connoisseurs for years. Originally rolled at Little Havana's El Rey de los Habanos, which had all of a dozen rollers, demand for the strong cigars far outstripped supply. To get his cigars into more people hands, brand owner Pet Johnson knew he had to go offshore, so he created a new line of Tatuajes in 2006 called Havana VI. Some feared the flavor and style would change, but the new versios - called Tatuaje Red Label, by some - delivered some of the highest scores yet for the brand. The Arista size is a piramide, with a rich, toasty and earthy quality and that leather note found on many Tatuajes. They are crafted under the expert guidance of the Garcia family."
2014 cigar number 25 of the Cigar Aficionado magazine. The Tatuaje Havana VI Aristas can be purchase online at our online store.