Posted by Ana Cuenca on Jan 07, 2015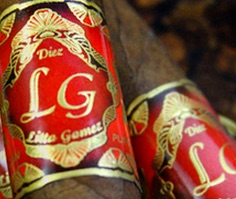 CA Review: "Litto Gomez began making cigars in Santiago, Dominican Republic, in 1994. Looking back, it would have been easy for anyone to marginalize a new commer to the industry as someone who wouldn't be around for long. His first cigars, sold under the name "Los Libertadores, were quite similar to many others sold at the time, with pale Connecticut-seed wrappers and an easygoing Dominican blend. What a difference time makes. Today Gomez is celebrating 20 years in the industry and he is one of the best-known cigar manufactures in the world. Anyone who knows cigars will tell you he is here to stay. His Litto Gomez Diez line, launched a decade ago to celebrate 10 years in business, is powerfull, distinctive and impossible to ignore."
2014 cigar number 23 of the Cigar Aficionado magazine. The Litto Gomez Diez Lancero can be purchase online at our online store.