Posted by Ana Cuenca on Jan 07, 2015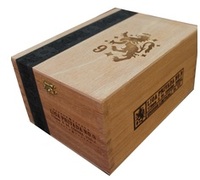 CA Review: No one could deny that Drew Estate is a major player in the world of cigars, but in the company's early years it was easy to dismiss them as non serious cigar producers. Drew Estate was known for being a major player in the world of flavored (they call them infused) cigars, specifically the brand ACID, which sold in the millions of units but left cigar connoisseurs scratching their heads. The image of Drew Estate changed forever when the company released Liga Privada, a full-bodied, handmade, premium cigar powered by dark tobacco leaves, including a thick and only broadleaf wrapper grown in the Connecticut River Valley. The cigars are hot items in cigar stores, often on back order, and they appeal to those who like strong smokes. The Belicoso has notes of white pepper, hints of charcoal, rainsings and some chalky notes.
2014 cigar number 20 of the Cigar Aficionado magazine. The Liga Privada No 9 Belicoso can be purchase online at our online store.