Posted by Ana Cuenca on Jan 07, 2015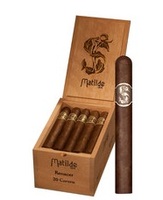 CA Review: Jose Seijas is a 40-year veteran of the premium cigar business. For years he ran Tabacalera de Garcia, a massive operation in La Romana, Dominican Republic, that makes brands such as Romeo y Julieta and Montecristo. Today Seijas runs a far smaller operation in the same town - La Matilde Cigar Co. - and he's enjoying his new role. One of his moves was to hire cigar rollers who smoke cigars, which he thinks makes for a superior end product. "Our tabaqueros are cigar smokers, this way they have knowledge of use of the product." he says. "The knowledge is an important part of quality control." His first cigar is the Matilde Renacer, and the corona layers the palate with hearty coffee notes with wood, spice and cocoa finish.
2014 cigar number 19 of the Cigar Aficionado magazine. The Matilde Renacer Corona can be purchase online at our online store.