Posted by Ana Cuenca on Jan 06, 2015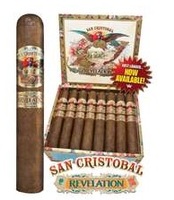 CA Review: Ashton Distributors Inc., of Philadelphia created the San Cristobal brand in 2007, and it has been expanded several times over the years. Revelation, which hit the market in 2013, marks the third line in the portfolio, and is the newest version of the brand. San Cristobal Revelations are made with Ecuadoran Sumatra-seed wrappers that are harvested from the middle of a tobacco plant, which gives the wrapper on these cigars a fairly light color. The box-pressed cigars are streaky in appearance (fairly typical of cigars wrapped in this type of leaf) and they have a rich, sweet cocoa quality around a core of earthiness and a sweet vanilla-bean finish. This is yet another top-quality cigar from the Garcia and Ashton team.
2014 cigar number 18 of the Cigar Aficionado magazine. The San Cristobal Revelation Legend can be purchase online at our online store.