Posted by Ana Cuenca on Jan 06, 2015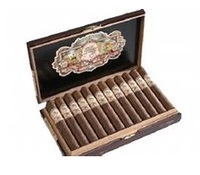 CA Review: If you're a parent, its hard not to be warmed by the story of how the My Father brand came to be. Jose "Pepin" Garcia and his son Jaime work together in Nicaragua on a host of cigar brands. Jaime wanted to create something new, without his father's input. He was nearly complete when his dad discovered what he was doing, and requested cigars to try himself. Pepin went home, smoked them in solace, and found them to be delicious. When he asked Jaime what he would call the new brand, the answer was simple: My Father. The Garcia are a wonderful team (and former Cigar of the Year winners) and this Crema has notes of hickory and almond paste. The cigar has a slight taper to the head, making it stand out in the box.
2014 cigar number 17 of the Cigar Aficionado magazine. The My Father No. 3 Crema can be purchase online at our online store.