Posted by Ana Cuenca on Jan 08, 2015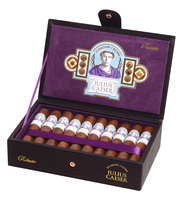 CA Review: It was 1895 when Hungarian emigre Julius C. Newman founded a cigar company in his family's barn in Cleveland. Today his grandsons Eric and Bobby run what he began, making J.C Newman one of the oldest cigar companies around. The family business moved long ago from Cleveland to Tampa, Florida, and J.C Newman still makes its own machine-made cigars, but its handmade cigar brands are now all made offshore. The Diamond Crown Julius Caeser brand is made for the Newmans by their longtime partners the Fuentes, and the cigar brand is named after the founder of the company, a strong-willed man who took the middle name Caesar when he came to America and was told he needed a middle name.
2014 cigar number 19 of the Cigar Aficionado magazine. The Diamond Crown Julio Caeser Robusto can be purchase online at our online store.