Cigar Cases
SCROLL TO PRODUCTS
Protect Your Precious Cigars: The Benefits of a Cigar Travel Case
As cigar aficionados, we know that protecting our prized cigars during travel is crucial to maintaining their quality and flavor. When you're on the go, you need a durable and stylish solution to safeguard your precious smokes from environmental conditions and potential harm. That's where cigar travel cases come in. In this blog post, we will explore the benefits of different types of cigar travel cases and provide tips on how to choose the perfect one for your needs.
From genuine leather to vegan leather, and from Spanish cedar-lined cases to travel humidors, there is a wide variety of cigar cases available on the market. So, how do you find the best one that suits your taste and lifestyle? Keep reading to discover the essentials of selecting a fine cigar and travel case, along with our top recommendations for the discerning cigar enthusiast.
Short Summary
Choose the perfect cigar travel case based on capacity, material, design and personalization for protection and style.

Explore top leather cases with Spanish cedar lining for optimal preservation of cigars.

Consider gifting personalized sets to show appreciation with thoughtfulness and quality materials.
Choosing the Perfect Cigar Travel Case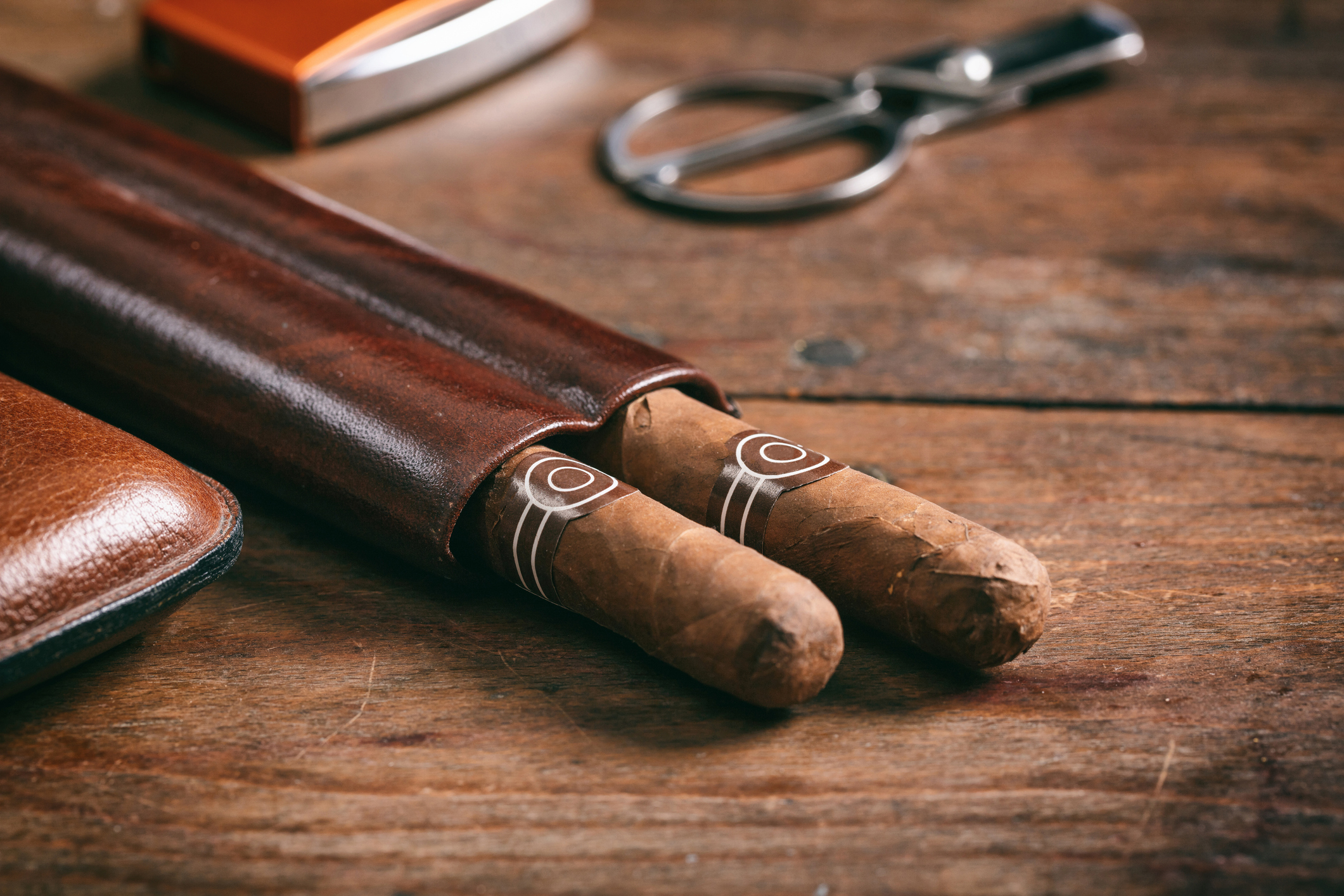 Cigar accessories like leather cigar cases are essential for any cigar lover who enjoys taking their smoke along on their travels. The perfect cigar case should not only protect your cigars from damage, but also provide a convenient and stylish way to carry them. When selecting a good cigar and case, consider factors such as the capacity, material, design, and personalization.
For example, the Adjustable Cigar Case Travel Holder is a beautiful case compact leather case that can accommodate up to two cigars and has an adjustable design. This sleek and elegant case offers both protection and style, making it an excellent choice for those who want a beautiful and functional cigar accessory.
Another popular option is the Visol Brown & Yellow perfect cigar case, crafted from top-grain leather. This handsome case is both durable and elegant, ensuring that your cigars are well-protected while you travel in style.
Size Matters: Finding the Right Fit
When it comes to selecting the size of a cigar travel case, it's essential to consider the number of cigars you intend to bring, the size of the cigars, and the type of travel you are undertaking. Travel humidors are available in a range of sizes, from small cases that can accommodate 2-3 cigars to larger cases that can store up to 25 cigars.
The portability of smaller cases makes them ideal for carrying in pockets or bags, while larger cases offer enhanced protection and can accommodate a greater number of cigars. By taking into account your travel plans and cigar preferences, you can find a cigar travel case that perfectly suits your needs.
Material Choices: Genuine Leather vs. Vegan Leather
Genuine leather, crafted from animal hides, is known for its durability and timeless elegance. A genuine leather cigar case not only provides excellent protection for your cigars, but also adds a subtle touch of sophistication to your cigar accessories.
On the other hand, vegan leather, made from synthetic sources, typically has a lower durability than genuine leather and is usually thinner, which can lead to higher chances of tearing or scuffing.
For those who prefer a high-quality leather case, the Firedog Leather Cigar Case is an excellent choice, as it is handcrafted from 100% whole grain vegetable-tanned leather. This durable, fashionable and elegant case ensures that your cigars remain well-protected, while also showcasing your taste for fine craftsmanship.
Design and Personalization: Making It Your Own
Cigar travel cases are available in a range of design options, including materials, colors, sizes, and unique or custom designs. Certain cases feature a telescoping design to fit cigars of varying lengths, while others are crafted with a more flexible design. Additionally, some cases come with smoking accessories such as cutters and ashtrays.
By choosing a personalized case, you can showcase your personal style and make your cigar travel case truly unique. For instance, the personalized cigar case crafted from vegan leatherette offers an elegant and customized touch to your beautiful cigar case and accessories. Whether you prefer a classic leather case or a modern one with intricate designs, there is a perfect cigar case out there to suit your unique preferences.
Top Leather Cigar Cases for the Discerning Cigar Aficionado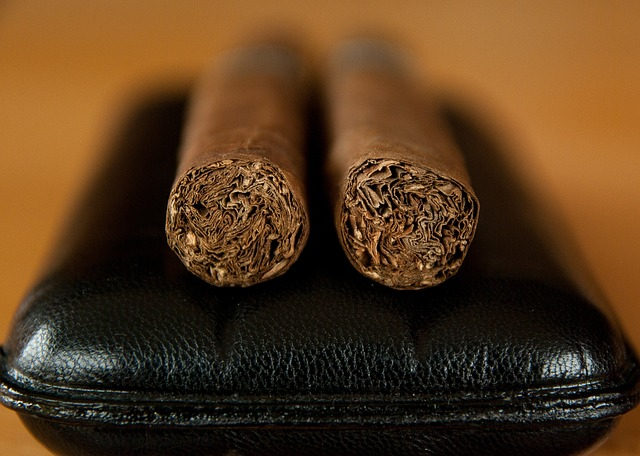 Leather cigar cases are an ideal selection for the sophisticated cigar enthusiast, providing longevity, sophistication, and safety for their cigars. In this section, we will explore three top leather cigar cases for discerning aficionados: Spanish cedar-lined cases, travel humidors, and multi-function cases.
These cases not only offer protection for your cigars, but also provide an elegant storage solution that caters to various requirements. Whether you prefer the natural benefits of Spanish cedar, the convenience of a travel humidor, or the versatility of a multi-function case, there is a leather cigar case that meets your needs.
Spanish Cedar-Lined Cases: The Ultimate in Cigar Preservation
Spanish cedar-lined cases provide numerous benefits, including protection from tobacco beetles, humidity regulation, mold resistance, and improved flavor of cigars as they age. The cedar wood has a natural repellent effect on tobacco beetles, ensuring that your cigars remain safe from infestation.
Moreover, Spanish cedar-lined cases are designed to maintain consistent humidity levels within the case, aiding in the preservation and life of the cigars. The wood's natural oils also contribute to an improved flavor as the cigars age, making Spanish cedar-lined cases the ultimate choice for cigar preservation.
Travel Humidors: Keeping Your Cigars Fresh on the Go
Travel humidors offer protection, humidity regulation, and a sophisticated storage solution for cigars during transit. They ensure cigars remain fresh and are created to transport them securely, making them an efficient cigar storage system for cigar enthusiasts who travel often.
The CiTree Travel Humidor is a compact and portable cigar case that features a built-in humidifier. This convenient pocket travel humidor ensures that your cigars stay fresh and well-protected while you're on the go, making it an ideal choice for frequent travelers who want to enjoy their cigars anytime, anywhere.
Multi-Function Cases: Combining Convenience and Style
Multi-function cigar cases provide advantages such as robustness, mobility, and storage capabilities, making them an excellent choice for cigar storage and travel. Additionally, they are available in a variety of sizes and styles, catering to different preferences and needs.
The MYSGYH Yangpin model is a simple yet elegant leather cigar case that offers both convenience and style. With its sleek design and large selection of versatile features, this multi-function case is an ideal addition to any cigar enthusiast's collection.
The Golf Course Companion: Cigar Cases for the Links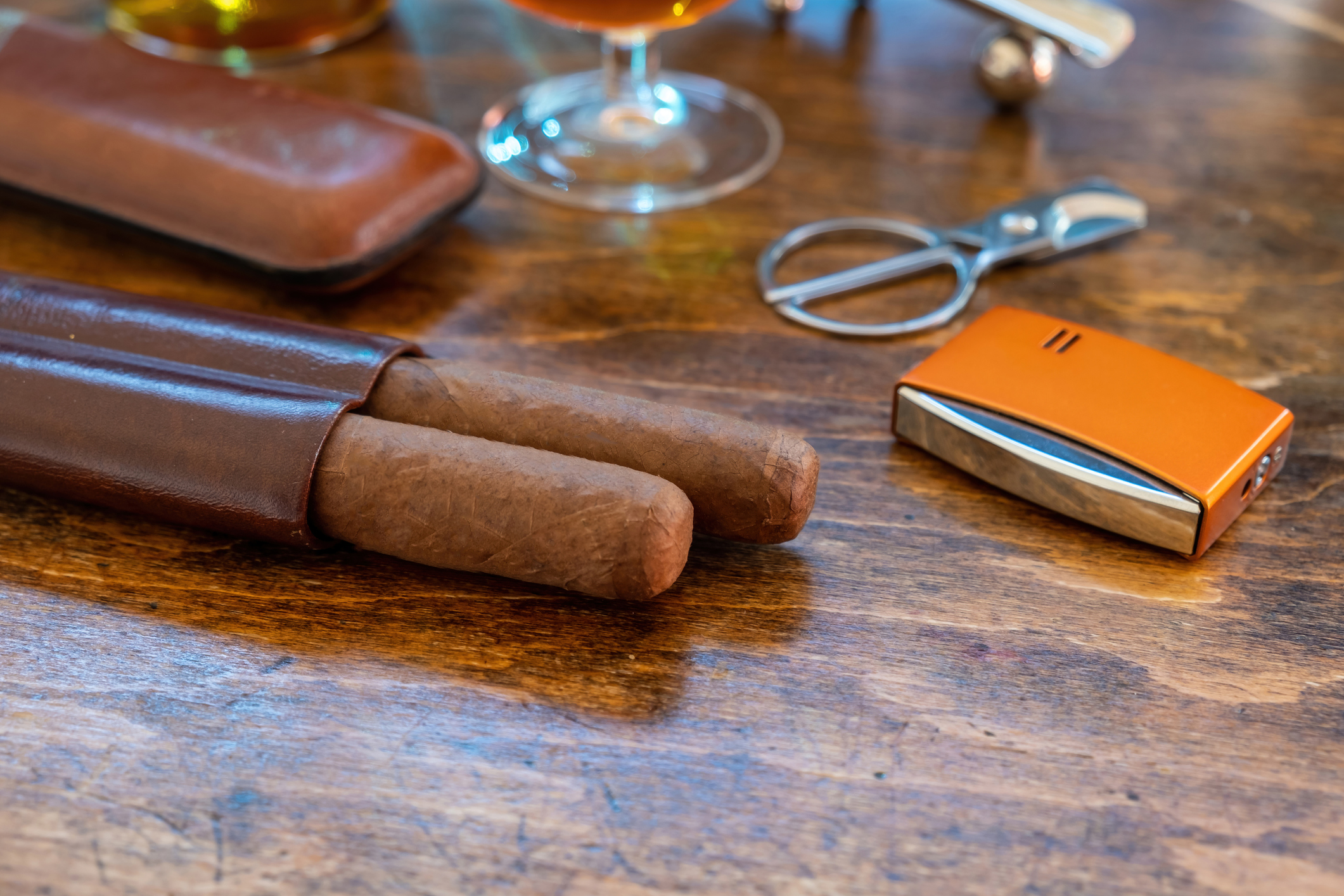 Golf and cigars go hand in hand, making it essential to have a reliable and stylish cigar case when hitting the links. Utilizing cigar cases on the golf course provides the benefit of keeping cigars in one place, protecting them from damage, and avoiding the introduction of loose tobacco remnants into the mouth.
When selecting a cigar case for the golf course, it is important to consider features such as a secure closure, a comfortable handle, and a waterproof design. With the right cigar case, you can focus on perfecting your swing while enjoying your favorite sticks in style and comfort.
Gifting the Perfect Leather Cigar Case
A leather cigar case makes a great gift for any cigar enthusiast, showcasing their appreciation for quality and style. Popular leather cigar case brands include CiTree, Four Gage, and AMANCY. However, keep in mind that leather cases are only recommended for daily storage, as opposed to long-term storage or travel, as leather is known to absorb moisture which can result in the drying out of cigars.
For a more personal touch, consider gifting personalized cases or gift sets. These thoughtful gifts not only express your appreciation for the recipient's taste in cigar accessories, but also provide a unique and functional item that they will cherish for many years to come.
Personalized Cases: Adding a Touch of Thoughtfulness
Personalized cases provide a unique and personal touch to an item, aiding in identification and making for an excellent gift. Personalized cases are available in a range of materials, including leather, wood, and metal, and can be customized with engravings, logos, and other designs.
When selecting a personalized case, consider factors such as size, material, design, and quality. By opting for a high-quality case, you can ensure greater protection for your cigars and a longer-lasting product, making it a truly thoughtful gift.
Gift Sets: More Than Just a Case
Gift sets can enhance brand image, demonstrate professionalism and commitment, and be utilized to express gratitude and bolster ties with customers and employees. They can also be a great way to sample new products or to present as a gift to another person. Gift sets typically include cigars, cigar accessories, and other items related to cigars, making them an ideal choice for various occasions.
Whether you're looking to thank a loyal customer, reward a dedicated employee, or simply treat yourself to a luxurious cigar experience, gift sets offer an array of benefits and make for a thoughtful and memorable present.
Summary
In conclusion, selecting the perfect cigar travel case is an essential part of enjoying and protecting your precious cigars during your travels. From genuine leather cases to Spanish cedar-lined cases, and from travel humidors to personalized cases, there is a wide variety of options available to suit your needs and preferences.
No matter your taste or lifestyle preference, there is a cigar travel case out there that will not only safeguard your cigars but also showcase your unique style. So go ahead, explore the world of cigar travel cases, and discover the perfect companion for your cigars, ensuring that you can enjoy them anytime, anywhere.
PRODUCTS
Frequently Asked Questions
Cigar packaging can be a complex topic. Each cigar maker has their own unique approach to this, while considering factors such as pricing, packaging costs, availability, and release type. For instance, costly luxury cigars and Limited Editions are typically packaged in small quantities of 5-10 cigars.
In the cigar industry, it is common for manufacturers to change the number of cigars in their packaging due to cost considerations. While 25 cigars was once the standard, some brands now prefer to package their cigars in counts such as 20, 21, or 23. Additionally, the non-Cuban market has led to more diverse packaging options such as the Arturo Fuente Opus X cigars, which come in cedar boxes containing 29, 32, or 49 cigars.
Considering the rarity and quality of tobaccos used in premium cigars, $20 could be considered a small price to pay for a truly luxurious experience.
With rarer tobacco leaves often costing more than $20 per cigar, it can be argued that $20 is a fair price for an enjoyable smoke.
To determine the cost of one cigar, it is important to consider the various types of tobacco that are used in making a premium cigar. The wrapper tobacco leaf, in particular, is the most expensive component and thus drives up the overall cost.
The aging process must also be taken into account.
It seems that every cigar size requires varying amounts of tobacco wrapper, with robustos being less expensive compared to figurados or presidents. Additionally, we must account for export and taxes fees, which are added to the cost of every cigar.
In recent years, the cost of manufacturing tobacco has significantly increased.
The cost of a cigar can vary greatly, usually ranging from $3 to $50 based on factors like brand, quality, and size. It's important to consider your budget and preferences when deciding which cigar to purchase.