Posted by Ana Cuenca on May 12, 2017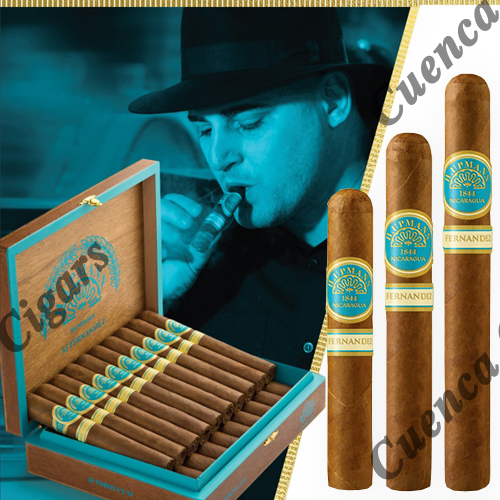 H Upmann, the iconic cigar brand that has been a favorite of many since the 1800's, is now been reborn under the AJ Fernandez interpretation. The new H Upmann cigar is entirely made in the A.J.'s Nicaraguan factory and it is a collaboration between A.J. Fernandez and Altadis USA. The label states AJ Fernandez in a secondary ring.
"A Brand New Take On An Age-Old Brand". An Age-Old brand taking a more modern approach keeping the values and the character of it. The iconic H Upmann brand is been re-written with the same high level of sophistication to produce much more complex flavors and aromas to satisfy a growing community of avid cigar aficionados. The world has changed so does the way we perceive the smoking experience and we must adjust to it.
Nowadays, we like to enjoy complexity and more fullest experiences. That is where AJ Fernandez comes to play. With his unconventional way to age tobaccos to get richer flavor and aroma and give the cigars his authentic signature. The new blend uses an oily and beautiful brownish Ecuadorian Sumatra wrapper over a Corojo 99 binder and fillers of Criollo 98 and Piloto Cubano. All these aged tobaccos are perfectly combined to bring on a new generation of H Upmann cigars. The smoking experience leaves with notes of spices, cocoa, and roasted nuts and an aromatic aftertaste.
The wholly new H Upmann Nicaraguan by AJ Fernandez also brings a competitive price point between $7.25 -$7.75. At the ends, the H Upmann brothers were bankers so it is all about the savings. This is a cigar that will be added to your daily smoking experience, we expect it to become your new go-to cigar. There will be available to the consumers after May 22, 2017. Three sizes are been released namely: Robusto with 5 x 52, Toro with 6 x 54 and Churchill 7 x 54. Elegantly packaged in 20 count boxes, you can pre-order the cigars now at Cuenca Cigars online. Bring home with you this new journey.